Several teams need a quarterback and there's no shortage of trade rumors for Deshaun Watson or Jimmy G, but the market is thin and there's not a deep draft of incoming collegiate quarterbacks which translates into heavy competition among the Pittsburgh Steelers, Indianapolis Colts, Tampa Bay Bucs, and Carolina Panthers.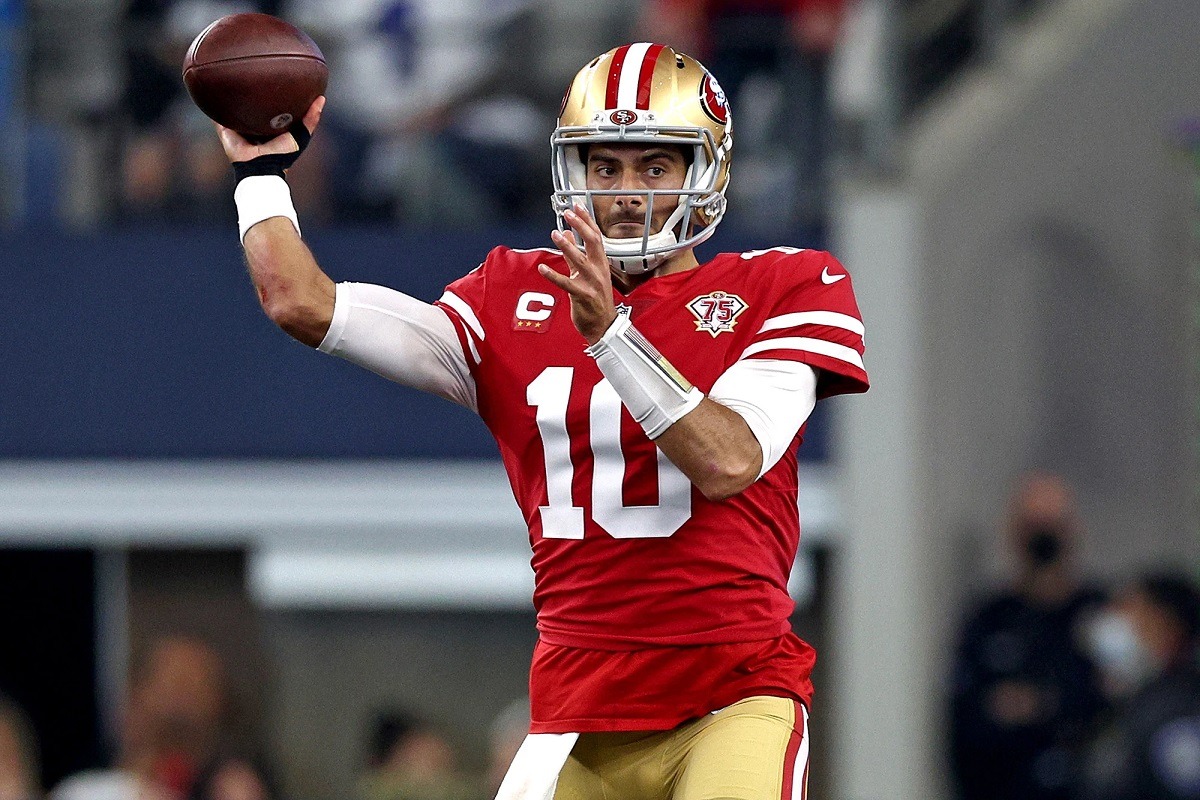 Several teams eye quarterback Jimmy Garoppolo from the San Francisco 49ers including the Indianapolis Colts. (Image: Getty)
At the same time, teams like the Minnesota Vikings and Cleveland Browns both have a quarterback, but they wouldn't pass up the opportunity to upgrade, which is why they've also been mentioned in different trade rumors.
The Denver Broncos landed a huge score this week when they acquired Russell Wilson in a trade with the Seattle Seahawks. The news broke the same day that the Green Bay Packers retained the services of Aaron Rodgers for $200 million. The Broncos eyed Rodgers, but when they realized he would return to the Packers, they pulled the trigger on the Wilson deal.
The Washington Commanders wanted Wilson as well, but they were rejected, which forced the Commanders to scramble. They were also keen on Jimmy G from the San Francisco 49ers, yet when that did not pan out, the Commanders worked out a trade with the Indianapolis Colts for Carson Wentz. With Wentz gone, the Colts seek a new quarterback
Tampa Bucs Faves for Watson
Watson sat out last season after he demanded the Houston Texans trade him. The Miami Dolphins were interested but the Texans wanted too much in return and negotiations fell apart. With Miami snagged a new head coach with Mike McDaniel, they're standing pat with Tua Tagovailoa. However, Watson could still end up in Florida because the Tampa Bay Bucs have a job opening at quarterback after Tom Brady retired.
Bruce Arians was not shy when he let the world know he liked Wilson or Watson. Arians felt both could thrive in his offensive philosophy about stretching the field and attacking deep. After the Broncos traded for Wilson, the Bucs are going all-in on Watson.
Meanwhile, Watson had 22 civil lawsuits pending due to his penchant for oral copulation and happy endings from massage therapists. He could finally settle his criminal cases as early as Friday. As soon as the legal issues are untangled, teams will make a big push to secure him in a trade. The Texans are in a unique position considering several teams are desperate and there's not much out there.
Colts Like Jimmy G
Jimmy G had shoulder surgery and will not be able to throw until late summer, but that hasn't stopped teams from inquiring about him in a trade. The Colts are at the head of the line for Jimmy G after they said goodbye to Wentz in a trade with the Commanders.
Jimmy G serviced a run-heavy offense the last few seasons anyway, so he will fit in with the Colts who rely heavily on Jonathan Taylor. JT has become one of the premier running backs in the NFL and he could be one of the first players drafted in a lot of fantasy football leagues next season.
Steelers Look to Draft?
Ben Roethlisberger finally retired and the Steelers need a new quarterback to replace Big Ben. Wilson looked like he could become their next quarterback for a hot second, but the Steelers were not willing to cough up a huge trade package to snag Wilson.
It looks like the Steelers will find their next quarterback in the upcoming NFL Draft. They could sign a perennial backup and start him next season while their rookie gets up to speed, but then again there's not a lot of high-end prospects out there aside from Kenny Pickett (Pittsburgh), or Malik Willis (Liberty), and Desmond Ridder (Cincinnati).
The New Orleans Saints have the #18 pick and the Steelers are #20, so unless the Steelers work out a trade to move ahead of the Saints, it looks like Pickett will end up in New Orleans and the Steelers will get Willis. Of course, the Cleveland Browns can screw both teams up by snagging Pickett with the #13 pick.
Panthers Long Shot for Watson
The Panthers had blind faith in Sam Darnold as a reclamation project. Darnold looked good after a 3-0 start, but then it was all downhill from there. Darnold fractured his shoulder blade and the Panthers had no choice but to call Cam Newton and ask him to return to his old stomping grounds.
Without much faith in Darnold, and with Matt Rhule's job on the line, the Panthers need to make a bold move. But at what cost? Will they trade Christian McCaffery and parlay those picks into a package for Watson? Would the Texans even consider swapping Watson and McCaffery?
Vikings Sour on Cousins
We reported on a rumor that the Panthers were interested in Kirk Cousins. Let's be honest, they have no shot at Watson, but Cousins is available. The Vikings said they intend on keeping him, especially new head coach Kevin O'Connell who worked with Cousins during his days with the Washington Football Team. If the Vikings have a chance to move on from Cousins and his ridiculous salary, they won't blink twice. Let's be honest, they made a horrible mistake in offering him so much money that it's hard to trade him, so they can't turn down a rare opportunity to get him off the books.
So, if the Vikings part ways with Cousins, then who will become the next quarterback of the Vikes? Perhaps they'll roll the dice with backups Sean Mannion or Kellen Mond?
Mayfield Days Numbered in Cleveland
Baker Mayfield had surgery to repair his non-throwing shoulder. He's expected to make a full recovery, but the Browns might come to their senses and realize that Mayfield failed to live up to the hype as the #1 pick in the draft. Would the Panthers be desperate enough to take Mayfield off Cleveland's hands?
Watson, Jimmy G, and Derek Carr have been mentioned in possible quarterback trade rumors to the Browns. The future of Carr depends on what Josh McDaniel thinks about the future of his offense. There's also a tiny chance that the Raiders trade Carr to make room for a potential comeback from Tom Brady. I know, that's farfetched but weirder things have happened in the NFL.
If the Browns do not work out a trade to grab Jimmy G, they might draft a quarterback with the #13 pick.