The Brooklyn Nets had Kevin Durant and Kyrie Irving in the lineup together for only the fourth time this season, but that did not deter Jayson Tatum, who scored 54 points and led the Boston Celtics to an inspiring victory.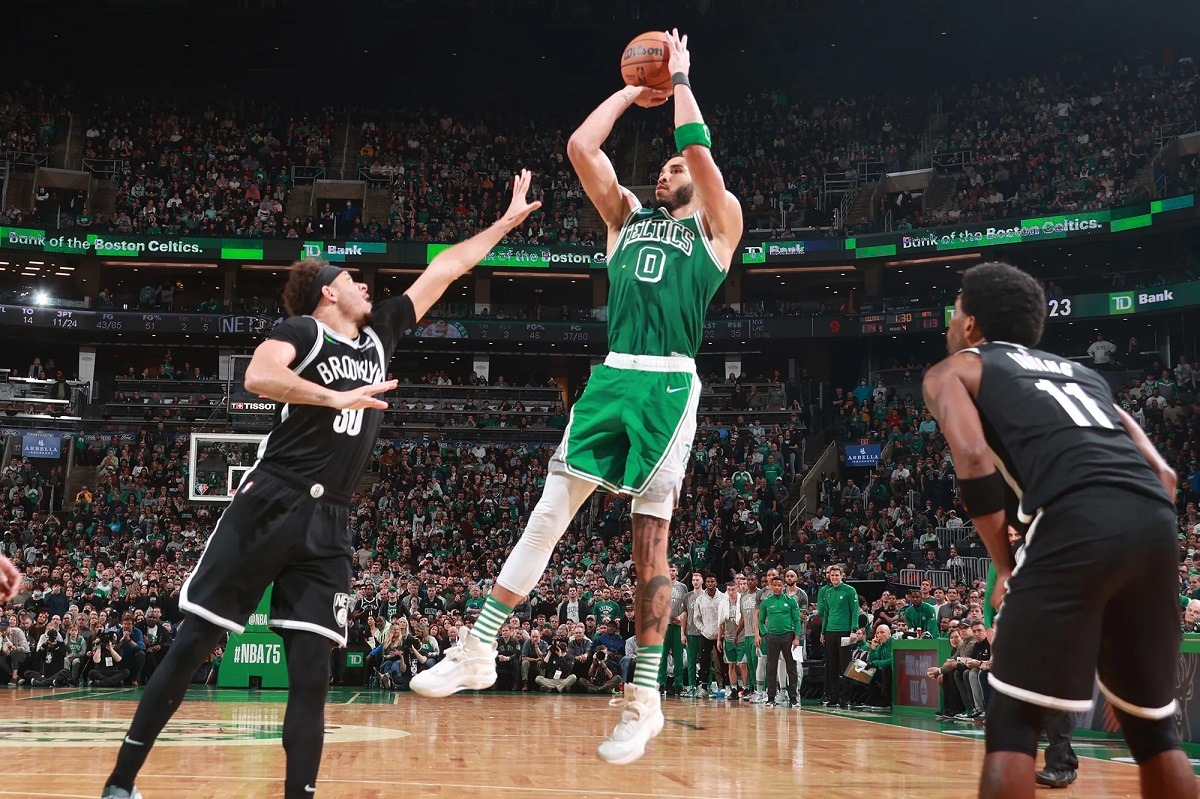 Jayson Tatum from the Boston Celtics takes a pull-up jumper for two of his game-high 54 points against the Brooklyn Nets. (Image: Getty)
Tatum averages 26.5 points per game and he's ranked #8 in scoring in the NBA. In three games in March, Tatum averaged 41.3 ppg with 33 points or more in three-straight games.
"Tonight this man to the left was unstoppable," said teammate Jaylen Brown. "I think that helps."
Tatum scored a season high with 54 points. He tallied 51 at the end of January against the Washington Wizards.
The Celtics (29-27) won four games in a row, and they hold down the #5 seed in the Eastern Conference playoff standings.
Tatum Scoring Tantrum: 54 Points
In 41 minutes, Tatum shot 16 for 30 from the floor, including 8-for-15 from 3-point range. He also knocked down 14-for-17 free throws to finish with 54 points in the victory for the Celtics.
Tatum did not back down against a Brooklyn squad that had both of their top players in the lineup.
"Take the Alpha approach," said head coach Ime Udoka. "Be the best guy on the court each night. He takes pride in the matchup going against high-level opponents."
Durant led the Nets with 37 points in a losing effort. Irving added 19 points, six assists, and three steals.
"Those matchups, when you're playing one of the better teams in the league versus two of the best guys, as a competitor those are the kinds of moments that as a kid you looked forward to," said Tatum. "When those opportunities come, you try to make the most of it."
Tatum led a well-balanced scoring attack with all five starters from the Celtics scoring in double-digits.
The Celtics improved to 16-5 in games in which Tatum scored 30 or more points.
KD 25K
Despite the loss, Durant joined the exclusive 25,000-point club. With 37 points, Durant became only the 23rd player in NBA history to score 25,000 points.
Durant played in only his second game back after missing 21 games in a row with a sprained MCL. He scored 31 points in his return last Thursday in a loss against the Miami Heat.
Durant looked much sharper Sunday afternoon against the Celtics and also added six rebounds and eight assists. Durant shot 12-for-21 from the floor including 4-for-9 from 3-point land. Durant shot 19-for-20 from the free-throw line since his return.
The Nets (32-33) dropped four games in a row and slipped to the #9 seed even though they have the same record as the Charlotte Hornets in the #8 seed.