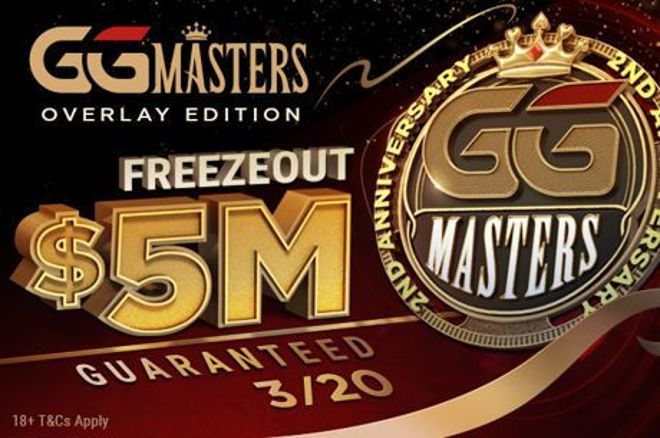 The three Day 1 flights of the $5 million guaranteed GGMaster Overlay Edition have to a close, with 6,327 players advancing to Day 2. Across the three starting flights there were 33,034 entries and to make the second day of action, the players needed to have survived 20 15-minute levels.
The story of the tournament prior to getting underway was whether the $5 million guarantee would be hit, or if there was going to be a heavily anticipated overlay. At the time of writing on March 17, there was an overlay $3.93 million. That figure has now been heavily cut down to just $416,744 according to the GGPoker Client.
GGMasters Overlay Edition Final Table Payouts
Late Registration remains open until the start of Day 2, which begins on Monday, March 21 at 5 p.m. GMT. The current first-place prize is a tidy $343,564, while those who finish in the money will lock up at least $310. With players still being able to enter, these figures could change but as it stands the final table payouts look something like this:
PlacePrize 1$343,564 2$257,637 3$193,200 4$144,880 5$108,645 6$81,472 7$61,096 8$45,815
"Pichai Rianjaroen" Bags Best in Asia Flight
"Pichai Rianjaroen" finished atop of the chip counts in the GGMasters Overlay Edition Asia Flight, which saw the likes of "Henriquecps1" and "Wang Yu" round out the top three biggest stacks.
The Asia flight saw 10,481 entries with only 2,022 players making it through to Day 2.
Notables who made it through this stage include poker streamer Tsolmon-Erdene "Tsoomoo Venus" Ochir (175,460), Twitch partner Mark "Weazel_1991" Rubbathan (59,041) and professional mixed martial artist Elias Theodorou, who will be looking to spin up his 3,798 short stack.
GGMasters Overlay Edition Asia Top Five Chip Counts
PlacePlayerCountryChip Count 1Pichai RianjaroenCosta Rica246,616 2Henriquecps1Brazil242,842 3Wang YuChina237,765 40215-namHong Kong231,953 5GG MoonMongolia210,928
Read More: Tsolmon-Erdene Ochir Claims First of Five APPT Manila Platinum Passes
Turkey's "Insomania" Dominates Europe Flight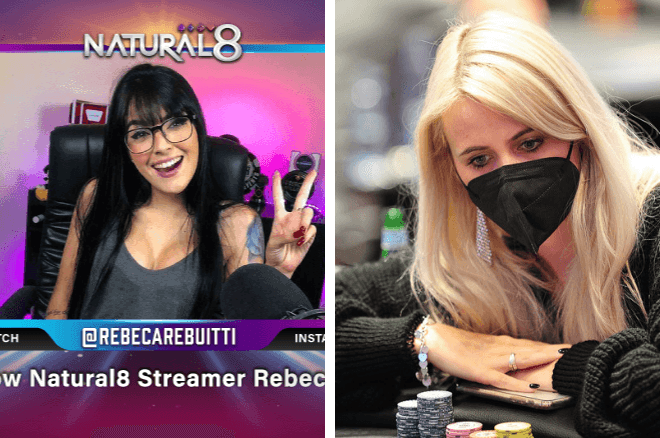 Rebecca Rebuitti (left) and Jessica Teusl (right)
As expected, the European flight proved to be the most attended Day 1. The event's 17,964 entries were more than the two other starting flights combined and delivered 3,420 players into Day 2.
"Insomania" had the most successful session and virtually bagged a whopping stack of 270,313, which was good for the overall chip lead. Brazil's "Muido" and Russia's "swod1986" also had a fruitful day on the felt, piloting over sizeable stacks to the next stage.
Natural8 Streamer Rebeca Rebuitti ended the day with an impressive stack of 135,833. Jessica Teusl will also be joining Rebuitti on Day 2, with her above-average stack of 123,070. Online poker legend Niklas Astedt, who had just returned from EPT Prague, also finished with 102,531 chips.
GGMasters Overlay Edition Europe Top Five Chip Counts
PlacePlayerCountryChip Count 1InsomaniaTurkey270,313 2MuidoBrazil244,230 3sword1986Russia238,205 4JunnyyHong Kong237,261 5arapoCyprus221,041
Read More: Get to Know Natural8 Streamer Rebeca Rebuitti
Qui and O'Donnell Progress from Americas Flight
The final starting flight of GGMasters Overlay Edition was the smallest of the day, garnering just 4,589 total entries. There were 885 players who survived, with Chuqi "PaoloMaldini" Qiu (246,553) seeing out the day as the leg's chip leader.
"10p4uk" claimed second spot with final count of 227,439. Kevin "AzUncle" O'Donnell (216,756), who has $2,230,284 in live tournament earnings, accumulated the third-highest amount of chips.
GG Twitch Squad's Kevin Martin (7,904) also booked his seat when the tournament returns.
GGMasters Overlay Edition Americas Top Five Chip Counts
PlacePlayerCountryChip Count 1Chuqi "PaoloMaldini" QiuChina246,553 210p4ukRussia227,439 3Kevin "AzUncle" O'DonnellUnited States216,756 4aapkabaapIndia196,419 5I_AdesanYaUnited Kingdom195,363
Read More: GG Twitch Squad's Kevin Martin Bags $207K Score
GGMasters Overlay Edition Top 10 Chip Counts
PlacePlayerCountryChip CountBig Blinds 1InsomaniaTurkey270,313225 2Pichai RianjaroenCosta Rica246,616206 3Chuqi "PaoloMaldini" QiuChina246,553205 4MuidoBrazil244,230204 5Henriquecps1Brazil242,842202 6sword1986Russia238,205199 7Wang YuChina237,765198 8JunnyyHong Kong237,261198 90215-namHong Kong231,953193 1010p4ukRussia227,439190
Sign Up to GGPoker and receive a $600 Welcome Bonus
All PokerNews readers who download GGPoker via our links are entitled to a welcome bonus worth up to $600.
Make your first deposit and GGPoker matches it 200% up to a maximum of $600. It then releases into your account balance in $10 chunks each time you generate 6,000 Fish Buffet Points, which is the equivalent of $60 in rake.
You have 90-days to release as much of the bonus as you can, otherwise any unreleased bonus is forfeited.

Calum Grant
Editor & Live Reporter
Calum has been a part of the PokerNews team since September 2021 after working in the UK energy sector. He played his first hand of poker in 2017 and immediately fell in love with the game. Calum's proudest poker achievement is winning the only tournament he has ever played in Las Vegas, the prestigious $60 Flamingo evening event.