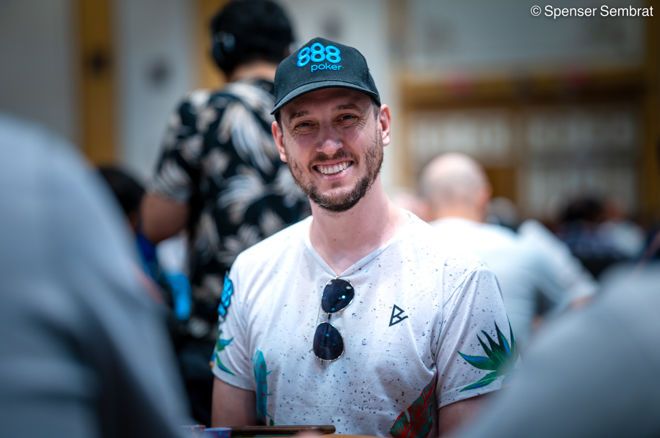 888poker's newest ambassador Ian "Simpioni" Simpson got back to winning ways over the weekend, after a jaunt to the 2022 WSOP, when he was the last man standing in the $109 buy-in $15,000 guaranteed Sunday PKO Rumble. Simpson walked away with a bankroll-boosting $4,252 for his efforts.
The Sunday PKO Rumble drew in 210 entrants, including re-entries, and they created a $21,000 prize pool, some $6,000 more than the advertised guarantee. The top five finishers turned their $109 investment into a four-figure haul.
"GUYLORD1000" of Montenegro was the first of that quintet to bank four figures, namely $1,197. Romania's "Fairenuf2" scooped a $1,081 fourth place prize before "ARMYNIN" of Armenia bowed out in third for $1,904.
Simpson locked horns with Romania's "Fisherman95" evenly matched in chips. Neither player could put any distance between themselves and the other, until a huge pot put the ball firmly in Simpson's court.
Former Irish Open Champion Ian Simpson Flattered to Join 888poker
Fisherman95 check-called bets on the flop and turn before check-calling an over-bet shove on the river. Fisherman95 had flopped a Broadway straight with their jack-nine, but Simpson, who had flopped two pair with king-ten, backed into a full house on the river.
That hand left Fisherman95 with a meager four big blind stack, while Simpson had over 100 big blinds. Fisherman95 doubled up, but any thoughts of an epic comeback were soon dashed when Simpson shoved with ten-eight, and Fisherman95 called with ace-nine. The all-queen flop kept the all-in player ahead, but a ten on the turn improved Simpson to a full house. A brick on the river meant it was job done for Simpson.
$15,000 Sunday PKO Rumble 109 Final Table Results
PlacePlayerCountryBountiesPrizeTotal Prize 1Ian "Simpioni" SimpsonUnited Kingdom$2,235$2,017$4,252 2Fisherman95Romania$1,035$2,017$3,052 3ARMYNINArmenia$704$1,200$1,904 4Fairenuf2Romania$218$863$1,081 5GUYLORD1000Montenegro$571$625$1,197 6Christian "chrisfrimodt" Frimodt PedersenDenmark$50$453$503 7Andrey "andrey59" LuisBrazil$87$330$418 8BradTiltAndorra$318$241$560 9R.Madrid2001Malta$131$177$308
Lithuania's "NL_Sport" Enjoys a Super Sunday at 888poker
Lithuania's "NL_Sport" helped themselves to almost $28,000 after a runner-up finish and a victory in two high stakes events at 888poker.
The runner-up finish came in the $40,000 Big Shot, a $1,050 buy-in tournament that saw 48 players create a $48,000 prize pool. Only the top six finishers won a slice of the pie, with "doruletul" ($2,880), "BetBetFck" ($3,360), and "NuttedOn875" ($4,800) being the first trio to fall.
The final three players paused the clock to discuss a deal, and those discussions bore fruit. With chunky prizes locked up, the last standing trio set about concluding the tournament. "nusoviau" fell in third for $11,300, leaving fellow Lithuanian NL_Sport heads-up against Finland's "mylly8." NL_Sport fell at the final hurdle yet still walked away with the biggest prize of $12,865 compared to the champion's $12,793.
$40,000 Big Shot 1,050 Final Table Results
PlacePlayerCountryPrize 1mylly8Finland$12,793* 2NL_SportLithuania$12,865* 3nusoviauLithuania$11,300* 4NuttedOn875 $4,800 5BetBetFckUkraine$3,360 6doruletulRomania$2,880
*reflects a three-way deal
NL_Sport's victory came in the $525 buy-in Texas 8-Max High Roller event, which was part of The Festival Online. Some 101 players created a $55,500 prize pool, and NL_Sport made amends for their earlier runner-up finish by bulldozing their way to victory here.
Five of the eight finalists hailed from Lithuania, with the three podium finishers secured by the yellow, green, and red striped flag. "Edgarito12" fell in third for $7,770 before NL_Sport defeated "Destroyer300" heads-up to resign the second-place finisher to a $10,267 consolation prize, while securing the $15,123 top prize for themselves.
888poker Set to Host The Festival Online From July 10-31
The Festival Online – Texas 8-Max High Roller Final Table Results
PlacePlayerCountryPrize 1NL_SportLithuania$15,123 2Destroyer300Lithuania$10,267 3Edgarito12Lithuania$7,770 4overbet13Malta$5,272 5aziz.ManchaBrazil$3,885 6Raise1ln.Lithuania$2,913 7Love2win23Lithuania$2,358 8KellerAGermany$1,803
Latest Results From The Festival Online
EventBuy-inEntrantsPrize poolChampionPrize PLO 6-Max$5542$2,100SharkFood$945 6-Max Turbo PKO$44252$10,080MonkeyKen$2,303* Texas Lowroller$22649$12,980Silvio_Dante$2,245 Super KO$109230$23,000daniel_nilla$3,041* Texas 8-Max High Roller$525101$55,500NL_Sport$15,123 PLO Lowroller$22160$3,200samsungas$7,888