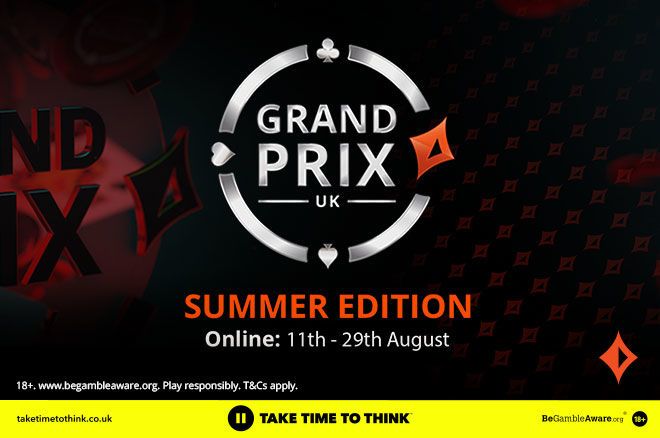 PartyPoker is the online poker site for you if you love grinding it out in progressive knockout tournaments. Fresh from the McLaren Turbo Series, PartyPoker is hosting the Grand Prix KO Summer Edition from August 11 through August 29.
The PartyPoker Grand Prix KO Summer Edition features 14 numbered PKO events with buy-ins ranging from $5.50 up to $320. The prize pools are impressive, too, with just shy of $2 million in combined guaranteed pots, including eight with six-figures up for grabs. $500,000 is locked in for the $109 Grand Prix KO Summer Edition Main Event alone!
Grand Prix KO Summer Edition Schedule
DatesEventBuy-inGuarantee Aug 11-15#01 Opener$33$75,000 Aug 11-15#02 Mini Opener$3.30$15,000 Aug 11-18#03 6-Max Championship$215$200,000 Aug 11-18#04 Mini 6-Max Championship$22$75,000 Aug 11-29#05 Main Event$109$500,000 Aug 11-29#06 Mini Main Event$11$100,000 Aug 13-22#07 7-Max High Roller$320$250,000 Aug 15-22#08 Super 50$55$150,000 Aug 15-22#09 Super 5$5.50$30,000 Aug 18-25#10 7-Max Championship$215$200,000 Aug 19-25#11 Mini 7-Max Championship$22$75,000 Aug 22-29#12 6-Max High Roller$320$200,000 Aug 23-29#13 Closer$33$100,000 Aug 23-29#14 Mini Closer$3.30$20,000
Each of the 14 events feature several starting flights, giving you plenty of chances to punch your Day 2 tickets, in addition to giving you much flexibility over when you play. All Grand Prix KO Summer Edition tournaments' Day 1s conclude when only 15% of the field remains, and those top players progress to Day 2 knowing they have locked up at least a min-cash plus, hopefully, several bankroll-boosting bounty payments.
PartyPoker's love of keeping the playing field level for players regardless of the size of their bankrolls is evident in its tournament offerings and in the Grand Prix KO Summer Edition especially. Each Day 1 has only one permitted re-entry and has limited late registration.
$500,000 Guaranteed Main Event for a $109 Buy-in
There is no doubt PartyPoker players will be going all out to become the champion of all the Grand Prix KO Summer Edition events, but it is the $109 buy-in $500,000 guaranteed Main Event that they all have one eye on.
The first of 38 Day 1s shuffles up and deals at 6:30 p.m. BST on August 11, with the final flight scheduled for 5:30 p.m. BST on August 29. Day 2 kicks off at 7:05 p.m. BST on August 29.
Main Event players receive 100,000 chips to begin their quest for glory. Blinds art at 400/800/100a, and increase every eight minutes, with late registration closing at the end of the 12th level. Buy into the Main Event during the 12th level and you will still have 33.33 big blinds because the blinds are 1,500/3,000/375a in Level 12!
When PartyPoker ran the Grand Prix KO Winter Series Main Event, more than 6,000 players bought in, and Argentina's Augusto Hagen outlasted them all. Hagen saw his $109 investment swell to $51,356 with bounties included. Maybe it will be you who banks a similar score in the summertime edition?