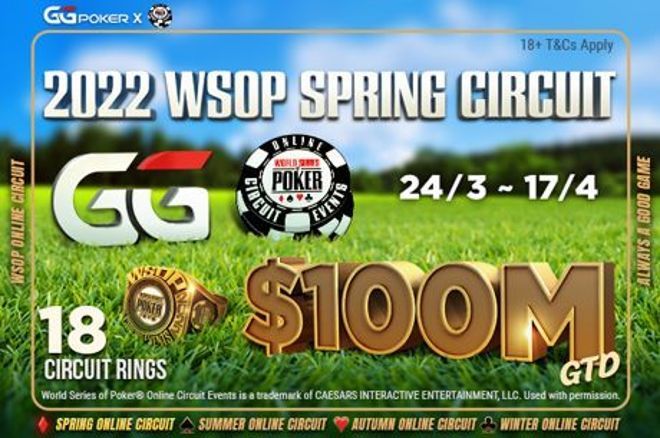 The $100 million guaranteed WSOP Spring Online Circuit festival kicked off at GGPoker this weekend and it is fair to say the big guns came out in force for its opening events. The opening tournaments were packed to the rafters with stellar names, but it was "Godofbaccarat" who shone the brightest in the first of 18 WSOPC ring-awarding tournaments.
#1: Big 500 NLE Spring Kick-Off Final Table Results
PlacePlayerCountryPrize 1GodofbaccaratCanada$325,684 2Danilo VelasevicMontenegro$244,228 3MemukulAustria$183,145 4Johannes "Hazes" StraverAustria$137,339 5Vinnie "JerryYang07" MohanUnited Kingdom$102,990 6Alon "Alon_Eldar" EldarIsrael$77,231 7Stoyan ObreshkovMacedonia$57,915 8Bertil "DonPepe" SamuelssonAndorra$43,430 9Pen15Canada$32,568
The opening event was a $500 buy-in No-Limit Hold'em affair that GGPoker promised at least $2 million would be won. A field of 6,242 entries ensured the guarantee was not only hit but surpassed by $964,950, a fantastic result. Some 1,080 players navigated their way through to Day 2, with 700 of them walking away with something to show for their efforts.
A min-cash weighed in at $1,177 but the least any of the finalists could take home was $32,568. That sum went to "Pen15" of Canada, who was the final table's first casualty.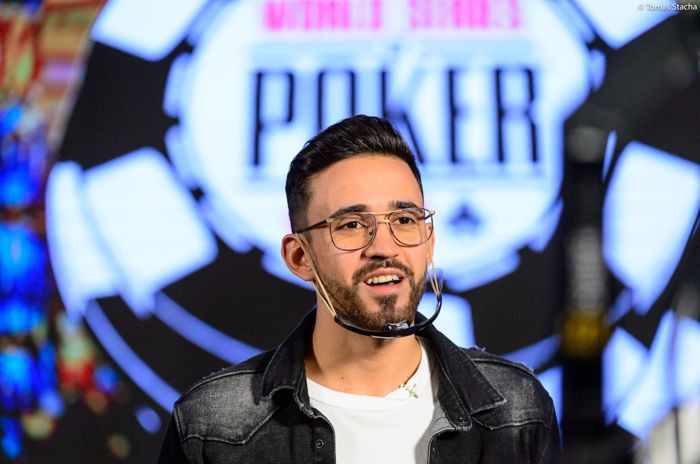 Stoyan Obreshkov finished in seventh place
Bertil "DonPepe" Samuelsson and Stoyan Obreshkov were the next players left with empty spaces where their chips once stood. The former collected $43,430 while the latter scooped a $57,915 prize.
Then came the demise of Israel's Alon "Alon_Edlar" Eldar in sixth-place. Eldar banked $77,231, which was the tournament's final five-figure prize. Fifth-place and $102,990 went to the United Kingdom's Vinnie "JerryYang07" Mohan. This is Mohan's largest-ever online tournament score and his first tipping the scales at six-figures.
The pay jumps continued growing and the prize money starting becoming increasingly life-changing. Johannes "Hazes" Straver got his hands on the $137,339 while fellow Austrian "Memukul" saw their GGPoker account balance swell by $183,145 when they crashed out in third.
Heads-up pitted Danilo Velasevic against "Godofbaccarat" in a battle where there was a near $81,500 difference in prize money plus the all-important gold WSOP Circuit ring. The one-on-one clash went Godofbaccarat's way, resining Velasevic to a $244,228 consolation prize and meaning the first event had a Canadian champion who was now $325,684 richer than they were a couple of days ago.
$100M Guaranteed WSOP Spring Online Circuit Hits GGPoker on March 24
Sammartino Scoops $92K Score After Three-Handed Chop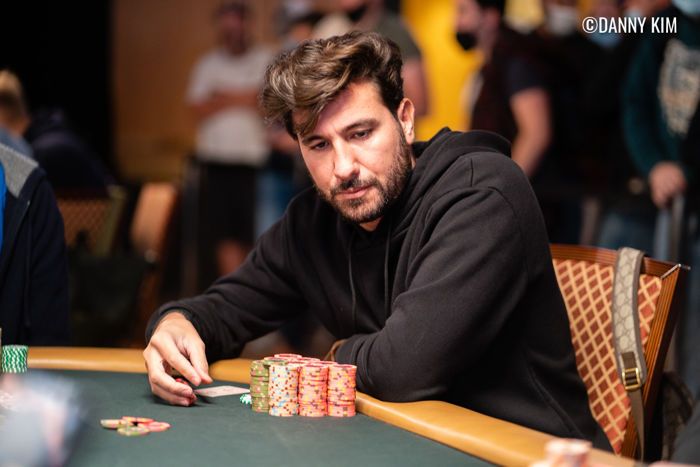 Dario Sammartino
Dario Sammartino helped himself to another major online poker title and $92,166 in prize money when he became the last player standing from a field of 694 in the $1,050 Sunday HR Main Event. Sammartino would have walked away with a six-figure prize had he not struck a deal when three-handed with "UrineTrouble" and Pavlo Veksler, who reeled in $86,405 and $75,711 prizes, respectively.
Everyone at the nine-handed final table locked in five figures. Jason "Cracked_" Pritchard, Chris Klodnicki, and Fausto "Fantastik55" Tantillo were the first finalists to fall by the wayside.
Christian "2StcMode2" Bertu was the sixth-place finisher before "BananenBencb789" and "Pok3rDi3m" busted to leave only three players in the hunt for the title of champion. That trio struck a deal for the remainder of the prize pool, and banked payouts ranging from $75,711 to $92,166, boosting their bankroll on the opening weekend of the $100 million guaranteed series.
WSOPC Series: $1,050 Sunday HR Main Event Final Table Results
PlacePlayerCountryPrize 1Dario SammartinoAustria$92,166* 2UrineTroubleLuxembourg$86,405* 3Pavlo VekslerAustria$75,711* 4Pok3rDi3mHungary$48,447 5BananenBencb789Austria$37,065 6Christian "2StcMode2" BertuSlovenia$28,357 7Fausto "Fantastik55" TantilloSan Marino$21,695 8Chris KlodnickiCanada$16,598 9Jason "Cracked_" PritchardNew Zealand$12,698
*reflects a three-handed deal
Triple Check-Raise Secures Fourth Super MILLION$ Title for Martirosian
Other Impressive Victories Worth $25,000+ From March 27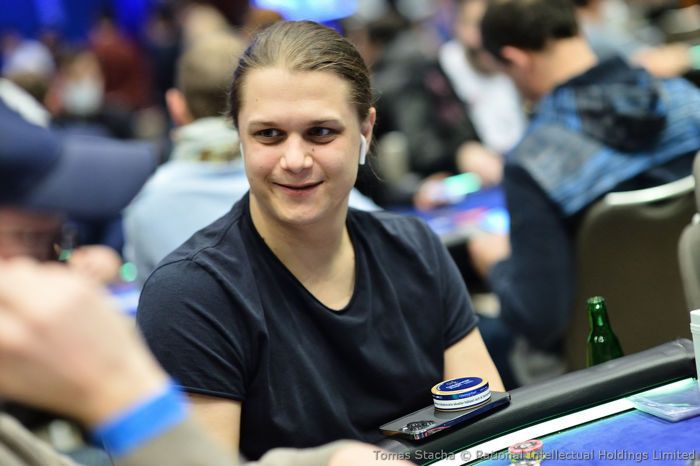 Another two titles for Sweden's Niklas Astedt
Niklas Astedt reeled in the top prizes in two GGPoker events this weekend; they had combined scores of $105,044. Three other GGpoker stars walked away with six-figure hauls. Isaac Haxton netted $291,155 for another victory in the $25,500 Sunday Super High Roller, Andre "Sperma" Marques won the $525 Bounty Hunters HR Main Event for $118,090, while Georgios Manousos banked $117,473 for winning the $1,050 GGMasters High Roller.
Isaac Haxton – winner of the $25,500 Sunday Super HR for $291,155Andre "Sperma" Marques – winner of the $525 Bounty Hunters HR Main Event for $118,090*Georgios Manousos – winner of the $1,050 GGMasters High Roller for $117,473Samuel Vousden – winner of the $5,250 Deepstack Sunday HR for $71,766Niklas Astedt – winner of the $5,250 Bounty Hunters Super High Roller for $66,030*Aleksander "Instaprincez" Doan – winner of the $150 GGMasters for $63,538espoir2020 – winner of the $250 Sunday Main Event for $62,240Carlos Villamarin – winner of the $300 GGMasters Bounty for $52,808*Matas Cimbolas – winner of the $888 Crazy Eights for $48,355Timothy Cramer – winner of the $777 Lucky Sevens HR for $48,051Christian Rudolph – winner of the $1,050 Sunday Heater HR Bounty Turbo for $46,375*Niklas Astedt – winner of the $840 Bounty Warm-Up for $39,014*Thomas Huber – first-place in the $1,050 Sunday PLO Main Event for $38,480mj74 – winner of the $1,050 Sunday Kick-Off HR for $35,143baccarat8 – winner of the $525 Bounty Hunters HR Encore for $34,760*Bernardo Granato – winner of the $210 Bounty Hunters Sunday Big Game for $34,159*123MAMA123 – winner of the $300 Sunday Marathon for $31,257farid2020frd – winner of the $250 Sunday Monster Stack for $30,646Diego "TheProjecter" Ventura – winner of the $640 Super Six Bounty Turbo HR for $25,951*Farid Jattin – winner of the $840 PLO Hundred Stack HR for $25,281