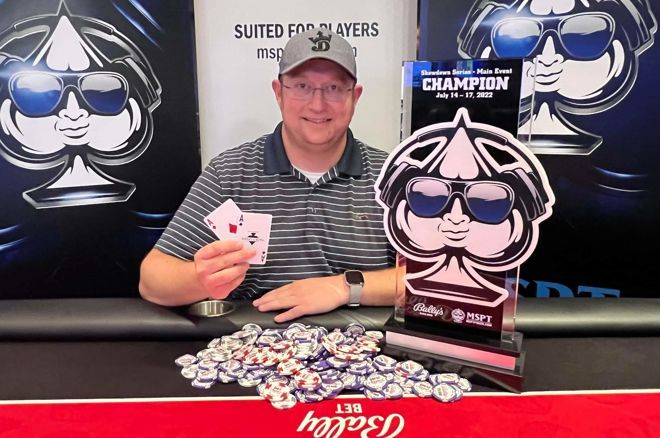 This past weekend, the Mid-States Poker Tour (MSPT) $1,110 Main Event at Bally's Black Hawk in Colorado attracted 585 entrants over three starting flights. On Sunday's Day 2, Eric Maier of Littleton emerged victorious to claim a $106,858 top prize and his first MSPT title.
Maier previously final tabled the MSPT Season 7 stop at Milwaukee's Potawatomi Casino for $14,416, and also finished fourth in Season 8's $360 Regional Event at Black Hawk's Golden Gates Casino, good for $21,019.
According to the Hendon Mob, Maier had $161,339 in live tournament earnings before the victory with a previous career-best of $26,513 for finishing third in the 2017 Colorado Poker Championship Event #1: $400 NLH Kick Off.
MSPT Bally's Black Hawk Final Table Results
PlacePlayerHometownPrize 1Eric MaierLittleton, Colorado$106,858 2Behooz HagimalekiDenver, Colorado$85,000 3James LeeEagle, Colorado$53,199 4Igor LeshchinskiyCastle Rock, Colorado$39,617 5Larry CarilloLas Vegas, Nevada$29,995 6Hussein HameedAurora, Colorado$22,638 7Don SarubbiMelrose Park, Illinois$17,544 8Albert HartCentennial, Colorado$13,581 9Joel VerbeckDenver, Colorado$10,753
Others to cash the tournament were Deluvina Gries (10th – $8,489), Carlos Correa (13th – $6,791), David Maldonado (15th – $6,791), Jason Vanstrom (19th – $4,980), Zach Harris (25th – $3,509), WSOP bracelet winner Adrian Buckley (28th – $2,717), Mark Darner (40th – $2,434), Chris Tryba (44th – $2,434), and Cameron Bazley (60th – $2,150).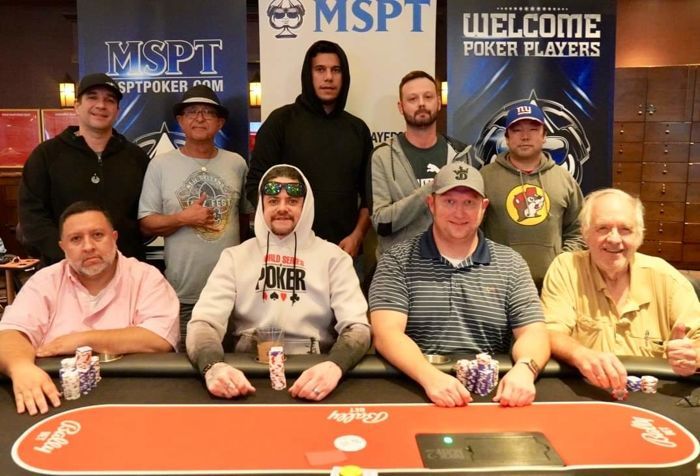 The MSPT Bally's Black Hawk final table.
Click here to learn about this weekend's MSPT Riverside
Two MSPT Hall of Famers Capture WSOP Bracelets
The 2022 World Series of Poker (WSOP) was kind to a pair of players who cut their chops on the MSPT; in fact, both are part of the MSPT Hall of Fame, which is currently comprised of just eight members.
Rich Alsup was inducted in 2018 and is the MSPT's all-time money leader with $840,226 in career tour earnings, which includes a record 13 top-ten finishes in the Main Event. Alsup is a household name in Midwest poker circles, and this summer he broke out in an even bigger way by capturing his first WSOP gold bracelet.
He topped a 2,820-entry field to win Event #80: $800 No-Limit Hold'em Deepstack for $272,065. The 38-year-old Alsup wasn't even planning on playing the tournament as he wanted to play the mystery bounty at the Wynn, but Rob Wazwaz convinced Alsup to play by saying, "Come play with the fish."
Event #82: $800 No-Limit Hold'em Deepstack Final Table Results
PlacePlayerCountryPrize 1Richard AlsupUnited States$272,065 2Gary WhiteheadUnited Kingdom$168,093 3Ari EngelCanada$126,233 4Marc MacdonnellIreland$95,487 5Ryan JaworskiUnited States$72,759 6Artem MetalidiUkraine$55,849 7Patrick TruongUnited States$43,188 8Frederich BrownUnited States$33,648 9Donny CashoUnited States$26,413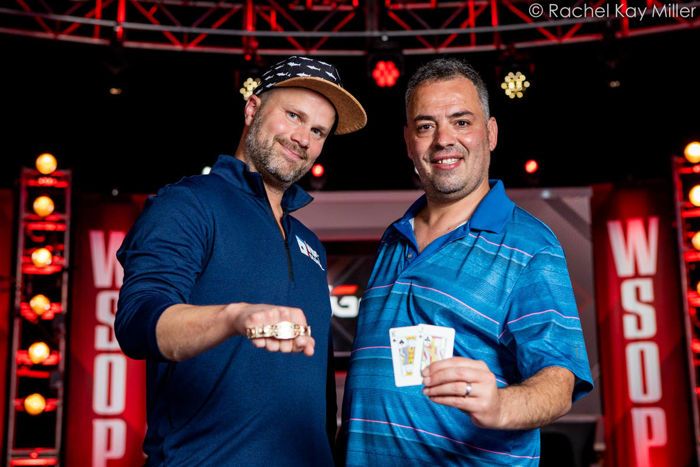 Richard Alsup and Rob Wazwaz
Speaking of Wazwaz, earlier in the series he captured his first gold bracelet as well. It happened in Event #25: $800 No-Limit Hold'em Deepstack, a tournament that attracted 4,062 entrants.
Wazwaz, who was inducted into the MSPT Hall of Fame in 2021, earned $358,346 for the victory.
"It was my third final table, but first for a long time," Wazwaz told PokerNews. "Back then I wasn't as experienced, I didn't play them right when I got deep. But I've come a long way, and my dream was to come out here and win a bracelet".
Wazwaz added, "I ran so pure, so pure, like my whole life of playing tournaments, this was the purest tournament I've ever ran in my entire life".
Event #25: $800 No-Limit Hold'em Deepstack Final Table Results
PlacePlayerCountryPrize 1Rajaee "Rob" WazwazUnited States$358,346 2Robert CrowUnited States$221,399 3Terence ReidUnited States$166,011 4Sean LegendreUnited States$125,371 5Dov MarkowichCanada$95,363 6Maxime DuhamelCanada$73,064 7Abhinav IyerIndia$56,388 8Sebastien ClotFrance$43,839 9Liran BetitoIsrael$34,336
Click here to read more about Wazwaz's bracelet win!
Established in 2017, the MSPT Hall of Fame was established to recognize those individuals on the tour who have shown superior skill and achieved specific long-term accomplishments.
The criteria to earn a spot on the MSPT Hall of Fame is as follows:
Achieve a minimum of 25 MSPT Main Event Cashes and 1 MSPT Win OR 1 MSPT Player of the Year; orAchieve a minimum of 10 MSPT Main Event Final Tables and 1 MSPT Win OR 1 MSPT Player of the Year
YearInductee 2022Matt Kirby 2021Rob Wazwaz 2021Jason Seitz 2020Blake Bohn 2020Pat Steele 2019Mark Hodge 2018Aaron Johnson 2018Rich Alsup 2018Kou Vang
Sharelines
Eric Maier topped a 585-entry field to win the @msptpoker $1,110 Main Event at @ballysbhpoker in Colorado for a career-high $106,858.

Chad Holloway
Executive Editor U.S.
Executive Editor US, PokerNews Podcast co-host & 2013 WSOP Bracelet Winner.