The fifth and final Kentucky Derby Future Wager (KDFW) pool opens Thursday with Louisiana Derby winner Epicenter the 5/1 favorite among the 23 individual and "All Other 3-Year-Olds" (a.k.a. The Field) choices. But a newcomer to the pool should take plenty of money.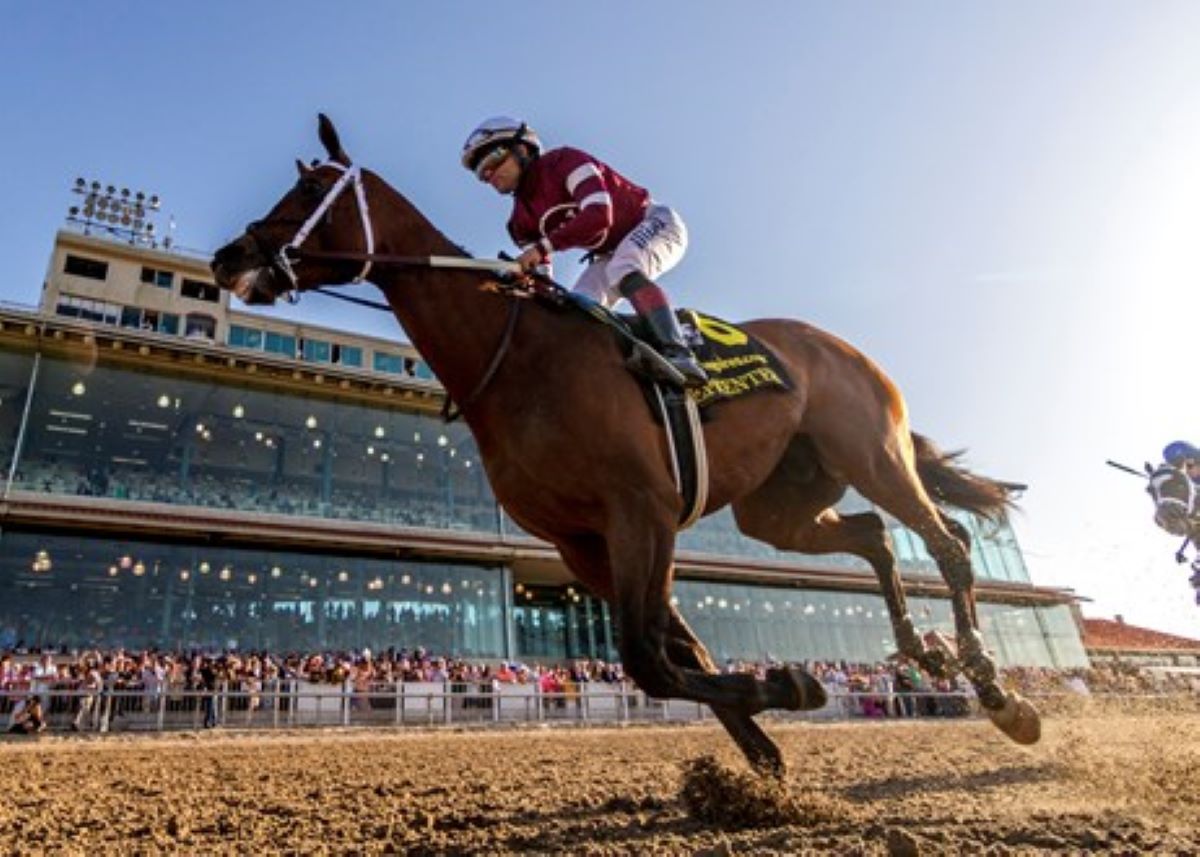 Louisiana Derby winner Epicenter took 5/1 favored status going into the final Kentucky Derby Future Wager pool. That pool ends Saturday before the final major Derby preps begin. (Image: Hodges Photography/Amanda Hodges Weir)
That would be Messier, who makes his KDFW debut at 8/1. The former Bob Baffert charge was ineligible for the first four pools due to that trainer's suspension from Churchill Downs, the pool's sponsor. But Messier's move to former Baffert assistant Tim Yakteen late last month made him eligible for the final KDFW pool.
Messier's 8/1 odds put him as the third individual favorite, sharing that status with Florida Derby winner White Abarrio and San Felipe Stakes winner Forbidden Kingdom. Churchill Downs morning line author Mike Battaglia listed that trio behind Epicenter and Smile Happy (6/1) in the KDFW.
This fifth pool opens Thursday and runs through Saturday at 4:30 p.m. ET.
That's different from the four previous pools, which ran until 6 p.m, ET Sunday. This pool cuts off before the first Road to the Kentucky Derby Championship Series race: the Grade 2 Wood Memorial at Aqueduct.
Messier is the likely Santa Anita Derby favorite
That is one of Saturday's three 170-point Derby preps. Joining it are the Grade 1 Blue Grass Stakes from Keeneland and the Grade 1 Santa Anita Derby, where Messier is expected to be the morning line favorite.
The Robert B. Lewis winner by 15 lengths, Messier is one of nine pool selections expected to run in one of those three races. He and Forbidden Kingdom are the two to watch in the Santa Anita Derby. Smile Happy, Ethereal Road (50/1) and Zandon (20/1) are likely for the Blue Grass. Early Voting (20/1), In Due Time (50/1), Mo Donegal (20/1) and Morello (20/1) are expected for the Wood Memorial.
Other newcomers to this final KDFW pool are Ethereal Road, who finished second in the Grade 2 Rebel last month, UAE Derby winner Crown Pride (50/1) and runner up Summer Is Tomorrow (50/1), and Tawny Port (50/1), the runner up to Tiz the Bomb in last weekend's Jeff Ruby Steaks.
You could have had Epicenter at 10X this price
Epicenter's 5/1 favored odds illustrate his maturation as a front-row Derby contender. He closed at 52/1 in the first KDFW pool Nov. 28. He closed at 24/1 in both KDFW Pools 2 and 3 and 13/1 in Pool 4.
With much of the Derby picture coming into deeper focus in terms of contenders, the "All Other 3-Year-Olds" opened at a lofty 15/1.
2022 Kentucky Derby Future Wager-Pool 5
Trainer
Odds
Barber Road
John Ortiz
50/1
Charge It
Todd Pletcher
12/1
Crown Pride (JPN)
Koichi Shintani
50/1
Cyberknife
Brad Cox
12/1
Early Voting
Chad Brown
20/1
Emmanuel
Todd Pletcher
20/1
Epicenter
Steve Asmussen
5/1
Ethereal Road
D. Wayne Lukas
50/1
Forbidden Kingdom
Richard Mandella
8/1
In Due Time
Kelly Breen
50/1
Messier
Tim Yakteen
8/1
Mo Donegal
Todd Pletcher
20/1
Morello
Steve Asmussen
20/1
Pioneer of Medina
Todd Pletcher
30/1
Simplification
Antonio Sano
15/1
Slow Down Andy
Doug O'Neill
50/1
Smile Happy
Kenny McPeek
6/1
Summer Is Tomorrow
Bhupat Seemar
50/1
Tawny Port
Brad Cox
50/1
Tiz the Bomb
Kenny McPeek
12/1
White Abarrio
Saffie Joseph Jr.
8/1
Zandon
Chad Brown
20/1
Zozos
Brad Cox
30/1
"All Other 3-Year-Olds"
—
15/1
The KDFW is available on most ADW platforms and simulcast centers. Past performances and real-time odds are available here.