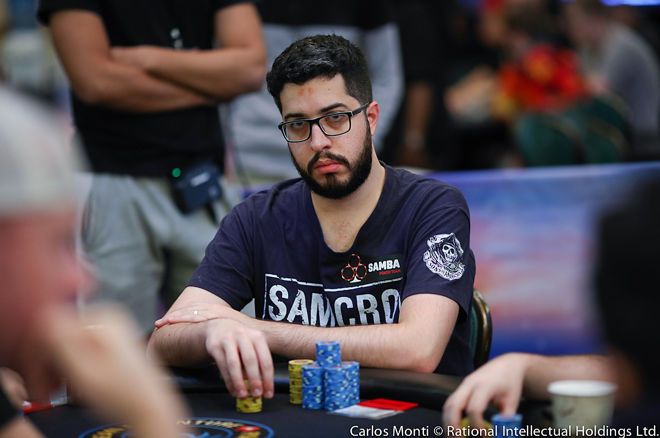 Eder "edercampana" Campana edged his PokerStars winnings ever closer to $3 million by taking down a high roller event during KO Week on April 3. Campana came out on top in the $1,050 NLHE 8-Max Sunday High Roller, a result that added $74,260 to his bankroll.
The Brazilian's latest in a long line of large scores is the fifth largest of his illustrious carer. it represents the second-largest cash at PokerStars, second only to the $219,725 Campana helped himself to during the 2018 World Championship Of Online Poker (WCOOP).
KO Week 74: $1,050 NLHE 8-Max Sunday HR SE
PlacePlayerCountryBountiesPrizeTotal Prize 1Eder "edercampana" CampanaBrazil$43,974$30,286$74,260 2Thomas "WushuTM" MuehloeckerAustria$9,294$30,286$39,580 3DaniC19941893Brazil$4,554$19,601$24,155 4SeunghunSouth Korea$6,250$14,763$21,013 5GratitdudeEstonia$3,953$11,120$15,073 6BBRS999Croatia$3,875$8,376$12,251 7000000000136Malta$3,125$6,309$9,434 8aminolastCanada$1,718$4,752$6,470
A field of 378 entrants created a $378,000 prize pool where half went on the heads of each entrants with the top 47 finishers sharing the other 50%. Such luminaries as Simon "C. Darwin2" Mattsson, Ivan "zufo16" Zufic, and Marius "DEX888" Gierse cashed but failed to progress to the eighth-handed final table.
"aminolast" did reach the final table but their time there was short-lived bcause they busted in eighth place. With bounties included, aminolast walked away with $6,40.
Football Star Neymar Jr is the Face of PokerStars' Exciting Kick-Off Games
Seventh place and $9,434 went to "000000000136" of Malta, which was the last prize not to tip the scales at five figures. "BBRS999" of Croatia and "Gratitdude" of Estonia saw their tournaments end abruptly, although the $12,251 and $15,073 they scooped will go some way to numbing the pain.
"Seunghun" secured a $21,013 payout all the way over in South Korea before "DaniC19941893" of Brazil crashed out in third for $24,155, which left Thomas "WushuTM" Muehloecker and Campana heads-up for the title and a huge bounty payment.
Both heads-up players banked $30,286 from the main prize pool but the final bounty payment up for grabs was even larger than that prize. Muehloecker fell at the final hurdle and added $9,294 to his main prize pool payout. However, Campana added a cool $43,974 to his payout for a combined prize of $39,580.
Hulaaaa Crowned KO Week Sunday Warm-Up Champion
"Hulaaaa" of Ukraine became a KO Week champion after taking down the $215 Sunday Warm-Up. Winning this tournament would be amazing in its own right but especially so when you consider what Hulaaaa and their fellow Ukrainians are experiencing right now.
A bumper field of 1,772 entrants ensured the $175,000 guarantee was blown out of the water; the tournament paid out $354,400. Some $44,268 of that pot went t the Ukrainian chamion.
Team PokerStars' Benjamin "bencb789" Rolle put together a deep run, which ended in 19th place.
The tournament's top four finishers saw a five-figure sum head to their PokerStars accounts when bounties were included. "niki_kk" of Bulgaria's fourth-place finish saw them take home $13,583. Andrew "Picasso 2" Hedley secured a $17,095 payday after falling in third; their elimination left Hulaaaa heads-up with "YannickPoker1."
Hulaaaa got the job done in the one-on-one battle and padded their bankroll with $44,268, leaving Austria's YannickPoker1 to reel in a $27,778 consolation prize.
Germany's "Boene" Banks Career-Best Score During PokerStars KO Week
KO Week 67: $215 NLHE Sunday Warm-Up
PlacePlayerCountryBountiesPrizeTotal Prize 1HulaaaaUkraine$23,030$21,238$44,268 2YannickPoker1Austria$23,029$4,749$27,778 3Andrew "Picasso 2" HedleyUnited Kingdom$13,786$3,309$17,095 4niki_kkBulgaria$9,882$3,701$13,583 5EscapemissioPoland$7,084$1,195$8,279 6vatniykrokBelarus$5,078$2,545$7,623 7Casimir "Ceis25" SeireFinland$3,640$1,775$5,415 8Richard "ChipsFool" HoadleyUnited Kingdom$2,609$2,759$5,368 9chiefofxocolatiSwitzerland$1,870$3,246$5,116
Other PokerStars Results From April 3
A special mention goes to "Ant1K1lller" who won not one but two bounty builder tournaments. They secured the $13,941 top prize in the $215 Bounty Builder before taking down the $109 Bounty Builder for an additional $19,696.
gardze_wami – winner of the $109 Sunday Cooldown for $26,389*Ant1K1lller – winner of the $109 Bounty Builder for $19,696*Ant1K1lller – winner of the $215 Bounty Builder for $13,941*Anton "Bomber&Granater" Wigg – winner of the $1,050 Sunday Supersonic for $13,641Christian "WATnlos" Rudolph – winner of the $1,050 Sunday Cooldown for $13,225*SaoJorge2222 – winner of the $215 Sunday Supersonic for $12,409Yuri "theNERDguy" Dzivielevski – winner of the $1,050 Sunday Warm-Up for $11,304″Artem7447″ – winner of the $109 Sunda Kickoff for $7,399