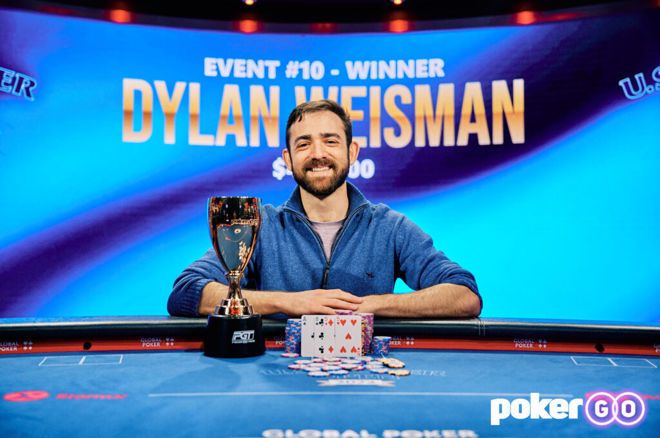 The 2022 US Poker Open (USPO) is closing out with just one event remaining and found its latest winners in Pot-Limit Omaha specialist Dylan Weisman and two-time USPO overall champion runner-up Sean Winter.
Weisman took down Event #10: $25,000 Pot-Limit Omaha to earn $416,500, while Winter found a victory in Event #11: $25,000 No-Limit Hold'em the next day to take home $440,000.
Weisman Adds to PLO Resume
The $25,000 PLO event, which attracted 49 runners and generated $1.2 million in prize money, was all Weisman as the Upswing Poker coach entered the final table with the chip lead and eliminated all five of his opponents.
First out was Isaac Kempton, who exited in sixth place for $73,500 when his aces were cracked by the flush of Weisman. Next out was 2018 USPO overall champion Stephen Chidwick, who lost a chunk of his stack to Weisman when he ran a river bluff and the eventual winner snapped him off with a ten-high flush.
Not long after, Chidwick held
and moved all-in on a board of
, only to get called by Weisman holding
for two pair. The board ran out
, which was no help to Chidwick and he went out in fifth for $98,000.
2021 GPI Player of the Year Ali Imsirovic bowed out in third place for $183,750 when he flopped top pair but was out-kicked by Weisman, who entered heads-up play against Cary Katz with a sizeable chip lead.
In the final hand, Katz held
on a board of
for top two pair, but was absolutely crushed by the set of Weisman with
. Katz called off after Weisman put in a turn three-bet and didn't improve on the
river to go out in second place for $269,500.
Weisman, who won his first World Series of Poker (WSOP) bracelet last fall in Event #28: $1,000 Pot-Limit Omaha, has made an impressive four final tables at this year's USPO. He finished fifth in Event #2: $10,000 Pot-Limit Omaha, fifth in Event #4: $10,000 Big Bet Mix, sixth in Event #8: $15,000 Pot-Limit Omaha and was able to get the job done in the final PLO event of the high-roller series.
Event #10: $25,000 Pot-Limit Omaha Final Results
 PLACEPLAYERCOUNTRYPRIZE (IN USD)  1Dylan Weisman $416,500  2Cary Katz $269,500  3Ali Imsirovic $183,750  4Matthew Wantman $134,750  5Stephen Chidwick $98,000  6Isaac Kempton $73,500
Winter Bests Imsirovic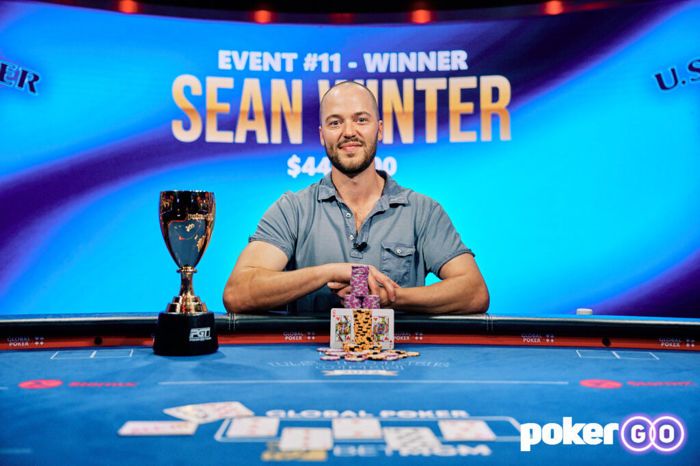 Sean Winter
Winter, who for two years in a row has finished second on the USPO leaderboard to two-time champion David Peters, has had a quiet series thus far but found a victory on Sunday after entering the final table second in chips. The tournament had 55 entrants to generate $1.4 million in prize money.
Peters, who has been absent for the majority of the series, was also at the final table and bowed out in fifth place for $110,000 when his ace-jack was dominated by the ace-queen on Imsirovic.
Next out was poker commentator Nick Schulman, who lost a big portion of his stack when his pocket jacks couldn't hold against the Big Slick of Jake Schindler. Later, Schulman got it in with ace-queen but couldn't improve against the pocket fours of Winter.
Schindler went out in third in brutal fashion when his ace-king was out-flopped by the ace-deuce of Imsirovic, who entered heads-up play against Winter with a slight chip lead but couldn't hold onto it. Imsirovic chipped down and ultimately fell when he got it in with ace-three against Winter's ace-ten and couldn't improve.
Event #11: $25,000 No-Limit Hold'em Final Results
 PLACEPLAYERCOUNTRYPRIZE (IN USD)  1Sean WinterUnited States$440,000  2Ali ImsirovicBosnia and Herzegovina$288,750  3Jake SchindlerUnited States$192,500  4Nick SchulmanUnited States$137,500  5David PetersUnited States$110,000  6Tamon NakamuraJapan$82,500  7Cary KatzUnited States$68,750  8Dan SmithUnited States$55,000
An earlier play Winter made against Imsirovic that made its way around Twitter may have been a sign of things to come. During three-handed play, Winter five-bet with
from the small blind and Imsirovic smooth-called with
after four-betting from the big blind. Winter bet small on the flop of
and got a call from Imsirovic, who also called a small bet on the
turn. Winter emptied the clip on the
river and got Imsirovic to lay down the winner.
"Absolutely remarkable!" reacted PokerGO commentator Jeff Platt. "Sean Winter putting on a show."
The 2022 USPO will wrap up on Monday with the completion of Event #12: $25,000 No-Limit Hold'em, which is currently underway. Japan's Tamon Nakamura currently tops the USPO leaderboard with 588 points, followed by Alex Foxen (488 points) and Chino Rheem (481 points).
A list of winners so far at the 2022 USPO is available in the table below.
2022 US Poker Open Winners
 TOURNAMENTENTRIESPRIZE POOLWINNERCOUNTRYPRIZE (IN USD)  Event #1: $10,000 No-Limit Hold'em93$930,000Shannon ShorrUnited States$213,900  Event #2: $10,000 Pot-Limit Omaha77$770,000Justin YoungUnited States$200,200  Event #3: $10,000 No-Limit Hold'em88$880,000Adam HendrixUnited States$211,200  Event #4: $10,000 Big Bet Mix53$530,000Tamon NakamuraJapan$169,600  Event #5: $10,000 No-Limit Hold'em66$660,000Jeremy AusmusUnited States$178,200  Event #6: $15,000 8-Game47$705,000Tamon NakamuraJapan$239,700  Event #7: $15,000 No-Limit Hold'em70$1,050,000Alex FoxenUnited States$283,500  Event #8: $15,000 Pot-Limit Omaha67$1,005,000Chino RheemUnited States$217,350  Event #9: $25,000 No-Limit Hold'em63$1,575,000Erik SeidelUnited States$472,500  Event #10: $25,000 Pot-Limit Omaha49$1,225,000Dylan WeismanUnited States$416,500  Event #11: $25,000 No-Limit Hold'em55$1,375,000Sean WinterUnited States$440,000
Check out the PokerNews US Poker Open Hub here!
*Images courtesy of PokerGO.