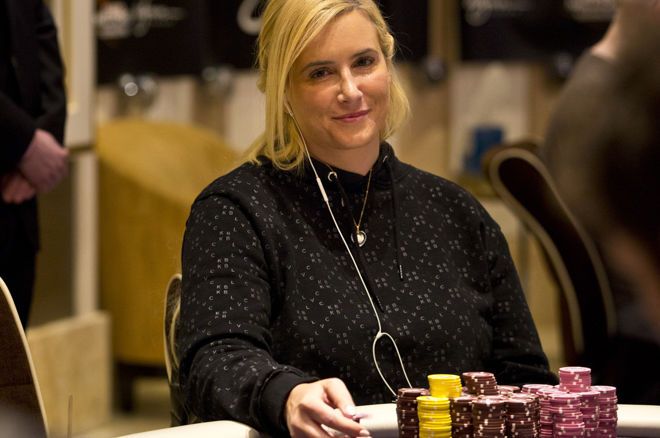 The $215 Sunday Million 16th Anniversary Edition shuffled up and dealt on March 20 and saw players flock to PokerStars in droves to buy into the $10 million guaranteed tournament. Some 48,305 players bought in but less than a quarter, 8,991, made it through to Day 2. However, both those numbers are set to increase because late registration remains open until Day 2's start at 6:10 GMT on March 21.
One player who punched her Day 2 ticket is none other than the tournament's reigning champion, Vanessa "Niffller" Kade; she finished with 269,697 chips, which are enough to place her in the top 430 right now. Kade's first $215 bullet did not go to plan and she crashed by the wayside, but the Canadian picked herself up, dusted herself off, and went on an impressive run that saw he multiply her 20,000 starting stack 13.5 times over.
Of course, Kade entered this tournament off the back of yet another impressive result where her fifth place finish in the Wynn Millions Main Event saw another $527,481 make its way to her ever-growing bankroll. Another deep run in a major event beckons for Kade.
"If You Love Poker You Should Be Playing the Sunday Million" Says PokerStars' Sam Grafton
$215 Sunday Million 16th Anniversary Top 10 Chip Counts
PlacePlayerCountryChips 1petermtvBrazil708,719 2xxViNtxxBelarus690,878 3L-glutamine8United Kingdom677,570 4wayonthewayCroatia587,760 5WicklikSlovakia585,825 6Vaporizer 1Brazil583,266 7D.japaaBrazil573,684 8chardychardGermany559,198 9VonKlonkSweden551,875 10Sandmann4218Germany542,065
Although Kade is well-positioned for yet another deep run in a special edition of the Sunday Million, it is Brazil's "petermtv" who earned the title of overnight chip leader. The Brazilian enjoyed a fruitful evening at the PokerStars virtual felt, firing only a single bullet on their way to amassing a tournament-leading stack of 708,719 chips.
Two other players ended Day 1 with over 600,000 chips each. Belarusian "xxViNtxx" bagged up 690,878 while "L-glutamine8" of the United Kingdom had 677,570 chips in front of them when the curtain came down on Day 1's proceedings.
PokerStars Team Pros Reveal Their Sunday Million Strategy Tips
A Dozen Members of Team PokerStars Progress to Day 2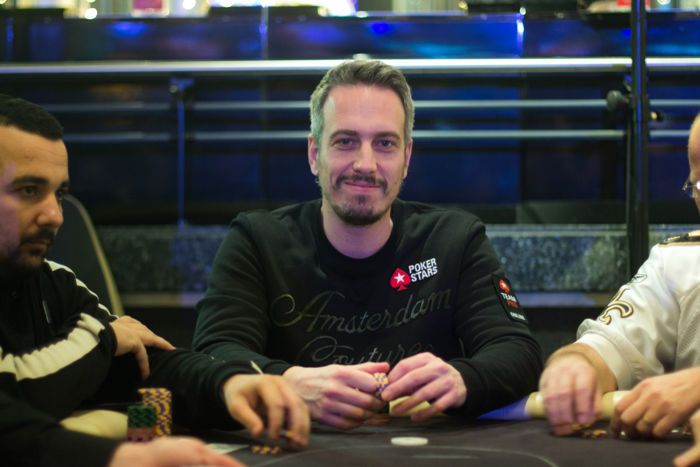 Lex Veldhuis is the best placed Team PokerStars player on Day 2
It was a good day to have the famous Red Spade displayed next to your alias with no fewer than a dozen members of Team PokerStars still being in the hunt on Day 2.
Streamer extraordinaire Lex "L. Veldhuis" Veldhuis shone the brightest of those 12 Team PokerStars members, finishing Day 1 armed with a 207,162-strong arsenal. Only Parker "tonkaaaa" Talbot, on 180,895, got close to the popular Dutchman.
All but four of those Team PokerStars players who navigated their way through the minefield of a huge Day 1 field did so with six-figure stacks. Keep a particular look out for Benjamin "bencb789" Rolle (121,051) who has a knack of going deep in these massive events, and for Alejandro "PapoAR" Lococo (111,552) who is full of confidence after his victory in the €1,100 Eureka Main Event at the recent EPT Prague festival.
Lex "L. Veldhuis" Veldhuis – 207,162Parker "tonkaaaa" Talbot – 180,895Lasse "Wistern" Jadg Laauristen – 155,335Rafael "GM_VALTER" Moraes – 129,391Tom "MajinBoob" Hayward – 123,187Benjamin "bencb789" Rolle – 121,051Alejandro "[Papo]AR" Lococo – 111,552Benjamin "Spraggy" Spragg – 102,785Felix "xflixx" Schneiders – 74,050Fintan "easywithaces" Hand – 56,490Sam "SamSquid" Grafton – 20,000Sebastian "peach&loove" Huber – 19,325
Late Registration Remains Open; Satellite Still Running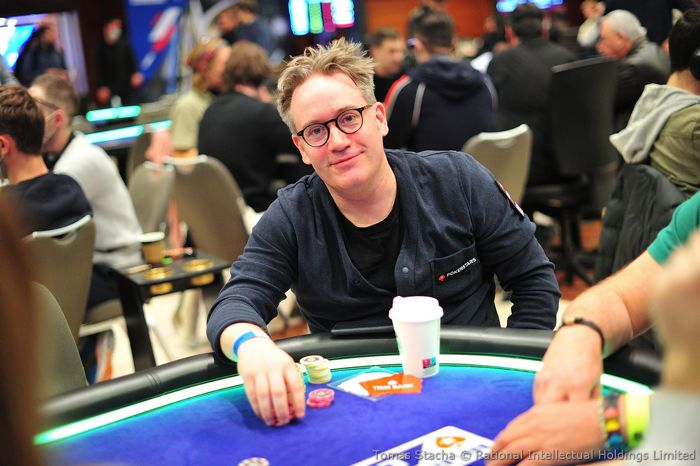 Sam Grafton has taken full advantage of this tournament's extended late registration period
One Team PokerStars member has taken full advantage of the extended late registration period and flicked in the $215 buy-in with Day 2 approaching. Sam "SamSquid" Grafton, winner of a €10,200 High Roller for €80,360 and runner-up in a €25,000 High Roller for €220,050, bought in late and sits down with 20,000 chips. That gives the British star a ten big blind stack when play resumes at 6:10 p.m. GMT on March 21.
Should you wish to join any of the players mentioned above, you need to hit the Sunday Million satellites as soon as possible. Sit & Go satellites from $3.30, Spin & Go tournament from $4, and multi-table tournaments starting at $1.10 are in the PokerStars lobby right now.