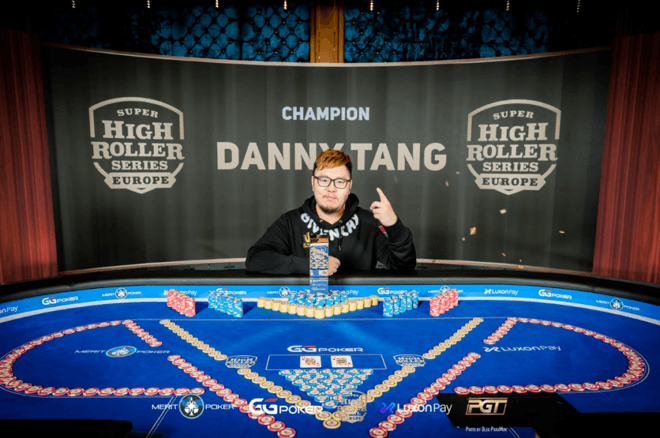 Danny Tang defeated Lun Loon in heads-up play to win Event #5: $50,000 Short Deck in the Super High Roller Series Europe at Merit Crystal Cove Resort and Casino in North Cyprus.
The event drew 32 entrants to create a prize pool of $1,600,000, with Tang taking home $640,000 for the victory.
Jason Koon made another deep run but finished third for $256,000. Seth Davies and Paul Phua rounded out the top five finishers.
Tang's victory came on the strength of his eliminations of Davies and Koon at the final table, a run that gave him a 3-1 chip lead going into heads-up play against Loon. Loon and Tang clashed for about an hour, and the big moment came when Tang's queen-jack outdrew Loon's ace-king for a straight to seal the deal.
SHRS Europe Event #5: $50,000 Short Deck Results
PlaceNameCountryPrize 1Danny TangHong Kong$640,000 2Lun LoonMalaysia$416,000 3Jason KoonUnited States$256,000 4Seth DaviesUnited States$176,000 5Paul PhuaMalaysia$112,000
Phil Ivey remains on top of the SHRS Europe standings with a dominating lead, but Koon picked up 154 points to move into the second position on the leaderboard, while Tang's win was good for a jump to third. Wednesday's $250,000 Super High Roller Bowl looms large as the field tries to catch up with Ivey.
The top player at the end of the series will win the SHRS Europe championship and a $25,000 bonus.
SHRS Europe Championship Standings
RankPlayerCountryPoints 1Phil IveyUnited States1,725 2Jason KoonUnited States854 3Danny TangMalaysia844 4Andras NemethHungary738 5Winfred YuHong Kong700 6Elton TsangHong Kong653 7Mikita BadziakouskiBelarus633 8Tom VogelsangNetherlands616 9Laszlo BujtasHungary606 10Wai Kiat LeeMalaysia567
Best Free to Play Slots
Event #6 Gets Underway
Seven players remain in Event #6: $50,000 No-Limit Hold'em, and Timothy Adams is the leader going into Wednesday's Day 2 finale. The sixth event of the SHRS Europe series drew 43 entrants for a prize pool of $2,150,000. The winner will take home $731,000, and the returning players are guaranteed at least $86,000. Cards go in the air at 1 p.m. local time.
Adams is followed by Sam Greenwood in second for a final table that will feature three Canadians, including Daniel Dvoress in fifth. Koon sits in third on the leaderboard and he will look to continue his great run at the Triton Poker/SHRS combined series, where he has five cashes so far. His last three trips to the final table have resulted in a third place finish, and he will try to find a breakthrough with his first victory of the series on Wednesday.
Also qualifying for the Day 2 finale are Russia's Artur Martirosyan and Viacheslav Buldygin, as well as SHRS Europe Event #1 winner Tom Vogelsang.
SHRS Europe Event #6: $50,000 No-Limit Hold'em Day 2 Chip Counts
RankNameCountryChip Count 1Timothy AdamsCanada1,655,000 2Sam GreenwoodCanada1,395,000 3Jason KoonUnited States1,060,000 4Artur MartirosyanRussia710,000 5Daniel DvoressCanada700,000 6Viacheslav BuldyginRussia550,000 7Tom VogelsangNetherlands380,000
Click for live updates from the PokerGO Live Reporting team
Where to Watch the Final Table?
The final table action will air on Wednesday, April 13 with David Tuchman and Brent Hanks doing the commentary on the PokerGO YouTube channel. Play is expected to go live at 7 a.m ET and 4 a.m. PT.
*Image courtesy of Merit Poker
Save $20 on an annual subscription to PokerGO by using the code "EU22WEB" at check out. Sign up here.

Matt Hansen
Live Reporting Executive
Las Vegas-based PokerNews Live Reporting Executive, originally from Chicago, IL