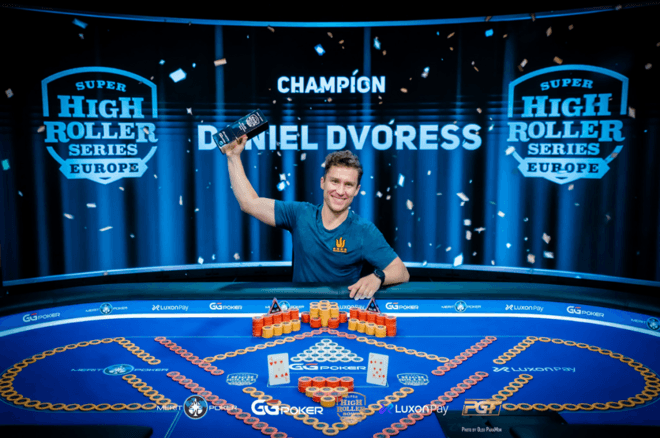 Daniel Dvoress defeated fellow Canadian Sam Greenwood in heads-up play to win Event #6: $50,000 No-Limit Hold'em in the Super High Roller Series Europe at Merit Crystal Cove Resort and Casino in North Cyprus.
Dvoress outlasted a field of 43 entrants to claim the first prize of $731,000 from a total prize pool of $2,150,000. This is his first win in five cashes for the combined Triton Poker/SHRS Europe series. Greenwood took home $473,000 for second place, and Jason Koon found another third-place finish in his sixth cash of the series.
SHRS Event #6: $50,000 No-Limit Hold'em Final Table Results
PlaceNameCountryPrize 1Daniel DvoressCanada$731,000 2Sam GreenwoodCanada$473,000 3Jason KoonUnited States$322,500 4Timothy AdamsCanada$236,500 5Viacheslav BuldyginRussia$172,000 6Artur MartirosyanRussia$129,000 7Tom VogelsangNetherlands$86,000
Timothy Adams came into Day 2 as the chip leader, but he fell in fourth for $236,000. Russia's Viacheslav Buldygin and Artur Martirosyan finished fifth and sixth, respectively, while Dutchman Tom Vogelsang rounded out the top seven finishers.
Best Free to Play Slots
Dvoress jumps into third place on the overall series leaderboard with the win, while Koon added more points to move above the 1,000 mark and inch closer to Phil Ivey, who still holds the lead by a wide margin.
The top player at the end of the series will win the SHRS Europe championship and a $25,000 bonus.
SHRS Europe Championship Standings
RankPlayerCountryPoints 1Phil IveyUnited States1,725 2Jason KoonUnited States1,048 3Daniel DvoressCanada881 4Danny TangMalaysia844 5Andras NemethHungary738 6Winfred YuHong Kong700 7Tom VogelsangNetherlands668 8Elton TsangHong Kong653 9Mikita BadziakouskiBelarus633 10Laszlo BujtasHungary606
Click for live updates from the PokerGO Live Reporting team
Where to Watch?
Action at the SHRS Europe continues on Thursday with Day 2 of the $250,000 Super High Roller Bowl Europe Main Event and you can tune in live with David Tuchman and Brent Hanks providing the commentary on the PokerGO YouTube channel. Play is expected to go live at 8 a.m ET and 5 a.m. PT.
*Image courtesy of Merit Poker
Save $20 on an annual subscription to PokerGO by using the code "EU22WEB" at check out. Sign up here.

Matt Hansen
Live Reporting Executive
Las Vegas-based PokerNews Live Reporting Executive, originally from Chicago, IL