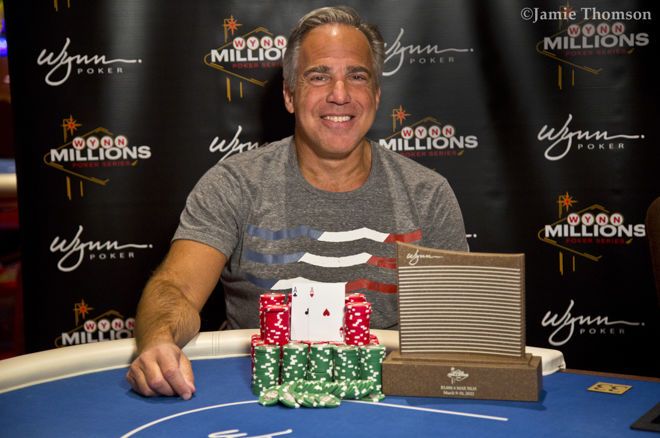 The 2022 Wynn Millions $3,000 No-Limit Hold'em 6-Max event wrapped up Thursday evening with New York's Cliff "JohnnyBax" Josephy taking home the trophy and $154,670 after a heads-up deal with Germany's Dennis Wilke, who earned $144,334 for his runner-up finish.
While the $10,000 buy-in, $10M GTD tournament at the 2022 Wynn Millions garnered the most attention, several side events were playing out at the series. That included the two-day $3,000 No-Limit Hold'em 6-Max tournament, which attracted 276 entries, which blew by the $200K GTD by creating a $759,000 prize pool.
That was paid out to the top 31 finishers, some of which took place at the end of Day 1. Among those to cash were Jeremy Ausmus (25th – $7,180), Ariel Mantel (26th – $7,180), Ken Aldridge (27th – $71,80), Darren Elias (28th – $6,527), Kristen Bicknell (29th – $6,527), Pierce McKellar (30th – $6,527), and both Bin Weng and Jeffrey Tomlinson, who split $6,527 for 31st place after both busting on the same bubble hand.
Two dozen players returned to action on Day 2, which meant two-thirds of them would fall before the final table including Darren Rabinowitz (21st – $7,934), Stephen Song (17th – $9,864), Andrew Lichtenberger (16th – $9,864), Jonathan Jaffe (13th – $12,706), and start-of-the-day chip leader Daniel Lazrus (8th – $20,038).
The final table began with Landon Tice being the first to fall after getting his middling stack all in with two pair only to see Wilke tabled a flopped straight.
Next out was Paul Fisher, who fell to the eventual champion when his ace-deuce couldn't get there against Josephy's ace-ten. That started a bit of a heater for Josephy, who went on to knock out 2013 World Series of Poker (WSOP) Main Event champion Ryan Riess in fourth, as well as Jordan Spurlin in third in a queens-versus-aces cooler.
Spurlin's elimination gave Josephy the chip lead, at which point he and Wilke reached a deal to chop up the remaining player pool based on their chip counts.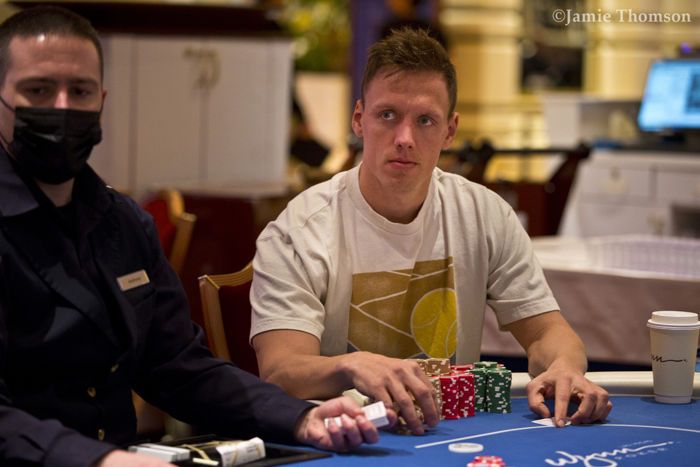 Dennis Wilke
2022 Wynn Millions $3,000 NLH 6-Max Final Table Results
 PLACEPLAYERCOUNTRYPRIZE (USD)  1Cliff JosephyUnited States$154,670*  2Dennis WilkeGermany$144,334*  3Jordan SpurlinUnited States$75,521  4Ryan RiessUnited States$52,902  5Daniel SmiljkovicGermany$38,709  6Paul FisherUnited States$29,981  7Landon TiceUnited States$24,136
*Denotes a two-way deal.
Maziar Keshavarzi Wins 2022 Wynn Millions $1,600 PLO/NLH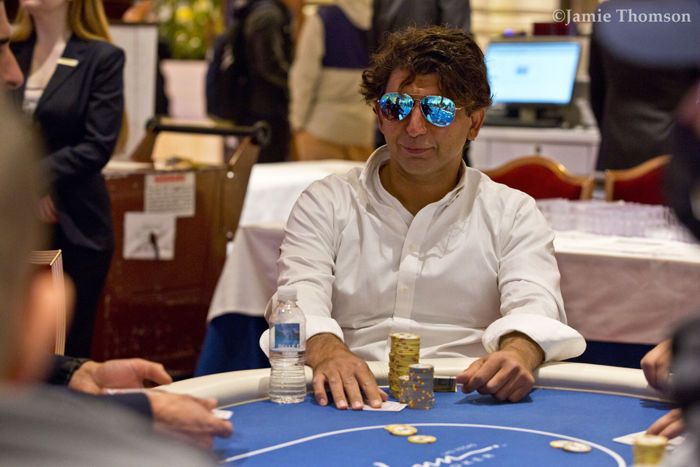 Maziar Keshavarzi
The two-day 2022 Wynn Millions $1,600 PLO/NLH tournament attracted 194 entries and offered up a $282,270 prize pool.On Wednesday, the final 21 players returned to battle down to a winner. One of them had to leave empty-handed as only 20 spots got paid, and the unfortunate bubble boy was the short-stacked Eric Wigg.
From there, the in-the-money finishes mounted as the march to the final table progressed. Among those to exit with a payday were WSOP bracelet winner Robert Cowen (20th – $3,921), Florian Duta (17th – $4,333), 2021 $1,600 Wynn Mystery Bounty champ Uri Reichenstein (16th – $4,333), Corey Hochman (15th – $4,849), and final table bubble Steve Foutty (10th – $6,244).
The final table housed a trio of friends and oftentimes poker traveling roommates in Scott Stewart, Jarod Minghini, and Vincent Moscati.
All had a fun time needling their missing friend, MSPT champ and six-time WSOP Circuit ring winner Maxwell Young. However, he was in the tournament in one sort — on Moscati's t-shirt.
On a break, Moscati, Stewart, and Minghini gathered for a photo profiling the shirt, which was created by Young's girlfriend and gifted to each of the guys during his birthday party down in Mexico earlier this year. Apparently, the story behind it involves Young's proclivity to tank while playing online games of Yahtzee on his iPad. The group of friends often drink, play, and bet money on it, and as Stewart explained, "Young takes forever for every move."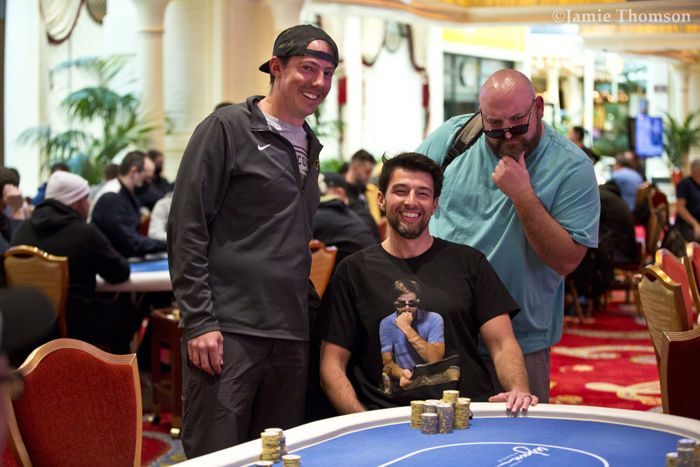 Jarod Minghini, Vincent Moscati, and Scott Stewart.
Unfortunately for the trio, they failed to close it out as Minghini lost a race with ace-king to the pocket sixes of Maziar Keshavarzi to fall in ninth place, and not long after Stewart followed him out the door in seventh when his ace-queen failed to get there against two different pairs of pocket jacks.
Moscati fared a bit better but ultimately bowed out in fifth place, which promoted the final four players to work an ICM deal. Keshavarzi was a big chip leader at the time, so he claimed the title and $61,698 in prize money.
2022 Wynn Millions $1,600 PLO/NLH Final Table Results
PlacePlayerCountryPrize 1Maziar KeshavarziUSA$61,698* 2Miltiadis KyriakidesCyrpus$43,002* 3Frank ZhengUSA$40,053* 4Daniel SwartzUSA$31,160* 5Vincent MoscatiUSA$15,257 6Erez GabayUSA$12,067 7Scott StewartUSA$9,885 8Jesse YaginumaUSA$8,383 9Jarod MinghiniUSA$7,198
*Denotes four-handed ICM deal.
Get More 2022 Wynn Millions coverage here!

Chad Holloway
Executive Editor U.S.
Executive Editor US, PokerNews Podcast co-host & 2013 WSOP Bracelet Winner.