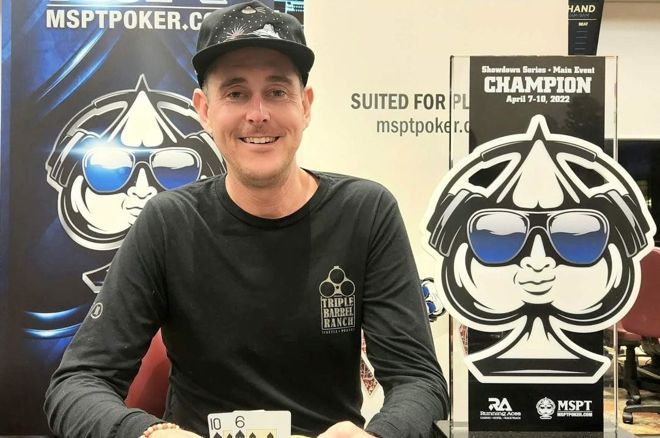 The Mid-States Poker Tour (MSPT) returned to Minnesota's Running Aces Casino after a five-year hiatus for the Showdown Series and the turnout didn't disappoint.
The $1,110 buy-in, $300K GTD Main Event was one to remember as a total of 920 entries (225 from Day 1a; 282 from 1b; 413 from 1c) were tallied, which blasted past the venue's previous best field of 383 runners in September of 2017.
On Sunday, 109 players returned for Day 2 action, and after it was said and done, it was Texas native Chan Pelton, coming out on top to win the $169,271 top prize and his first MSPT title.
"I'm pretty excited," Pelton said after his victory, "My goal was to have a top-three finish this year, so being able to capitalize on a win is just amazing."
Pelton's first-place victory was the icing on the cake, as he had three MSPT Main Event cashes totaling $21,607 with one final table appearance before his victory on Sunday night, and it wouldn't have come without a strong support group.
"This wouldn't have happened without the best support group," Pelton stated. " I want to thank the best wife ever, Amanda, my beautiful daughter London, and my good friend Skyler and Andy, without them I wouldn't be here."
2022 MSPT Running Aces Main Event Final Table Results
PlacePlayerHometownPrizeMSPT POY Points 1Chan PeltonCollege Station, TX$169,2711,700 2Ben HansonPrior Lake, MN$104,2411,700 3John PierceBloomington, MN$76,5281,600 4Dan WarnerDuluth, MN$57,9091,500 5Josh ReichardJanesville, WI$43,6541,400 6Mark SandnessWayzata, MN$32,9631,300 7Justin BarnumFargo, ND$25,8361,200 8Brandon KelzenbergMaple Grove, MN$20,4911,100 9Joe BarnardSt. Paul, MN$16,0361,000
With 99 slated to get paid, only ten players needed to exit before players reached the money. Among those to leave empty-handed were Bradley Beetz, Nik Stone, William Reynolds, and MSPT champ Dan Hendrickson, just to name a few.
Only one level needed to pass before the hand-for-hand process began as Tyler Kolness held out as long as he could coming into the day with the shortest stack only to lose a race to Joe Barnard on the bubble.
After the bubble burst, the march to the final table began. Among those to fall along the way, albeit with a payday, were MSPT Hall of Famer's Pat Steele (18th – $8,820), Rob Wazwaz (79th – $2,316), Blake Bohn (80th – $2,316), and Matt Kirby (81st – $2,316).
Final Table action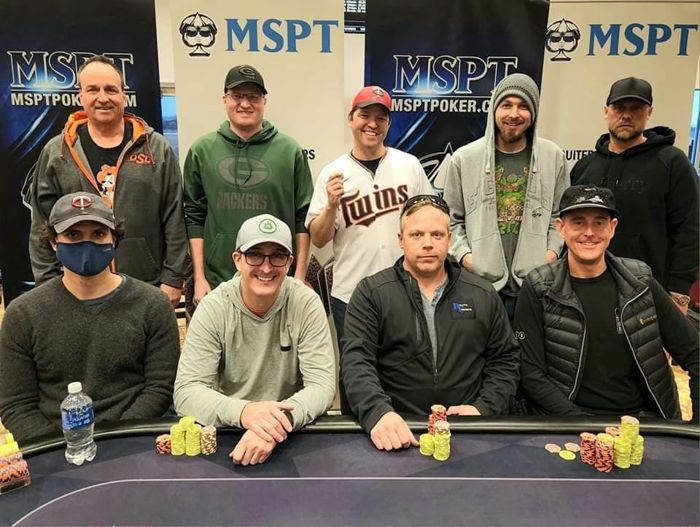 MSPT Running Aces Main Event Final Table
After the players returned from their dinner break, it didn't take long for the action to kick into gear as Dan Warner caught a double in the first hand back while Barnard was outkicked by Mark Sandness the very next hand, making him the first final table elimination.
Brandon Kelzenberg started the final table with a sizeable chip lead but ran his pocket eights into Pelton's pocket ace to drop to the bottom of the counts.
Kelzenberg was able to hold on for a few orbits but departed after he failed to win a race against his final table nemesis Pelton.
Next on the chopping block was Justin Barnum who got his chips in the middle with a made hand of fives after a jack-high flop and was snapped-off by Warner holding jack-ten. Barnum was unable to find a third five on the turn and river, ending his Main Event in seventh place for $25,836.
Following Barnum was 2014 Running Aces Main Event champ Sandness, who got his chips in after the flop with an open-ended straight draw and was called by Ben Hanson with a made hand of jacks. Sandness failed to complete his straight and made his exit in sixth place for $32,963.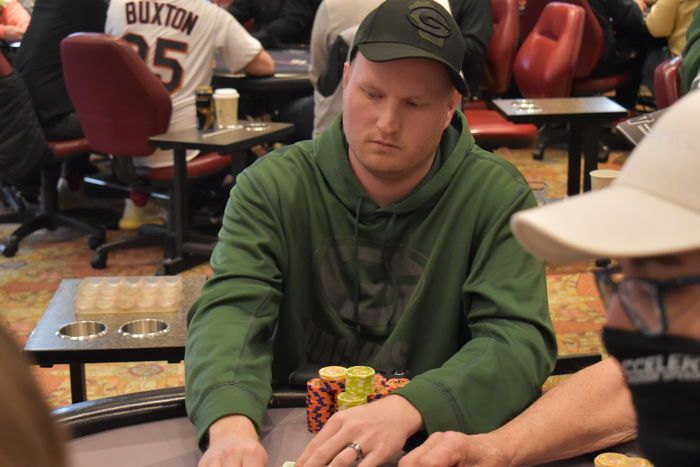 Former MSPT champ Josh Reichard
Fellow MSPT champ Josh Reichard was next on the chopping block. After receiving a double-up in a previous hand, Reichard three-bet jammed with a made hand of fives and Hanson isolated with ace-queen. Reichard failed to keep his lead in the race after Hanson flopped a queen and he went home with an extra $43,654 for his fifth-place finish.
Four-handed action lasted one full level after Warner jammed his pocket fours into Hanson's pocket fives and failed to make a set as he made an exit in fourth place for $57,909.
Three-handed action saw Pelton holding a sizeable chip lead while John Pierce sitting at the bottom with 10 big blinds and he got his short stack in the middle with a weak ace only to have Hanson snap call holding a pair of queens. Pierce needed an ace to stay alive but instead, he was set up on the flop and took home $76,528 for his third-place finish.
From there, the heads-up match proved to be a battle as Hanson secured an early double to chip away at Pelton's chip lead and turned the tides to take the lead himself.
The start of Level 32 saw the chips shuffle back-and-fourth until Pelton got his 10.5 million chip stack in the middle with kind-ten suited and Hanson called with king-three suited.
The superior kicker secured Pelton the pot and he was able to seal the deal the very next hand, eliminating Hanson in second place for $104,241.
The MSPT continues May 21-May 1 at San Diego's Sycuan Casino with a Shodwon Series featuring $570,000 in guarantees. Then, from May 5-8, the tour will head to Jack Cleveland Casino for the $500K GTD MSPT 2022 Ohio State Poker Championship. Visit msptpoker.com for more information.
Sharelines
Chan Pelton won the @MSPTpoker @RunAcesPoker $1,110 Main Event for $169,271,