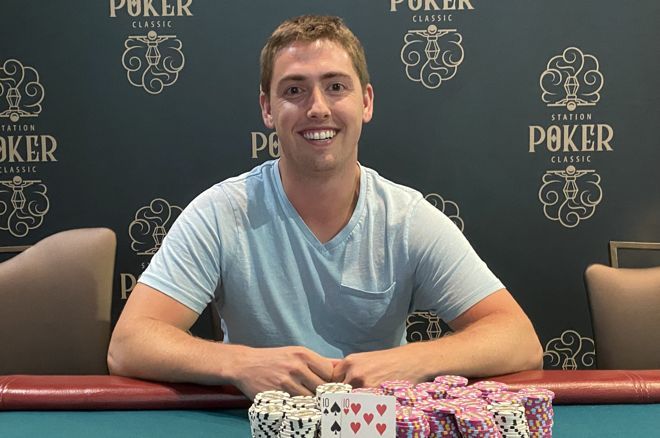 Brett Kunz, a Canadian farmer, will take his shot at winning life-changing money in South Florida this weekend all because of the ClubWPT app.
The 28-year-old World Poker Tour fan earned a seat in the $3,500 buy-in WPT Seminole Hard Rock Poker Showdown by playing in a tournament on ClubWPT. He even admitted he didn't expect it to happen.
"It's been a dream of mine to play in a WPT tournament, and after winning this with around 2,400 people entered, I was kind of in shock that I actually won," Kunz told PokerNews.
Chasing Life-Changing Money
Kunz has just one recorded live tournament cash, an $11,065 score for winning a 194-player field in a $300 tournament in March at Casino Regina in Canada. He could tack on a significant amount of money to his Hendon Mob results should he run deep at the Seminole Hard Rock Hotel and Casino in Hollywood, Florida this weekend.
Last year, Brekstyn Schutten won it for $1,261,095, beating out 2,482 entrants. If Kunz were to win it this year, that would certainly make for quite an interesting storyline.
"I grew up on a grain farm and currently farm with my father, brother, cousin, and uncle," he said.
The poker player lives in a community of around 200 people near a town called Annaheim (not to be confused with Anaheim, California), located in Saskatchewan, Canada. After graduating high school, he became an electrician before getting into the family farming industry.
"I learned to play poker in high school with friends and have enjoyed playing it ever since," says the Canadian poker fan.
He said he learned to play poker in high school and has enjoyed it ever since, but outside of the $11k score a couple weeks ago, his Hendon Mob is bare. That could all change this coming weekend, of course.
Free to Play Slots in the US
Improbable Run to Glory?
Running deep in any WPT event is never easy. The competition is stiff with crushers such as Darren Elias, Chino Rheem, and others almost always in attendance. So, going from playing on a pay-per-month mobile app to poker glory won't be simple.
But Kunz has already conquered one task by dominating a ClubWPT tournament just to make it to Florida. He's now just one step away from winning some unthinkable money. If he doesn't cash in the live poker event, maybe he'll at least cross off a bucket list item — to tilt the "Poker Brat."
"To be able to play in a televised event with all the professionals you see on tv is just so exciting to me. There is so many of them which would be awesome to play with but if I had to say one to be seated at a table with it would be Phil Hellmuth, to win a big hand against him and watch him drop some f-bombs would be a goal of mine," Kunz joked.
Kunz has been a member of ClubWPT "for about a year and a half." He mostly plays during the winter months because he's too busy with work the rest of the year.
"I decided to play ClubWPT after seeing a commercial about the chance to win a prize package just like the one I won," he explains. "It's pretty crazy after I decided to join seeing that there was a two week free-trial within those first two weeks I won this prize package so it was a pretty great way to start off on ClubWPT."
However this story ends — whether he cashes in Florida or not — Kunz is getting an opportunity to live out a dream all because of the ClubWPT app, and he isn't the only one. Numerous players over the years have won prize packages just like this on ClubWPT.
Click here to learn more about ClubWPT and how you can win!
The 2022 WPT Seminole Hard Rock Poker Showdown kicks off April 8 and will play down to a final table of six April 12. Once the final table has been achieved, the remaining players will take a break and then fly out to Las Vegas to play it down to a winner at the Esports Arena on May 25.