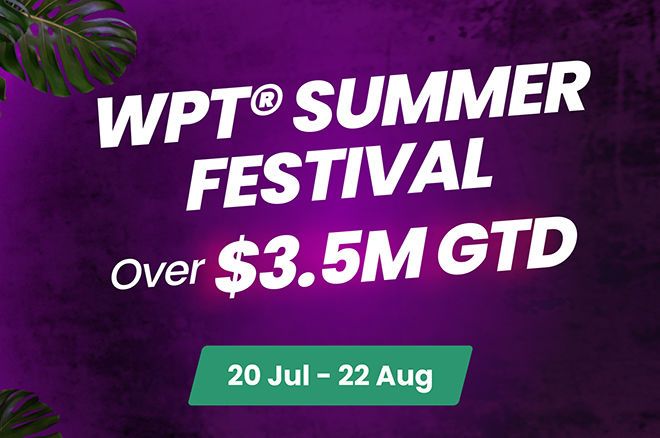 WPT Global may be one of the newer kids on the block, but that has not stopped the fledgling online poke site from pushing the boundaries and creating massive value for its ever-growing player base.
The popular online poker site, which is available in more than 50 countries worldwide, is running the WPT Summer Festival, a series of exciting tournaments with combined guaranteed prize pools of $3.5 million. That sum in itself is enough to shout about from the rooftops, but the fact WPT Global is in its relevant infancy means there are overlays galore for players to enjoy, which vastly increase the value of entering these events.
Four headline events have already crowned their champions: The $220 buy-in $150,000 guaranteed The Opener, the $2 buy-in $10,000 guaranteed Micro Opener, the $220 buy-in $250,000 guaranteed Summer Showdown, and the $22 buy-in $50,000 guaranteed Mini Showdown. You may have missed out on all the fun in these WPT Summer Series events, but there is still plenty of time to get involved in the schedule's remaining tournaments.
Remaining WPT Global Summer Festival Highlights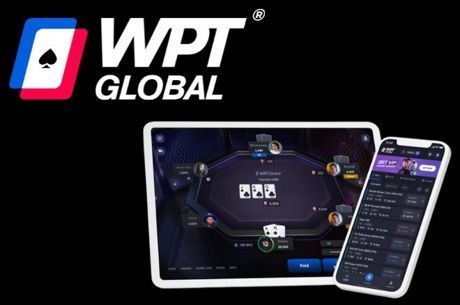 DatesDaysEventBuy-inGuarantee Jul 20-Aug 22Weds and Sun$1 for $1 million$1$1,000,000 Aug 1-7Every dayPLO Championship$220$150,000 Aug 1-7Every dayPLO Micro Championship$22$20,000 Aug 1-7Every dayShort Deck Bounty Championship$110$100,000 Aug 8-14Every daySummer Progressive Bounties Championship$220$300,000 Aug 8-14Every dayMini Summer Progressive Bounties Championship$11$20,000 Aug 12-21Every DayMini Main Event$33$100,000 Aug 12-22Every dayMain Event$330$1,000,000
Pot-Limit Omaha aficionados are rejoicing about being able to turn a $220 investment into a slice of a $150,000 guaranteed prize pool in the PLO Championship. Flights for the PLO Championship run throughout the day up to August 7, and operate a best stack forward policy. This means you can enter as many Day 1s as you wish, even if you progress to Day 2 more than once. However, only your largest stack is in play on Day 2, all other stacks are forfeited.
Running alongside the $150,000 guaranteed PLO Championship is a $22 buy-in PLO Micro Championship that comes with a guaranteed $20,000. That is huge for such an affordable Pot-Limit Omaha tournament.
The final WPT Summer Series event for this week is a Short Deck Bounty Championship. Short Deck tournaments with large guarantees are something of a rarity in the online poker world, which makes this $110 buy-in $100,000 guaranteed event extra special. You simply have to play in this tournament if you love the short Deck format.
Massive Events Keep on Coming!
You do not have much time to rest on your laurels because the WPT Summer Series events continue coming thick and fast at WPT Global right up to August 22. Next week, every day from August 8-14, players will flock to the site to battle it out in the Summer Progressive Championship and its cheaper Mini edition. The former costs $220 to buy into and boasts a $300,000 guaranteed prize pool! The Mini only sets you back $11 on each flight yet still guarantees to pay at least $20,000.
The following week, from August 12-22, are two tournaments that you cannot afford to miss. There is a $33 buy-in $100,000 guaranteed Mini Main Event in addition to the crown jewel of the WPT Summer Series: the $330 buy-in Main Event with its whopping $1,000,000 prize pool!
Of course, there are cut-price satellites for all the events mentioned above that run throughout the day, every day.
Gigantic Overlay Guaranteed in the $1 For $1 Million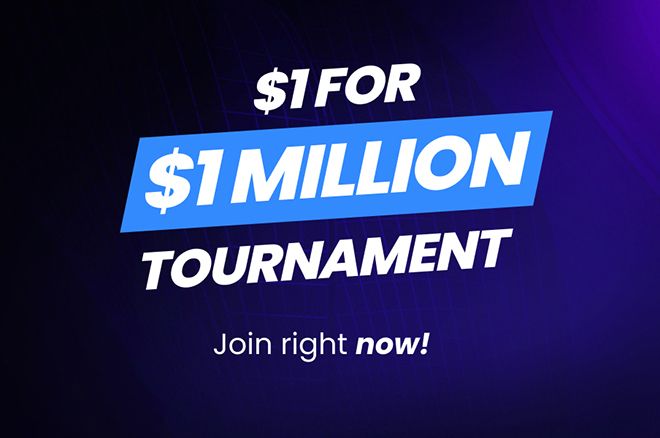 Perhaps the craziest tournament ever run by any online poker site is the $1 for $1 Million that is in full swing at WPT Global. As the name suggests, WPT Global is guaranteeing a $1 million prize pool for a mere $1 buy-in. However, there is more to the event than that ridiculous buy-in to prize pool ratio.
This event alone will cost us in excess of $900k. It's the most generous tournament overlay since the guys at Stars… https://t.co/cXsFOUhQfD
— Alex Scott (@AlexScott72o)
WPT Global launched the $1 for $1 Million tournament with 18 flights for players to get their teeth into. Each flight was and is limited to 5,000 entrants who are each permitted to make two re-entries per flight. Even if every flight sold out and each entrant purchased the full number of re-entries, the tournament was guaranteed to overlay by $910,000! Can you afford to turn down such a ludicrous overlay when there is a slice of $1 million on the line?
$1 Into $1 Million Remaining Schedule
DateTime (UTC)EventBuy-inGuaranteed Wed 3 Aug1:00 p.m.$1-1m Flight$1$1,000,000  11:00 p.m.$1-1m Flight$1$1,000,000 Sun 7 Aug1:00 p.m.$1-1m Flight$1$1,000,000  11:00 p.m.$1-1m Flight$1$1,000,000 Wed 10 Aug1:00 p.m.$1-1m Flight$1$1,000,000  11:00 p.m.$1-1m Flight$1$1,000,000 Sun 14 Aug1:00 p.m.$1-1m Flight$1$1,000,000  11:00 p.m.$1-1m Flight$1$1,000,000 Wed 17 Aug1:00 p.m.$1-1m Flight$1$1,000,000  11:00 p.m.$1-1m Flight$1$1,000,000 Sun 21 Aug3:00 p.m.$1-1m Day 2$1$1,000,000 Mon 22 Aug1:00 p.m.$1-1m Final Table$1$1,000,000
Help Yourself to an Enhanced WPT Global Welcome Bonus
The standard WPT Global Welcome Bonus was already generous, with your first deposit of $20 to $1,200 matched 100%. The limited-time Summer Series Enhanced Welcome Bonus is something else because you receive some WPT Summer Series tickets on top of that matched deposit bonus!
Deposit amountWPT Summer Series reward Between $10 and $99.99$1 for $1 Million ticket worth $1 Between $100 and $499,99PLO Micro Championship ticket worth $22 Between $500 and $999.99Short Deck Bounty Championship ticket worth $110 More than $1,000PLO Championship ticket worth $220
The enhanced bonus offer is only available to players who download WPT Global via PokerNews links and make their first deposit between August 1-7. The bonus amount releases into your playable account balance in $5 increments each time you contribute $20 to the cash game rake or pay in tournament fees; you have 90-days from the time you deposit to release as much bonus as possible.