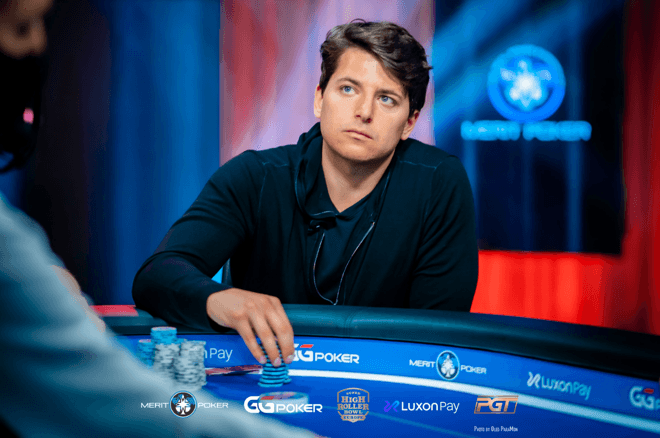 Day 2 of the $250,000 Super High Roller Bowl Europe Main Event has come to an end and Jake Schindler is the chip leader going into Friday's Day 3 finale. The tournament attracted 32 entries to Merit Crystal Cove Resort and Casino in North Cyprus to create a prize pool of $8,000,000.
The top five players are guaranteed a min-cash of $560,000 and the winner will take home the $3,200,000 first prize.
Schinder has the lead on the strength of a late run that included a straight against Paul Phua to take the overall advantage. Phua remains in second, with Germany's Christoph Vogelsang trailing in third.
Dutchman Teun Mulder is in fourth, while PokerGO Tour points leader Ali Imsirovic remains in the hunt in fifth. Timothy Adams and Michael Addamo round out the final table going into Day 3.
$250,000 Super High Roller Bowl Europe Final Table Chip Counts
RankNameCountryChip Count 1Jake SchindlerUnited States1,525,000 2Paul PhuaMalaysia1,340,000 3Christoph VogelsangGermany1,300,000 4Teun MulderNetherlands1,200,000 5Ali ImsirovicBosnia and Herzegovina1,175,000 6Timothy AdamsCanada755,000 7Michael AddamoAustralia705,000
A Look at What's at Stake for the Finalists
Schindler is looking for his first SHRS win after finishing in the money twice the last time the series visited North Cyprus. He is a fixture of consistency on the high roller scene and a cashing finish would put Schindler over $30 million in lifetime earnings.
Malaysia's Paul Phua is looking for his third cash of the combined Triton Poker/SHRS Europe, which would equal his effort at the 2021 SHRB Europe. Phua is a fixture on the Triton Poker circuit, and he has amassed over $21 million in earnings in his career. A win on Friday would be his first since taking down the $100,000 No-Limit Hold'em event at the SHRS in Sochi in early 2020.
Click for live updates from the PokerGO Live Reporting team
Meanwhile, Vogelsang enters Friday in third place on the leaderboard and he is looking for his first cash of the series after a pair of fourth-place finishes in the 2021 version. The German pro is over $25 million in career earnings, and a win on Friday would be his first since 2017, a year in which he also won the SHRB in Las Vegas for $6 million.
The Dutchman Mulder found redemption for coming up short in the Main Event at EPT Prague with his win in Event #2: $100,000 No-Limit Hold'em during the Triton Poker portion of the series. A fifth-place finish in the $25,000 SHRS Turbo put him just over $3 million in lifetime earnings, and a win on Friday would be his third of 2022.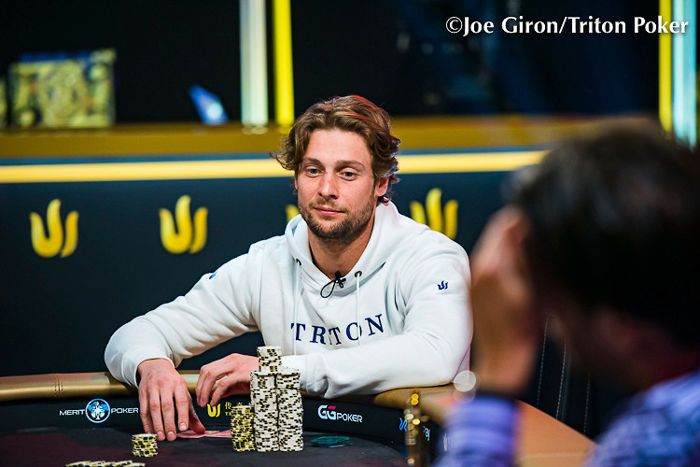 Teun Mulder heads up in Event #2 of the Triton Poker Series
Imsirovic is looking for his fifth win of the year and he has cashed four times so far in the combined series. The reigning PokerGO Tour champion is on top of the standings again, but this time Phil Ivey is hot on his heels and Imsirovic will look to extend his lead on Friday. The young high-stake phenom can cross $20 million in lifetime earnings with a win.
Adams is one of only two multiple title winners in SHRB history, and a victory on Friday would give him his third to tie Justin Bonomo. The Canadian is attempting to cash for the third time at SHRS Europe and he can eclipse $30 million in lifetime earnings with a victory. Adams has two wins in 2022, with the first coming at EPT Prague and the second in the $25,000 NLH Turbo here in North Cyprus.
Addamo went on a tear through the high roller circuit to close out 2021 before he stepped away at the end of the WSOP, and he is looking for his first big score of 2022. The Aussie crusher has cashed once at the Triton Poker/SHRS Europe with an 11th place finish in Triton's Event #1: $50,000 No-Limit Hold'em, and a win on Friday would move him above $20 million in career earnings.
Best Free to Play Slots
Eelis Parssinen defeated fellow Finlander Joni Jouhkimainen to win Event #7 at the SHRS Europe. The tournament drew 20 entrants for a $500,000 prize pool, and Parssinen takes home $270,000 for the victory. Jouhkimainen earned $150,000 for second and Yassin Mahmoudwon $80,000 for the third-place finish.
Event #7: $25,000 Pot-Limit Omaha Results
PlaceNameCountryPrize 1Eelis ParssinenFinland$270,000 2Joni JouhkimainenFinland$150,000 3Yassin MahmoudJordan$80,000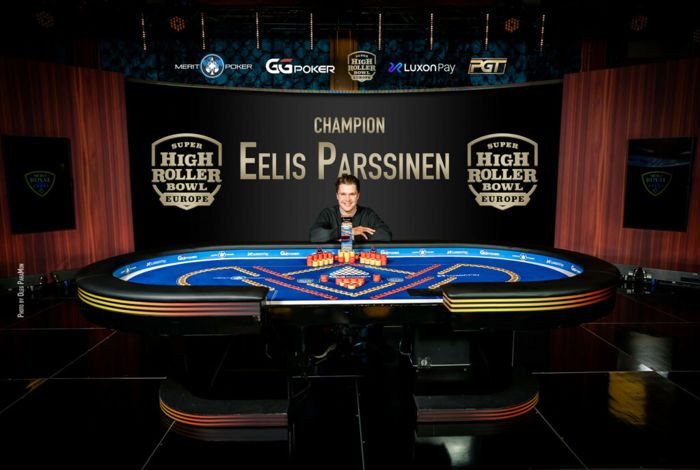 Eelis Parssinen
SHRS Europe Points Race
Ivey remains at the top of the overall leaderboard and Jason Koon is his closest competitor in second place. Daniel Dvoress jumped into the top three with a win in Event #6, while Danny Tang and Andras Nemeth make up the rest of the top five.
There are 600 points at stake for the winner of the $250,000 Main Event and both Mulder and Imsirovic have the opportunity to move above 1,000 points with a victory on Friday. The series will close with a $50,000 Short Deck tournament, a specialty so far for both Ivey and Koon.
The winner of the series will take home the SHRS Europe championship and a $25,000 bonus.
Triton Poker/SHRS Europe Championship Leaderboard
RankPlayerCountryPoints 1Phil IveyUnited States1,725 2Jason KoonUnited States1,048 3Daniel DvoressCanada881 4Danny TangMalaysia844 5Andras NemethHungary738 6Winfred YuHong Kong700 7Tom VogelsangNetherlands668 8Elton TsangHong Kong653 9Mikita BadziakouskiBelarus633 10Laszlo BujtasHungary606
Where to Watch the Final Table?
The final table of the $250,000 Super High Roller Bowl Europe will air on Friday, April 15 with Jeff Platt and Brent Hanks doing the commentary on the PokerGO YouTube channel. Play is expected to go live at 7 a.m ET and 4 a.m. PT.
*Images courtesy of Merit Poker and Joe Giron/Triton Poker
Save $20 on an annual subscription to PokerGO by using the code "EU22WEB" at check out. Sign up here.

Matt Hansen
Live Reporting Executive
Las Vegas-based PokerNews Live Reporting Executive, originally from Chicago, IL