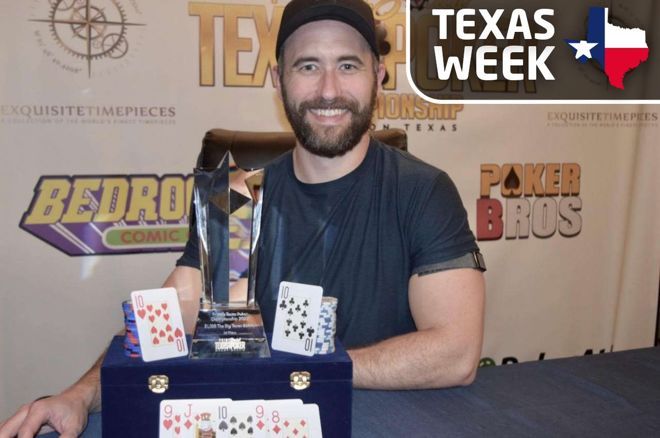 The biggest poker series in Texas history is currently underway with the Texas Poker Championship at Houston's Prime Social, which has already awarded players over $1.7 million in prize money.
The series kicked off on March 10 with Event #1: $500 Mystery Bounty, which had a staggering seven starting flights and attracted an enormous field of 1,322 runners. The bounty tournament had a guaranteed prize pool of $500,000 and surpassed that with $511,840 in prize money.
Joseph Caffaro took down the opening event for the first-place prize of $45,950, defeating Carlos Saucedo during heads-up play to earn Saucedo $38,500. Other players who made deep runs in the mystery bounty event include Blake Barousse (3rd – $25,000), Derek Normand (4th – $18,500), Laura Hoppe (9th – $5,100) and Kristopher Burchfield (12th – $4,000).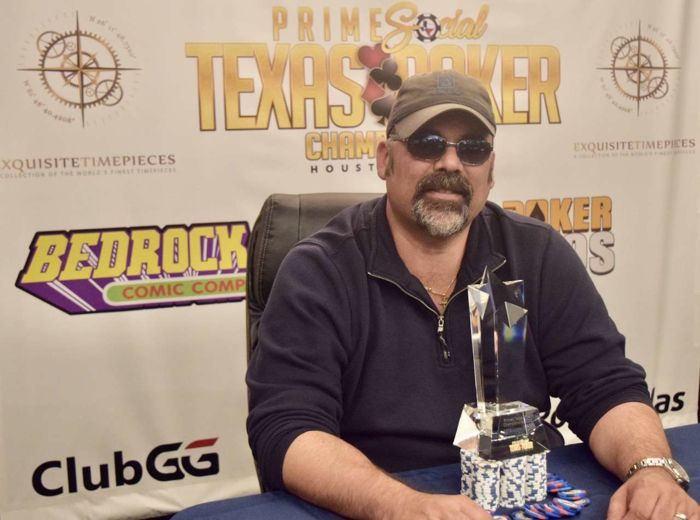 Joseph Caffaro
Later in the series, Justin Bond took down Event #9: $1,100 The Big Texas to earn the trophy and a big score of $115,480. Bond defeated Jason Gooch during heads-up play to send the second-place finisher home with $75,960.
The $500,000 guarantee tournament attracted 643 players and generated $630,140 in prize money. Other players who made Bond sparred with at the final table include Sean Cha (3rd – $56,620) Jeremy Meacham (5th – $31,740), Mazen Abdallah (7th – $18,680) and Gabriel Andrade (9th – $11,540).
Bond, a resident of Dallas, now boasts an impressive $1.8 million in tournament earnings, which includes a 35th place finish in the 2017 World Series of Poker (WSOP) Main Event worth $214,913. His latest victory in The Big Texas gives him the fifth biggest score of his career.
Event #9: $1,100 The Big Texas Final Results
 RANKPLAYERHOMETOWNPRIZE (IN USD)  1Justin BondDallas, TX$115,480  2Jason GoochVidor, TX$76,960  3Sean ChaHouston, TX$56,620  4Tyler RawlinsonTomball, TX$42,140  5Jeremy MeachamOak Bluffs, MA$31,740  6Peter LynnOlympia, WA$24,200  7Mazen AbdallahHouston, TX$18,680  8Thongv NguyenMcAllen, TX$14,590  9Gabriel AndradeHouston, TX$11,540
Later in the series, Brandon Johnson earned the trophy in Event #13: $600 One Day after striking a four-way deal at the final table that also left him with $18,500. Johnson had the biggest stack when the deal was made and therefore earned the victory.
The other players who got in on the deal were Southisak Seunsom (2nd – $18,350), Trung Pham (3rd – $17,120) and Dara Taherpour (4th – $14,530).
The one-day tournament had a $100,000 guarantee and surpassed that with 101 runners bringing the prize pool to $121,680.
Additionally, Ricardo Alvarado took down Event #16: $1,100 PLO Championship for $37,640 after defeating Twich streamer Alexander "AlexOptional" Green during heads-up play, who in turn earned $25,100. Four-time WSOP bracelet winner Benny Glaser, meanwhile, found a third-place finish worth $17,920.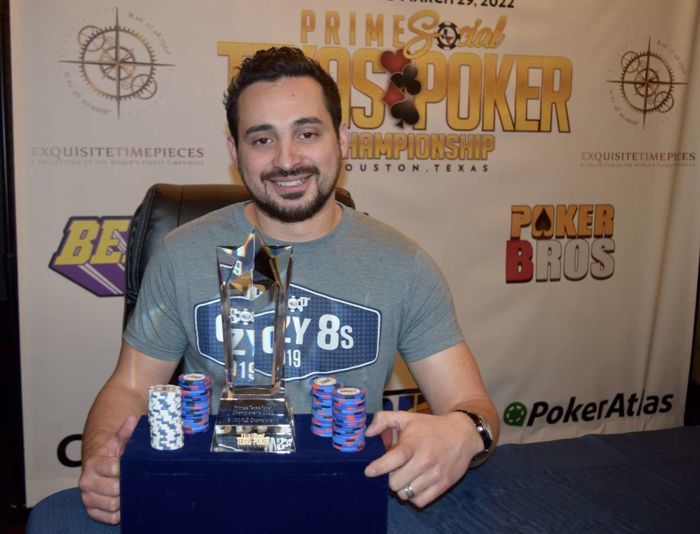 Ricardo Alvarado
The PLO Tournament attracted 157 runners to generate $153,860 in prize money, smashing the guaranteed $100,000.
Other Texas Poker Championship winners so far include James Farley, who won $50,820 in Event #2: $400 NLH Jacked Stack, Sergio Braga, who won $7,510 in Event #5: $600 Triple Stud, and Barousse, a two-time WSOP ring winner who took down Event #12: $1,100 Mystery Bounty Turbo for $10,000.
The best of the Texas Poker Championship at Prime Social is still to come with the $5,300 No-Limit Hold'em Main Event scheduled to get underway on Thursday, March 24. The four-day event has a huge $2 million guarantee and will offer three starting flights.
The Main Event will wrap up on Tuesday, March 29 with the final table being live-streamed with hole cards and commentary at twitch.tv/primesocialtx.
A full list of winners so far in the Texas Poker Championship is available in the table below.
Texas Poker Championship Winners
 TOURNAMENTENTRIESPRIZE POOLWINNERHOMETOWNPRIZE  Event #1: $500 $500k GTD Mystery Bounty1,322$511,840Joseph CaffaroSpring, TX$45,950  Event #2: $400 NLH Jacked Stack154$50,820James FarleyCorpus Christi, TX$13,660  Event #3: $600 Omaha 855$28,600Tim Wong $8,730  Event #4: $400 NLH Short Deck21$7,330Salim IshikovN/A$3,660  Event #5: $600 Triple Stud39$20,280Sergio BragaN/A$7,510  Event #6: $200 Sweat and Go (Canceled)N/AN/AN/AN/AN/A  Event #7: $400 NLH Seniors72$21,700Larry AstolfoHouston, TX$8,320  Event #8: $600 H.O.R.S.E.50$26,000Jonathan BrenemanWoodbury, MN$8,840  Event #9: $1,100 The Big Texas $500k GTD643$630,140Justin BondDallas, TX$115,480  Event #10: $600 Dealer's Choice32$16,640Jason FitzpatrickHouston, TX$5,430  Event #11: $600 No Limit 2-7 Single Draw24$12,480Christopher WilliamsMesa, AZ$4,185  Event #12: $1,100 Mystery Bounty Turbo37$51,800Blake BarousseLafayette, LA$10,000  Event #13: $600 One Day $100k GTD101$121,680Brandon JohnsonEast Chicago, IL$18,500  Event $14: $600 PLO 836$18,720Ravee SundaraBrooklyn, NY$7,030  Event #15: $250 Ladies Event sponsored by LOUD Lacquer43$8,600Alexis LeeN/A$3,250  Event #16: $1,100 PLO Championship $100k GTD157$153,860Ricardo AlvaradoDenison, TX$37,640  Event #17: $600 NLH Survivor96$50,880Dirty JohnHouston, TX$5,300
Read highlights from the PokerNews Texas Road Trip here!
*Images courtesy of Prime Social.