What a difference one week makes, yet despite all the personnel movement, the Buffalo Bills hold steady as the betting favorite to win Super Bowl 57 at +650 odds.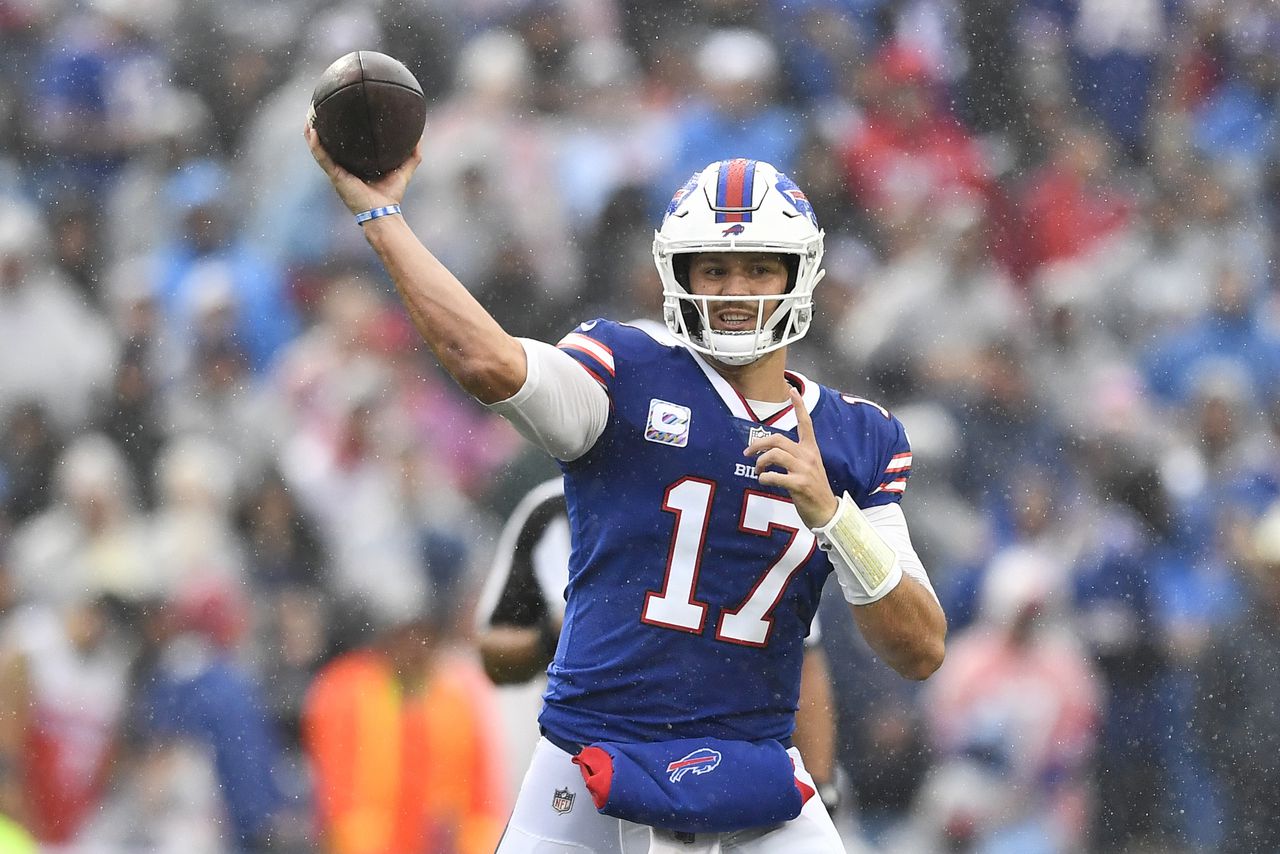 Josh Allen from the Buffalo Bills throws a pass in the freezing rain of Western New York. (Image: Getty)
The NFL futures board and Super Bowl 57 odds fluctuated due to Tom Brady unretiring, multiple quarterback trades including Russell Wilson and Deshaun Watson, Aaron Rodgers staying in Green Bay, and Kansas City Chiefs trading Tyreek Hill to the Miami Dolphins.
3/23/2022
3/15/2022
2/14/2022
Buffalo Bills
+650
+700
+700
Tampa Bay Bucs
+750
+3000
+2200
Kansas City Chiefs
+900
+700
+700
Green Bay Packers
+900
+750
+1500
LA Rams
+1100
+1000
+1000
Denver Broncos
+1500
+1200
+1800
San Francisco 49ers
+1500
+1300
+1400
Dallas Cowboys
+1600
+1400
+1400
LA Chargers
+1600
+2500
+2500
Cleveland Browns
+1700
+3500
+3500
Cincinnati Bengals
+1800
+2200
+1200
Indianapolis Colts
+2000
+3000
+2500
Baltimore Ravens
+2200
+2200
+1800
Arizona  Cardinals
+2200
+2200
+2500
Tennessee Titans
+2800
+2200
+2200
New England Patriots
+4000
+3500
+2500
Minnesota Vikings
+4000
+3500
+3500
Las Vegas Raiders
+4000
+6000
+5000
Miami Dolphins
+4000
+5000
+4000
Philadelphia Eagles
+4500
+4500
+4000
New Orleans Saints
+5000
+4000
+3000
Washington Commanders
+6000
+4000
+5000
Pittsburgh Steelers
+6500
+6000
+4000
New York Giants
+9000
+9000
+6500
Carolina Panthers
+10000
+6000
+5000
Atlanta Falcons
+10000
+8000
+5000
Chicago Bears
+10000
+9000
+6500
Seattle Seahawks
+10000
+10000
+3500
Jacksonville Jaguars
+10000
+13000
+8000
Detroit Lions
+15000
+15000
+15000
New York Jets
+20000
+20000
+15000
Houston Texans
+20000
+20000
+15000
Despite trading away the Cheetah, the Chiefs are the third favorite on the NFL futures board at +900 odds to win Super Bowl 57.
Rodgers Stays, Brady Returns
The two biggest stories heading into the offseason surrounded Tom Brady and Aaron Rodgers. Brady abruptly retired, but you got the sense it was premature. Rodgers was rumored to leave Green Bay for another team, but he also hinted at retirement.
Much to the dismay of the Denver Broncos, Rodgers stayed in Green Bay and signed the richest contract in NFL history. As a result, the Packers saw their Super Bowl odds jump from +1500 to +750. However, they since dipped to +1200 odds after Davante Adams signed with the Las Vegas Raiders and Brady returned to the Bucs.
Yes, Brady celebrated a brief retirement before he realized he still had some as left in him. Bruce Arians and the Bucs were relieved that they didn't have to scramble to find a replacement after Brady said he would return to the Bucs. You can back the Bucs at +750 odds to win Super Bowl 57, and they're the second-best team on the NFL futures board.
QB Trades: Wilson, Watson, Wentz
The Russell Wilson trade to the Denver Broncos came out of nowhere. For one, everyone expected that the Broncos would acquire Rodgers in a trade. And yes, Wilson wanted out of Seattle, but all signs pointed toward Washington, New Orleans, or Tampa Bay. The Broncos are still a work in progress, but their Super Bowl odds jumped from +1800 to +1200 after Wilson headed to the team in a trade. The market settled down since then and the Broncos saw their odds slip a bit to +1500.
The Houston Texans finally got rid of Deshaun Watson, but it wasn't the New Orleans Saints or Atlanta Falcons that got him in a trade. The Cleveland Browns swooped in at the last second and secured Watson's services. The Browns saw a huge leap in their Super Bowl 57 odds and moved from +3500 to +1700.
The Indianapolis Colts decided to part ways with Carson Wentz, and they shipped him to the Washington Commanders — who were unable to secure Wilson or Jimmy G in a trade. The Colts turned around and snagged Matt Ryan in a trade with the Atlanta Falcons. The Falcons scrambled and added Marcus Mariota.
Baker Mayfield is the odd man out, but Jimmy G is also still available. A couple of teams still need a quarterback like the Pittsburgh Steelers, Seattle Seahawks, and Carolina Panthers.
Cheetah Goes to South Beach
On Wednesday, the Kansas City Chiefs sent Tyreek Hill to the Miami Dolphins in a blockbuster trade after contract extension negotiations fell apart. The Dolphins had a lot of draft capital that held back in reserve when they were pursuing Watson in a trade. They decided to stick with Tua Tagovailoa at quarterback, but got him the fastest player in the NFL to throw to. Hill also signed an insane contract extension that made him the highest-paid wide reciever in NFL history.
After an initial surge to +3500 odds, the Dolphins saw their Super Bowl 57 futures settle on +4000 odds.
The Kansas City Chiefs were one of the consensus co-favorites with the Buffalo Bills to win Super Bowl 57 at +700 odds as soon as the LA Rams won Super Bowl 56. The Bills slightly improved to +650 odds, but the Chiefs saw their Super Bowl 57 numbers slip to +900 odds.