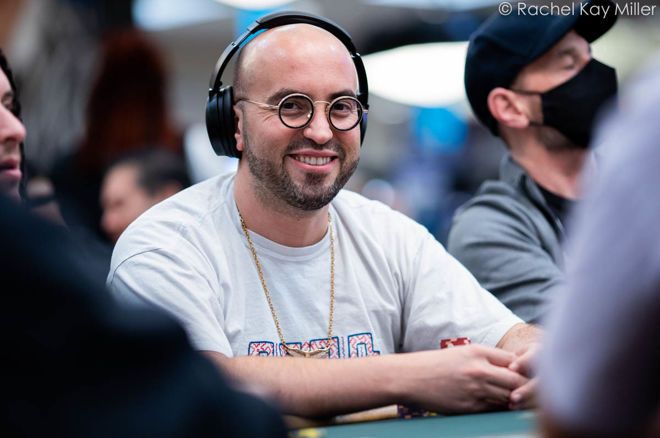 Michael Addamo and Niklas Astedt go into the latest Super MILLION$ final table at GGPoker both hoping to become the high-stakes tournament's first-ever six-time winner, although the ball is firmly in Addamo's court. Addamo returns to the action as the chip leader with 91.5 big blinds, while Astedt languishes at the foot of the chip counts with only 12.4 big blinds at his disposal.
However, there will be many eyes on the man returning in eighth place because that man is Bryn Kenney, someone who has been in the headlines for all the wrong reasons of late. Let us see if Kenney can let his poker do the talking.
GGPoker Super MILLION$ Final Table (July 26, 2022)
PlacePlayerCountryChipsBig Blinds 1Michael AddamoHong Kong2,743,65691.5 2Andras NemethAustria2,492,88483.1 3Volodymyr "Leonardo23" PalamarUkraine1,570,06952.3 4Sebastian "Weizen" GaehlAustria1,241,85441.4 5Yakov "YaNesterov" NesterovRussia1,115,53037.2 6Andrei "Mr-Doberman" NikonorovRussia733,87124.5 7Joseph CheongCanada491,28016.4 8Bryn KenneyCanada439,51614.7 9Niklas AstedtNorway371,34012.4
Watch All The Final Table Action Here
It is fair to say Addamo had a disappointing 2022 World Series of Poker (WSOP). Members of the poker community had high hopes of seeing the aggressive Australian bulldozing his way to numerous victories, but he hardly played any events and failed to register a single in-the-money finish. Addamo looks set to get back to winning ways in the GGPoker Super MILLION$ because he holds the chip lead going into the July 26 final table. The popular Aussie is armed with 2,743,656 chips, or 91.5 big blinds, which spells bad news for the eight other finalists.
Andras Nemeth is one of those opponents, and one that is a multiple Super MILLION$ champion. The Hungarian is Addamo's nearest rival with 2,492,884 chips (83.1 big blinds) and is looking for what would be his fourth Super MILLION$ victory. Nemeth goes into the final table with form on his side having won a PokerStars tournament for more than $80,000 this Sunday.
Ukraine's Volodymyr "Leonardo23" Palamar has reached back-to-back Super MILLION$ final tables, much to the delight of Mark Radoja who has bought 25% of the Ukrainian's action via the GGPoker in-built staking software. Palamar finished seventh last week for $59,158, mostly because his ace-king lost to jack-ten with the latter turning trips. Palamar returns to the battle with 1,570,069 chips or 52.3 big blinds.
GGPoker Launches Poker Integrity Council to Blacklist Cheaters
GGPoker Super MILLION$ Final Table Payouts
1st – $243,3812nd – $190,0703rd – $148,4374th – $115,9235th – $90,5316th – $70,7017th – $55,2148th – $43,1209th – $33,675
Fourth place at the restart belongs to Sebastian "Weizen" Gaehl, who is armed with an arsenal of 1,241,854 chips, the equivalent of 41.4 big blinds. Gaehl helped himself to a $90,324 score in last year's online WSOP Main Event. Finishing fifth or better tonight will beat that impressive sum.
Two Russian grinders occupy fifth and sixth place when play resumes at 7:00 p.m. BST on July 26. Yakov "YaNesterov" Nesterov, a fifth-place finisher in the 2021 Online The Closer event for $113,912 is fifth with 1,115,530 chips (37.2 big blinds), while Andrei "Mr-Doberman" Nikonorov takes his eat with 733,871 chips (24.5 big blinds) at his disposal.
€25M Guaranteed Battle of Malta Online Hits GGPoker From July 10
Below the Russian duo are a pair of high-profile players who do not usually frequent the Super MILLION$. Joseph Cheong has plenty of work ahead of him as he sits down with 491,280 chips (16.4 big blinds), while the controversial Bryn Kenney has 439,516 chips (14.7 big blinds). Both stars are short-stacked but more than capable of turning around their flagging fortunes.
Astedt brings up the rear with 371,340 chips (12.4 big blinds). The five-time Super MILLION$ champion much prefers to have a big stack in front of him with his playing style, but he knows he is only one double away from being able to make a real nuisance of himself.