The Bryant Bulldogs (22-9) punched their ticket to the 2022 March Madness tournament with an automatic bid after winning the NEC tournament last night in a 70-43 blowout against conference rival Wagner (21-6). However, the game was paused in the second half when a brawl erupted in the stands behind the Wagner bench when students from Bryant and Wagner threw down and engaged in fisticuffs.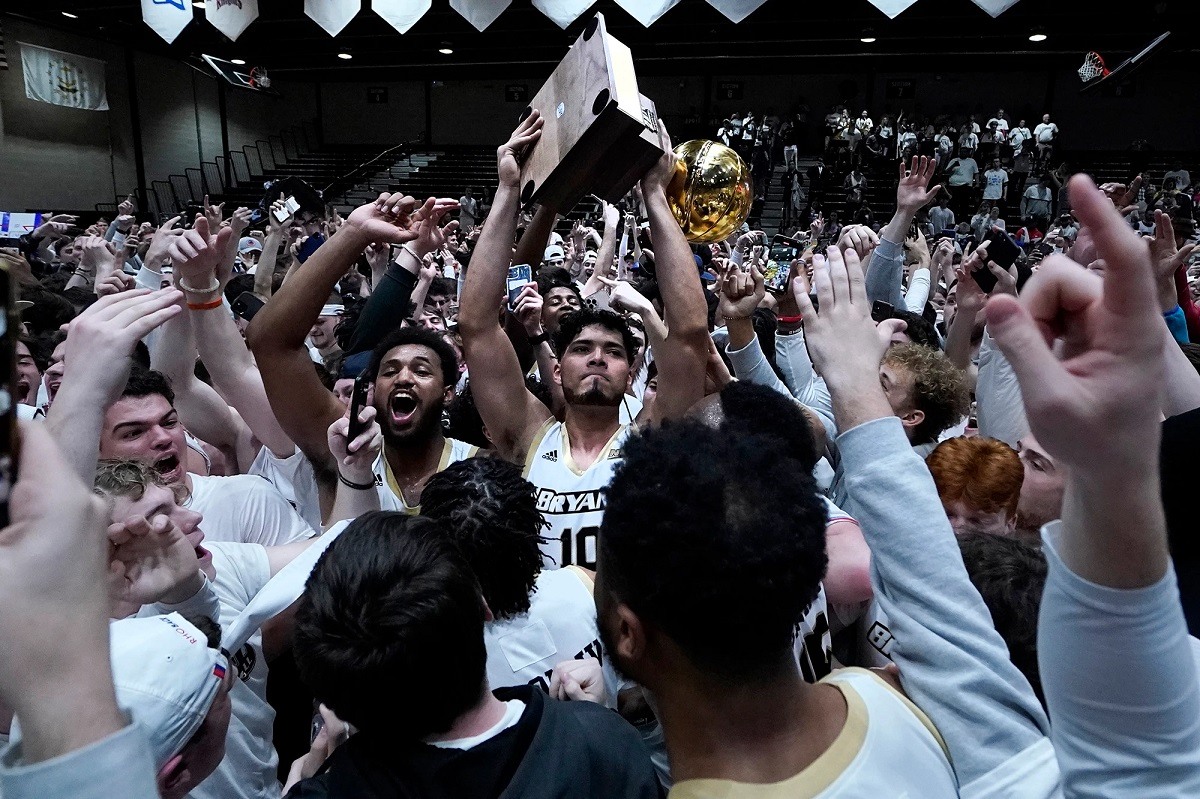 Bryant players and fans celebrate winning the NEC tournament and gaining a trip to March Madness despite the delay after a brawl broke out in the stands between Wagner and Bryant supporters. (Image: AP)
Welcome to March Madness, where even a lesser-known conference like the NEC has a heated rivalry between a New York City college and a university from New England.
Bryant and Wagner split their season series in NEC regular season play. Wanger won the first game in Staten Island 84-81 in overtime thanks to a season-high 24 points from Alex Morales. Bryant won the rematch 78-70 in Rhode Island in late February. Wagner blew a first half lead and Bryant rallied from behind thanks to 23 points from Peter Kiss.
Bryant Blowout Breeds Bored Backers
In the NEC championship game, the top seed hosted the final because the NEC did not have the luxury of a neutral arena to play the entire conference tournament like wealthier major conferences like the Big East.
Wagner traveled to the game via bus, and several hundred students followed them from Staten Island to Rhode Island for the NEC title match. With a berth to March Madness on the line, this was a huge game.
Wagner's players were met by a hostile crowd in front of the arena. They did not have a security escort and videos surfaced with fans taunting players with no shortage of "F–k you!" shouts directed at players entering the arena.
Bryant jumped out to a 26-point lead at halftime at 38-12 thanks to a boisterous home crowd.  Yeah, the Wagner Seahawks were grounded with just 12 points in the first half due to atrocious shooting and harassing defense.
Kiss, who tallied 50 combined points in both regular season games, scored a team-high 34 points in the NEC title game. He knocked down 4-for-5 3-pointers, while adding six rebounds, three assists, and five steals.
Kiss, the NCAA Division I leading scorer, finished with 34 points, while Wagner mustered up just 43 total. Wagner went cold and shot 28.3% from the floor including a 3-for-21 clip from 3-point range for just 14.3%.
Ugly Situation: Bryant/Wagner Brawl
The hostilities continued inside the gym. After Wagner fell behind by 26-points early, Bryant fans began an early celebration. They began taunting the players with nasty language and then set their ire toward the group of Wagner fans seated right behind the bench. That's when things escalated late in the second half.
With 4:37 remaining, the game was paused by officials when a fight broke out in the stands. Officials ejected Wagner's Will Martinez, who tried to enter the fracas while coaches and teammates tried to keep him out of the stands. All parties involved did not want a Malice at the Palace situation in which players and fans were involved in an all-out melee.
"Administrators here should have seen this coming," tweeted Bill Koch, a reporter from Providence Journal. "Game was out of hand. Crowd had been chirping at one another. But minimal security and adjacent seating set the stage for trouble."
It took at least a half hour to break up the brawl and settle down fans from both Wagner and Bryant. In the meantime, Wagner's head coach pulled his team off the court and headed to the locker room.
"I don't know how it started, why it started, what took place," said Bryant head coach Jared Grasso. "Thankfully our guys were not a part of it."
Initially Wagner's athletic director met with NEC officials and agreed to finish the game without fans. When the fans refused to leave, due to serious lack of security, it was obvious that the inmates were running the asylum before state police were finally called in to quell the situation.