The NBA Summer League just ended but some bookies released win totals for the 2022-23 season, and the Boston Celtics are at the top of the board at 55.5 over/under wins, along with the Los Angeles Clippers at 53.5 o/u, and the Phoenix Suns at 52.5 o/u.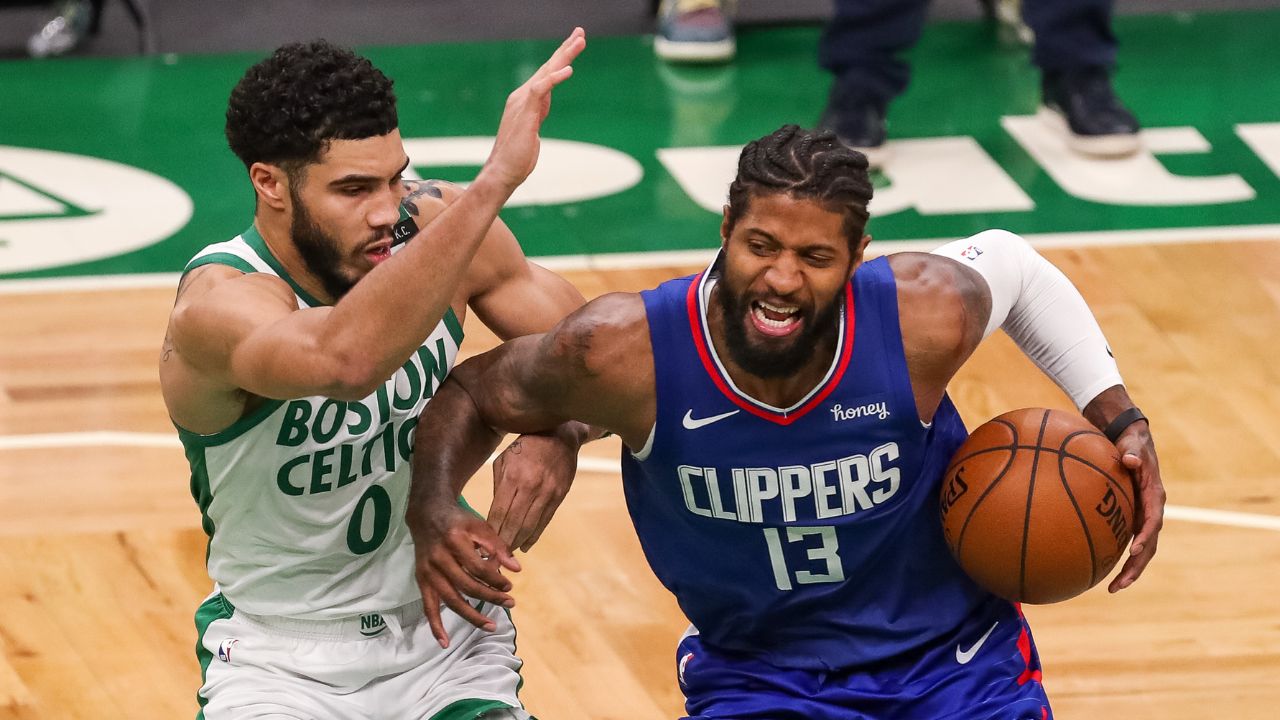 Jayson Tatum from the Boston Celtics defends Paul George of the LA Clippers. (Image: Getty)
The current batch of NBA win totals do not include the LA Lakers, Utah Jazz, New York Knicks, and Brooklyn Nets due to the uncertainty of trade rumors involving Kyrie Irving, Kevin Durant, and Donovan Mitchell.
The Lakers and the Nets were discussing a swap for Irving and Russell Westbrook, but the negotiations fell apart. Things got so bad that Westbrook and his agent parted ways over his future.
The Knicks want Mitchell, but the Jazz want six first-round draft picks and multiple members from the Knicks second unit. Alas, those trade talks between the Knicks and Jazz simmered down compared to last week.
The Suns recently signed Deandre Ayton to a max contract, so it looks like they're not in the market for Durant. With the Suns standing pat, there's no reason why they cannot compete for the top seed in the Western Conference once again.
However, the Toronto Raptors and Miami Heat are still candidates to land Durant. At this point, there's a likely scenario that the Nets begin the season with both Irving and Durant in the starting lineup and the team will work out a trade before the holidays.
Big Dogs: Celtics, Clippers, Bucks, Warriors
The Celtics were the runner-up last season after winning the Eastern Conference as the #2 seed. The Celtics upgraded their bench with Malcolm Brogdon and Danilo Gallinari, which is why they're leading all other NBA teams in win totals with 55.5 o/u.
If Greek Freak and the Milwaukee Bucks did not lose Khris Middleton to a knee injury, they could've been back-to-back champions. They'll be on a mission to regain their championship glory, and the Bucks are 51.5 o/u.
The LA Clippers are eager to get Kawhi Leonard back in the lineup after missing all of last season with an ACL injury. Paul George missed significant time with a freakish elbow injury. They also have Norman Powell, who is a contender for Sixth Man of the Year. Oh, and we almost forgot that the Clippers added John Wall. If Wall is healthy, watch out for the Clippers who have their win totals set at 53.5 o/u.
2022-23 NBA WIN TOTALS – TOP 6 FAVORITES
Boston Celtics 55.5 o/u
LA Clippers 53.5 o/u
Phoenix Suns 52.5 o/u
Memphis Grizzlies 51.5 o/u
Milwaukee Bucks 51.5 o/u
Golden State Warriors 50.5 o/u
The Memphis Grizzlies and Ja Morant are no longer an under-the-radar team, so perhaps it's time to start fading their expectations since they now have a target on their backs? The Grizzlies were installed at 51.5 o/u.
The Golden State Warriors are the reigning NBA champions, but they have the sixth-best win totals with 50.5 o/u. The Warriors lost of couple of key role players, but expect their younger players like Jonathan Kuminga, Moses Moody, and Jonathan Wiseman to get more responsibility.
Second Tier: 76ers, Nuggets, Heat, Mavs
The Denver Nuggets get Jamal Murray and Michael Porter, Jr back in the starting lineup with two-time MVP Nikola Jokic. The Nuggets also added Kentavious Caldwell-Pope to strengthen their defense. We like the Nuggets to be a surprise team next season, but 50 wins might be on their top end.
James Harden took a $15 million pay cut to stay with the Philadelphia 76ers, and the Beard been in the gym all summer trying to regain his old form after Joel Embiid called him out after they were knocked out of the playoffs. The 76ers will be one of the top teams in the Eastern Conference, but everyone cannibalizes each other so the #1 or #2 seed might be the only teams in the east to win more than 50 games.
Philadelphia 76ers 50.5 o/u
Denver Nuggets 50.5 o/u
Miami Heat 49.5 o/u
Minnesota Timberwolves 48.5 o/u
Atlanta Hawks 47.5 o/u
Dallas Mavs 47.5 o/u
Toronto Raptors 44.5 o/u
If you can predict which team the Nets trade Durant, then you can probably have an easy path to hitting an NBA win totals wager. The Miami Heat are 49.5 o/u and the Toronto Raptors are 44.5 o/u, but they should easily head north of that initial number if they secure Durant in a trade.
The Minnesota Timberwolves have huge expectations after they coughed up four-first round draft picks and five players for Rudy Gobert, but it seems like 48.5 o/u is high for an untested team like the T-Wolves.
Health Watch: Pelicans, Trail Blazers, Bulls, Cavs
Health is paramount if you want to bet win totals on these break-even squads. If Zion Williamson can stay healthy, then the Pelicans can definitely finish over .500 next season. Same goes for Zach LaVine and the Chicago Bulls.
The Cleveland Cavs gave everyone a glimpse into their future last season, even though their backcourt was decimated with injuries. The Cavs rediscovered their mojo and should finish above .500.
Damian Lillard signed a massive extension which squashed any rumors he wanted out of Rip City. Now, it's up to the Portland Trail Blazers to rebuild a contender around Dame, who is almost back to normal after stomach surgery.
New Orleans Pelicans 43.5 o/u
Cleveland Cavs 41.5 o/u
Portland Trail Blazers 41.5 o/u
Chicago Bulls 41.5 o/u
Charlotte Hornets 36.5 o/u
Washington Wizards 35.5 o/u
Sacramento Kings 31.5 o/u
Houston Rockets 27.5 o/u
Orlando Magic 27.5 o/u
Detroit Pistons 26.5 o/u
Indiana Pacers 35.5 o/u
Oklahoma City Thunder 25.5 o/u
San Antonio Spurs 23.5 o/u
The best value is to find one of the bottom feeders that will shed their losing ways and finally crawl out of the basement to secure a playoff berth. We like the Oklahoma City Thunder to win more than 26 games next season to finally move forward and let their young prospects play like Josh Giddey and #2 pick in the draft Chet Holmgren, who looked good in the NBA Summer League.