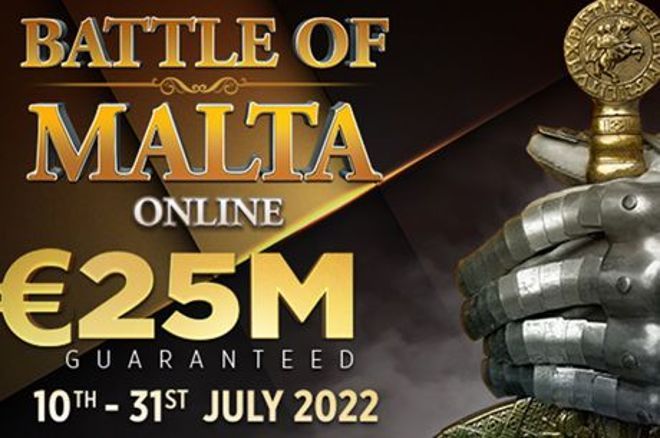 The €25 million guaranteed Battle of Malta Online series has reached the halfway stage with nine of the scheduled 18 featured events having crowned their worthy champion. Nine more feature tournaments, including the huge €2,500,000 guaranteed Main Event, in addition to dozens of Battle of Malta-branded side events, are currently in the GGPoker lobby, waiting for you to win your way or buy into as the festival marches towards a thrilling conclusion.
The opening nine featured events have dished out a wallet-filling €3,026,894, for an average of €336,321 per tournament. Those are mightily impressive figures, considering the average buy-in for the nine completed feature events weighs in at €185.
Ironically, the biggest prize pool and, therefore, top prize of the Battle of Malta Online so far came in the featured event with the lowest buy-in! Event #7 was the Global MILLION$ European Cup, a multi-day €50 buy-in affair that GGPoker slapped a €1 million guarantee on. The tournament missed the guarantee, adding even more value for the players, but it was not for a want of trying because 20,842 players bought in over the numerous Day 1s.
All but one of the nine players who advanced to the Global MILLION$ European Cup final table walked away with a five-figure score for their €50 investment. Brazil's "BetBlind" fell in ninth place and walked away with €8,402 for their efforts.
"AntiReG" and Gabriel "Gabsdrogba" Medeiros were the next casualties. They padded their bankrolls with €11,205 and €14,942, respectively.
The pay jumps grew substantially, especially when one considers the buy-in was only €50. Sixth place and €19,925 went to "Elena11" of Taiwan, with "H3ADSNATCHED" collecting €26,571 when their tournament ended abruptly in fifth place.
The final four became three when Brazil's Heberth "VodkaWins" Barbosa ran out of steam. Fourth place came with a hefty €35,433 payout, which is amazing for a €50 tournament.
Third-place finisher, "senara" of Ecuador, won almost €12,000 more than Barbosa, namely €47,251. The Ecuadorian's demise left Andrejs Kovalovs heads-up against Hogyun "LLinusLLvoe" Kang in a one-on-one battle for the title. Nobody would have batted an eyelid had the heads-up duo struck a deal because there was a difference in prize money of more than €20,000. However, there was no deal, which meant Kovalovs had to settle for the €63,010 runner-up prize while Kang collected a cool €83,479.
Event #7: Global MILLION$ European Cup Final Table Results
PlacePlayerCountryPrize 1Hogyun "LLinusLLvoe" KangHong Kong€83,479 2Andrejs KovalovsLatvia€63,010 3senaraEcuador€47,251 4Heberth "VodkaWins" BarbosaBrazil€35,433 5H3ADSNATCHEDAustria€26,571 6Elena11Taiwan€19,925 7Gabriel "Gabsdrogba" MedeirosBrazil€14,942 8AntiReGRussia€11,205 9BetBlindBrazil€8,402
GGPoker Battle of Malta Online Featured Events Results
As you can see, Kang is the biggest winner from the completed Battle of Malta Online featured events, although "jaywu1111" came close with a €65,456 score in the €220 Kings of Tallinn Main Event.
EventBuy-inEntrantsPrize poolChampionPrize #1: King's Landing Opener€1103,775€382,030Isujimi€47,147 #2: Charge to Glory Bounty Turbo€52.503,419€170,950Bernado Granato€13,396* #3: Omaholic Knight Crusaders€550240€125,400Michael "Minthon" Iakovlev€28,188 #4: Bounty for the Knight€2101,354€270,800NewBeerBro€26,285* #5: Tallinn Summer Showdown€552,235€113,091hmhm€14,291 #6: Kings of Tallinn Main Event€2202,494€504,785jaywu1111€65,456 #7: Global MILLION$ European Cup€5020,842€1,000,000Hogyun "LLinusLLvoe" Kang€83,479 #8: Iron Throne Marathon€1101,449€146,638Renato "Songonku" Ribeiro€20,213 #9: Bounty for the Queen€3151,044€313,200ROLLINGDR0NE€34,663*
*includes bounty payments
Upcoming Battle of Malta Online Events
The next Battle of Malta Online featured events take place this weekend on July 23 and July 24. The €330 buy-in €150,000 guaranteed Three-Cities Challenges shuffles up and deals at 6:00 p.m. UTC on July 23, with a brace of action-packed tournaments taking place on July 24, including the Siege of Malta Bounty MILLION$, which features a €1 million guarantee. Day 1s for the Siege of Malta Bounty MILLION$ run throughout Friday, Saturday, and Sunday, each costing €105.
DateTime (UTC)EventBuy-inGuarantee Sat 23 Jul6:00 p.m.#10 Three-Cities Challenge [3-Stack]€330€150,000 Sun 24 Jul6:00 p.m.#11 Grand Harbour Superstack€550€500,000  8:30 p.m.#12 Siege of Malta Bounty MILLION$, €1M GTD [Final Stage]€105€1,000,000 Tue 26 Jul6:00 p.m.#13 Gladiator 6-Max€330€200,000 Thu 28 Jul6:00 p.m.#14 Bounty for the King€525€300,000 Sat 30 Jul6:00 p.m.#15 St. Julian's Bounty Feast€105€125,000 Sun 31 Jul5:00 p.m.#16 GGMasters Royal Championship€1,050€1,000,000  6:00 p.m.#17 Omaholic Crusaders Bounty Quest€210€100,000  8:30 p.m.#18 Main Event, €2.5M GTD [Final Day]€555€2,500,000