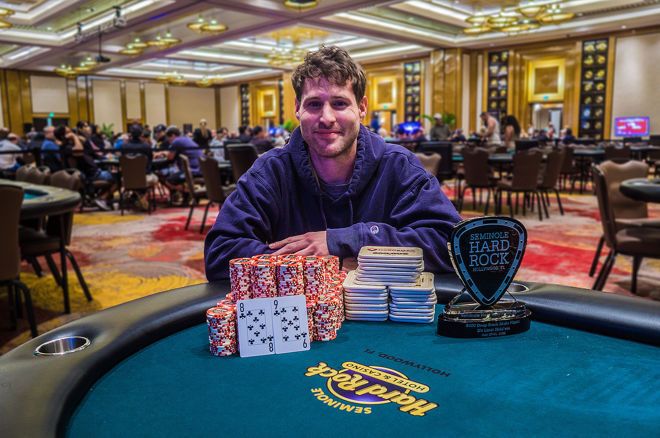 The Seminole Hard Rock Poker Open's (SHRPO) first event — $400 Deep Stack No-Limit Hold'em — set a new Florida state record with 7,703 entries. That surpassed the previous record set last November in the first event of the Rock 'n' Roll Poker Open, which attracted 6,196 entries. That crushed the former number in the same number of flights!
The tournament crushed its $1 million guarantee by offering up a $2,541,990 prize pool. On Monday, Andrew Pecina (pictured above) was the last player standing, an accomplishment that was worth $225,906 after a five-way deal.
"It feels amazing. Phenomenal. Words can't describe it," Pecina told SHRPO officials after the win. What's more, it was the first poke tournament he ever played at Seminole Hard Rock Hollywood. "I entered the last flight. I was alternate #530. I waited two hours to get in, and I only bought in once."
What's even more impressive is that Pecina did it by mounting a huge comeback.
"I was down to one big blind at one point on Day 2," he explained. "But I came back and things just came together."
After Corel Theuma busted in sixth place ($73,718), the remaining players agreed to a chop, and Pecina took home the largest share. Tommy Morgado was the second-place finisher, good for $186,979.
Just outside the top six was someone mixed martial arts fans would recognize. Colby Covington, a UFC star who is also an avid poker enthusiast, finished in seventh place, an impressive run that paid $48,298, his largest career score. Covington now has over $120,000 in live tournament cashes, according to The Hendon Mob.
2022 SHRPO Event #1 Final Table Results
PlacePlayerPrize 1Andrew Pecina$225,906* 2Tommy Morgado$186,979* 3Nicholas Carballo$173,368* 4Hossein Pezeshkan$165,792* 5David Frenkel$155,827* 6Corel Theuma$73,718 7Colby Covington$48,298 8Scott Livingston$35,588 9Vinny Monteiro$25,420
*Denotes five-handed deal.
Four Females Win Titles in Quick Succession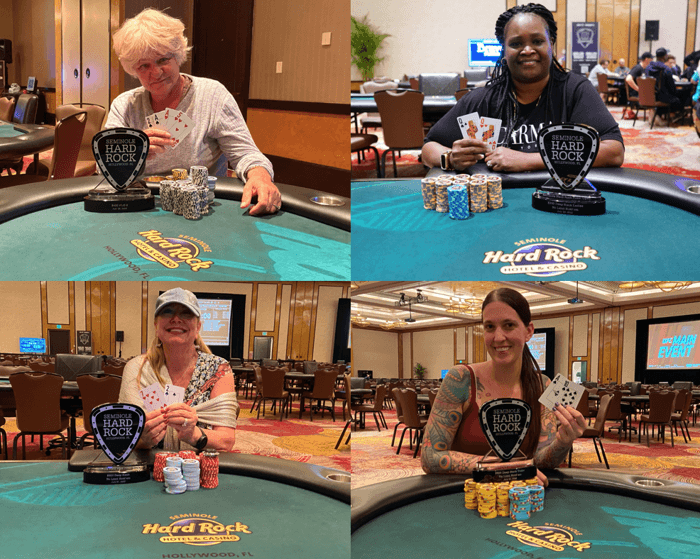 Clockwise from top left: Sheila O'Connor, Mica Lamar, Jennifer Borsini & Donna Stutts.
Back in April, PokerNews reported a story when multiple female champs crowned on the same day at the WPT Seminole Hard Rock Poker Showdown. Well, an arguably even bigger story developed early on in the 2022 SHRPO when four ladies captured titles in a two-day period, three of which came in open events.
First, on July 30, Sheila O'Connor topped a 124-entry field to win Event #11: $400 Pot-Limit Omaha 8 for $10,000, and on the same day Mica Lamar, who was the last player to register the tournament, bested a 66-entry field to win the 2022 SHRPO Event #12: $300 Ladies NLH for $5,000.
"It was a great group of ladies today," said Lamar after the win. "I really enjoyed playing with them. It was a fun table. But ladies are tough. I'd rather play with the guys. With the ladies, you just really don't know. They're very unpredictable."
The following day on July 31, Donna Stutts was crowned champ in Event #13: $400 Deep Stack NLH for $19,197 after a seven-way deal. Similarly, on Sunday, Jennifer Borsini navigated a 100-entry field to win Event #16: $600 NLH Turbo for $12,500 after a four-way deal.
What's Coming Up?
The Seminole Hard Rock Poker Open, an annual tradition, continues through August 9. There are some big events left on the schedule. That includes the $5,300 buy-in SHRPO NLH Championship ($3 million guaranteed) beginning August 5, along with three high rollers — $50,000 NLH (August 4), $25,500 NLH (August 8), and $25,500 PLO (August 3).
In November, this same South Florida casino will play host to the $3,500 buy-in World Poker Tour Seminole Hard Rock 'N' Roll Poker Open, which features a $2 million guaranteed prize pool.
Learn More About the Seminole Hard Rock Hotel & Casino Hollywood Here!
2022 SHRPO Winners Thus Far
DateTournamentEntriesPrize PoolWinnerPrize July 27-August 1Event #1: $400 NLH Re-Entry7,703$2,541,990Andrew Pecina$225,906 27-JulEvent #2: $400 Seniors NLH 50+272$91,120Robert Garcia$15,364 27-JulEvent #3: $400 Big Stack Big O129$43,215Hal Rotholz$11,860 27-JulEvent #4: $200 Quad Stack Double Green Chip Bounty212$23,320Eric Halpern$5,495 28-JulEvent #5: $600 Limit Omaha 8109$57,225Aaron Kupin$17,015 28-JulEvent #6: $400 8-Handed PLO144$48,240Kahlil Francis$13,220 28-JulEvent #7: $150 Big Stack NLH297$35,046Darrell Carril$7,196 29-JulEvent #8: $400 Omaha 8/Stud 881$27,135Chris Labrie$5,328 29-JulEvent #9: $600 Double Black Chip Bounty NLH188$61,100Steve Olivier$12,478 29-JulEvent #10: $600 Black Chip Bounty 5-Card PLO149$63,325Vincent Fiorenza$17,240 30-JulEvent #11: $400 Pot-Limit Omaha 8124$41,540Sheila O'Connor$10,000 30-JulEvent #12: $300 Ladies NLH66$17,160Mica Lamar$5,000 31-JulEvent #13: $400 Deep Stack NLH505$169,175Donna Stutts$19,197 July 31-August 1Event #14: $1,100 Six-Max NLH262$254,140Vincent Chauve$58,030
*Images courtesy of SHRPO.

Chad Holloway
Executive Editor U.S.
Executive Editor US, PokerNews Podcast co-host & 2013 WSOP Bracelet Winner.