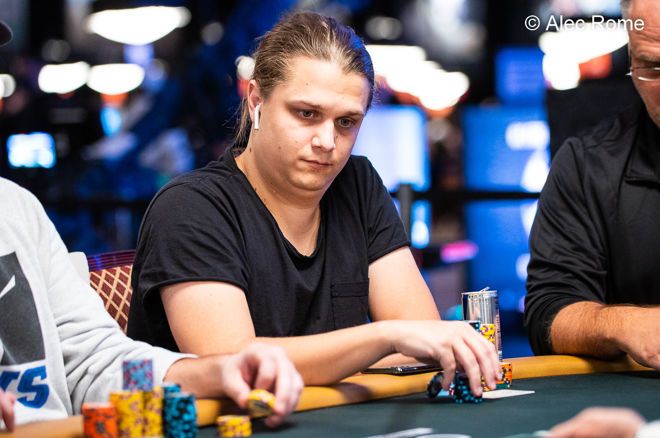 Niklas Astedt secured his fifth Super MILLION$ title and $430,646 in prize money at GGPoker on April 5. The amazing Swede came from the middle of the pack to take down the $10,300 buy-in event and tie with Australian superstar Michael Addamo in terms of Super MILLION$ titles won.
Almost as impressive as Astedt's fifth victory was the fact former champion Aleks Ponakovs came from a 10.2 big blind starting stack to finish second for a $332,073.
Super MILLION$ Season 2 Episode 37 Final Table Results
PlacePlayerCountryPrize 1Niklas AstedtSweden$430,646 2Aleks PonakovsLatvia$332,073 3Pablo SilvaBrazil$256,063 4Joao VieiraBrazil$197,452 5Aliaksei BoikaMexico$152,256 6TTP_pokerTaiwan$117,405 7Roland "Gwriden" RokitaAustria$90,532 8pedrinhoOoAustria$69,809 9Isaac HaxtonCanada$53,830
Isaac Haxton was the first of the nine finalists heading for the showers. He opened to 110,000 with ace-jack from late position with blinds at 25,000/50,000/6,000a only for Pablo Silva to three-bet to 260,000 from the cutoff. The action folded back to Haxton who shoved for 857,859 in total, and Silva snapped him off with the dominating ace-king. Silva's king-kicker was good enough to win the pot and bust Haxton.
Ponakovs scored two full doubles, first with queens versus the ace-king of Aliaksei Boika, then with ace-king versus Roland "Gwriden" Rokita's king-queen. The latter hand left Rokita with only three big blinds but he was not the next player out of the door, that dubious honor went to "pedrinhoOo." They opened to 340,144 at the 50,000/100,000/12,500a level leaving themselves only 200,000 chips behind. "TTP_poker" made it 647,140 from the next seat across, folding out everyone except the initial raiser who called all-in. It was ace-jack for pedrinhoOo and ace-king for TTP_poker. An eight-high board reduced the player count by one.
Win Your 2022 WSOP Main Event Package With GGPoker's Road to Vegas
Rokita saw his tournament end in seventh place, a finish worth $90,532, the last five-figure haul of the final table. Rokita open-shoved for less than four big blinds from the cutoff with ace-eight. Silva called in the big blind with king-ten and proceeded to flop a ten.
The final six became five with the exit of TTP_poker. Everyone folded to Silva in the small blind and he raised enough to put TTP_poker to their test for their 6.5 big blind stack. TTP_poker called with eight-seven offsuit and needed some help to beat Silva's ace-king. TTP_poker's gutsy call saw them spike a seven on the flop but an ace on the river sent them to the rail.
Blinds increased to 100,000/200,000/25,000a and the largest stack contained only 25 big blinds so something had to give. It did when Boika ripped it in for 4,349,076 from the small blind with ace-eight and Astedt called from the big blind with pocket tens. Astedt turned a full house to take a commanding lead into four-handed play.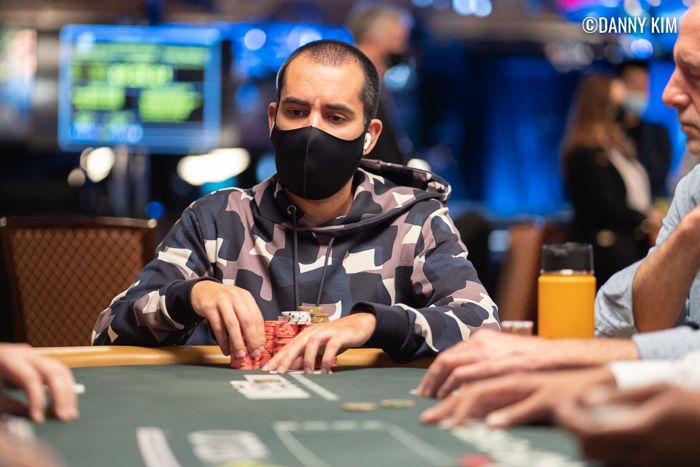 Joao Vieira finished in fourth place
Joao Vieira busted in fourth in a monster pot. Ponakovs min-raised to 500,000 with ace-jack, Vieira three-bet shoved from the small blind with pocket fours for 5,158,761, only for Astedt to four-bet all-in for 8,502,629 with pocket kings! Ponakovs ducked out of the way, Astedt's kings held, and the Super MILLION$ was down to three players.
Astedt held more than 14.2 million chips, more than double the combined stack of his final two opponents. The rich got richer when Silva open-shoved for 18 big blinds with ten-eight of hearts only for Astedt to snap-call with pocket jacks! The five community cards brought no drama, and Astedt progressed into heads-up holding a colossal 17,726,914 to 3,573,086 chip lead over Ponakovs.
PokerNews is an advocate of responsible gambling but you would wager your house on Astedt winning from this position, which is exactly what happened. The final hand of a short one-on-one battle saw Astedt limp in and Ponakovs check his option. A eight-jack-trey flop saw Ponakovs check-call a 250,000 bet, leading to a nine on the turn. Ponakovs checked again, Astedt bet 530,000, and Ponakovs check-raised all-in for 2,668,086 which Astedt instantly called. Ponakovs flipped over jack-seven which was in a world of pain against Astedt's aces. The river improved Astedt to an unnecessary top set, and he became only the second player in GGPoker history to win the Super MILLION$ five times. What a guy!