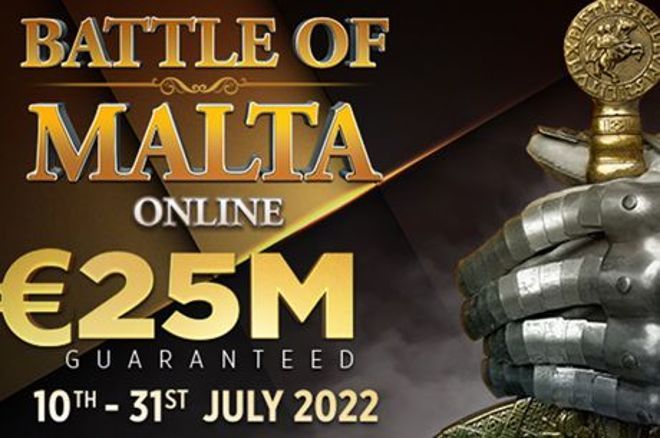 €395,747. That is the prize "Alister333" got their hands on after conquering the 2022 Battle of Malta Online Main Event at GGPoker. Such a huge prize was made possible by 7,104 players buying in for €550 and creating a €3,711,840 prize pool, far greater than the advertised €2,500,000.
Some 1,132 players took to the GGPoker virtual felt for the final day of the Battle of Malta Online Main Event with 800 of those returnees helping themselves to a slice of the pot. Eight and a quarter hours after the final day commenced, "Alister333" emerged victoriously with almost €400,000 to show for their $550 investment.
Battle of Malta Online Main Event Final Table Results
PlacePlayerCountryPrize 1Alister333Montenegro€395,747 2Georgios ManousosAustria€297,181 3David "Stoic123" MitchellCanada€222,854 4Yabba Dabba DooMontenegro€167,117 5FozziAustria€125,320 6Kerly1990Estonia€93,977 7SheepitIsrael€70,472 8DevolveMeuOuroBrazil€52,847 9NarwhaleIndia€39,630
Qualify for Triton Series Cyprus on GGPoker TODAY!
Plenty of big names reached the money place, including Joseph Cheong, Ottomar Ladva, Elio Fox, Christian Jeppsson, Daniel Dvoress, Wiktor Malinowski, and Yuri Dzivielevski, the latter falling in 22nd place for €12,140.
The nine finalists locked in €39,630 for their efforts but almost 10-times that sum awaited the eventual champion.
"Narwhale," "DevolveMeuOuro," "Sheepit," and "Kerly1990" fell by the wayside and left only five players in the hunt to become the Battle of Malta Online champion. Each of those five remaining players were now guaranteed six-figures for their deep run.
Fifth place and €125,320 went to "Fozzi" of Austria, before "Yabba Dabba Doo" of Montenegro busted in fourth for €167,117. Heads-up was set when Canada's David "Stoic123" Mitchell ran out of luck and crashed in third, a finish worth €222,854.
Nobody would have batted an eyelid had Georgios Manousos and "Alister333" discussed a deal with there being a near €100,000 difference in prize money between first and second. Either player would have made a worth champion but it was "Alister333" who claimed the honors in addition to a cool €395,747 in prize money; Manousos collected €297,181 for his bridesmaid finish.
Latest Battle of Malta Online Results
EventBuy-inEntrantsPrize poolChampionPrize #14: Bounty for the King€525848€424,000Almazik93€47,407* #15: St. Julian's Bounty Feast€1051,993€199,300KumisMan228€20,378* #16: GGMasters Royal Championship€1,0501,083€1,083,0001uckyf1sh€149,956* #17: Omaholic Crusaders Bounty Quest€210666€133,200silverplat€16,464* #18: Main Event€5507,104€3,711,840Alister333€395,747
*includes bounty payments
/ggpoker/ext/