Alex Ovechkin scored twice for the Washington Capitals against the Vegas Golden Knights in a 4-3 overtime loss on Wednesday, becoming only the third player in NHL history to score 50 goals in a season nine times.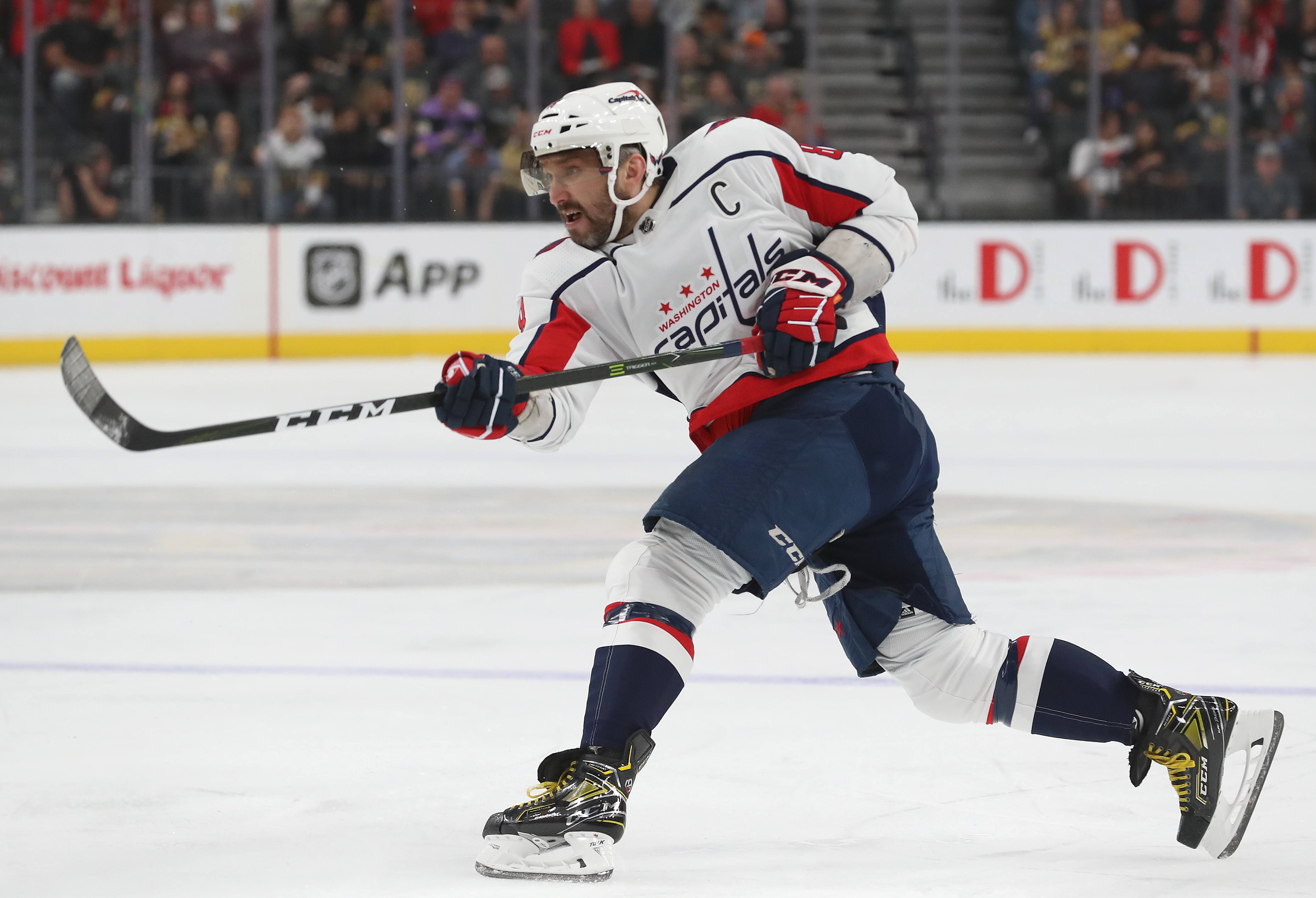 Alex Ovechkin scored twice on Wednesday to reach the 50-goal mark for a record-tying ninth time in his career. (Image: Zak Krill/NHL/Getty)
The 36-year-old Ovechkin tied Wayne Gretzky and Mike Bossy for the most 50-goal seasons.
Ovechkin joins Gretzky, Bossy
Ovechkin continues to be one of the most prolific scorers in the NHL even in the later stages of his career. He is third in the league this year, trailing only Edmonton's Leon Draisaitl (54) and Toronto's Auston Matthews (58).
"Obviously, it's pretty good company," Ovechkin said of joining Gretzky and Bossy after Wednesday's game. "When you score first one you just feel pretty good about the game. I think our line today [felt] good and had pretty good chances."
Ovechkin tied the record less than a week after Bossy died on April 15 following a battle with lung cancer. Bossy scored 50 goals in nine consecutive seasons from 1977-78 through 1985-86.
"I met him a couple times, Ovechkin said via the Capitals website following Bossy's death. "He was always smiling. He would always have a good mood and it's a sad day for the whole [hockey] world."
Ovechkin is now closing on the all-time goal scoring leaders in NHL history. He moved up to third this year, passing Marcel Dionne, Brett Hull, and Jaromir Jagr in the process. He has scored 780 goals over the course of his 17 seasons with the Capitals.
All-Time goals record within striking distance
The Russian will now turn his sights on the top two players on the list. If Ovechkin remains health next season, he should pass Gordie Howe, who scored 801 times in his career. Wayne Gretzky scored 894 NHL goals to set the all-time record. Ovechkin could well surpass that number, provided injuries don't hasten the end of his career.
He's certainly not slowing down yet. Ovechkin has now set the record as the oldest player to score 50 goals in a season.
Alex Ovechkin scores his second goal of the game and his 50th of the season to tie the game 3-3. It marks Ovechkin's ninth 50-goal season, tying him with Wayne Gretzky and Mike Bossy for the most in NHL history. pic.twitter.com/P7JZShZQzn
— CapitalsPR (@CapitalsPR) April 21, 2022
"It's unbelievable," Vegas coach Peter DeBoer said after Wednesday's game. "Two tonight and he could've had another two. He looks like he's 25 years old out there."
To put Ovechkin's success in perspective, he has won the Hart Memorial Trophy as the NHL's most valuable player three times in his career. He almost certainly won't win it again this year: FanDuel Sportsbook lists him as a +15000 longshot, far behind favorites Matthews (-400) and Conor McDavid (+300). But he's one of just 11 players that FanDuel is still posting odds for, suggesting he'll probably get some down ballot votes for the award.
Ovechkin won a Stanley Cup title with the Capitals in 2018, and Washington will take part in the playoffs again this season. However, they are unlikely to win another championship: FanDuel lists the Capitals as a +3000 dark horse to win the Stanley Cup this year.