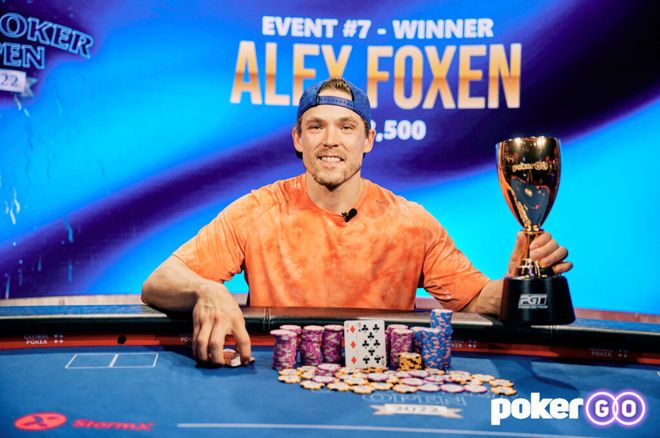 Alex Foxen and Chino Rheem are the latest winners at the 2022 US Poker Open, with Rheem being the big winner as he earned first and second-place finishes that pushed him to the top of the series leaderboard.
Foxen defeated Rheem during heads-up play in Event #7: $15,000 NL Hold'em to earn $283,500, while Rheem went on to take down Event #8: $15,000 Pot-Limit Omaha for $271,350.
Foxen Stares Way to Victory
Foxen entered the day third in chips in Event #7 and managed to chip up by eliminating Joseph Cheong in fifth place for $84,000 when Cheong's ace-nine was dominated by Foxen's ace-queen, and next eliminating Thomas Boivin for $105,000 when Boivin's king-seven ran into the pocket jacks of the eventual winner.
One entertaining element of the final table action was the intense stare-off on display between Foxen and fellow high-stakes elite and 2018 USPO overall champion Stephen Chidwick, a battle that prompted plenty of jokes and debate on social media.
Chidwick was left with crumbs in a hand where Foxen looked down at pocket aces and three-bet an open from Rheem. Chidwick momentarily took his eyes off his opponent to see two tens and four-bet shoved, which prompted a quick fold from Rheem and a snap-call from Foxen.
Chidwick didn't improve as the board ran out but did manage to double his micro stack multiple times after that before going out in third for $136,500.
Event #7: $15,000 No-Limit Hold'em Final Results
 PlacePlayerCountryPrize  1Alex FoxenUnited States$283,500  2Chino RheemUnited States$210,000  3Stephen ChidwickUnited Kingdom$136,500  4Thomas BoivinBelgium$105,000  5Joseph CheongUnited States$84,000  6Dan SmithUnited States$63,000
Foxen entered heads-up play against Rheem with the chip lead and got it done when he flopped top set against Rheem, who called a turn check-raise with a flush draw and ended up making top pair on the river. Foxen bet to put Rheem all-in and Rheem couldn't get away from it go out in second.
The victory gave Foxen a total of 356 points on the USPO leaderboard and a nice six-figure score to to bring his live tournament earnings to $20.9 million.
Rheem Returns With a Vengence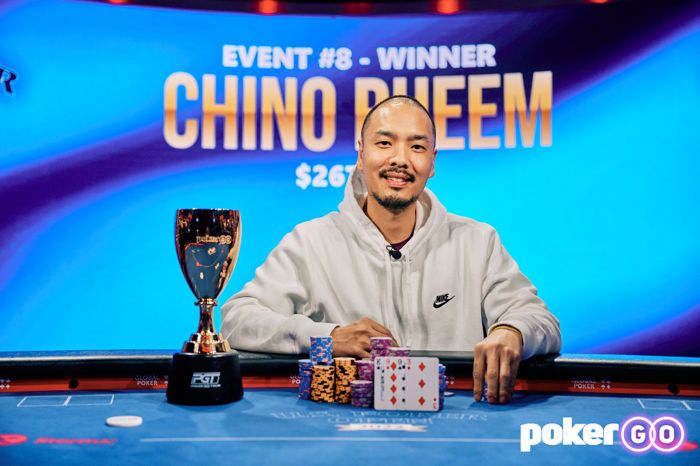 Chino Rheem
Rheem clearly didn't lose his spirit after finishing runner-up in Event #7 as he returned with a vengeance to take down the very next event for $271,350, defeating high-stakes veteran Scott Seiver during heads-up play to earn Siever $201,000.
The final table action began with the short-stacked Dylan Weisman busting on the first hand just a single hand, busting to Hellmuth to finish in sixth place for $60,300. The Upswing Poker PLO coach held
on a board of
and called a bet from Hellmuth holding
. Weisman led out with a bet of 40,000 on the
turn and Hellmuth called with his wrap.
The river brought the
to give Weisman the low end of the straight and Hellmuth the nuts. Weisman moved in with his last 195,000 and saw the bad news from Hellmuth.
Adam Hendrix, winner of Event #3: $10,000 No-Limit Hold'em, was out next for $80,400 in brutal fashion when he three-bet with
in the small blind and called a re-pot from Rheem in the big blind holding
.
Alaska's all-time money leader was in good shape as he held one of Rheem's immediate outs with a king, but the flop brought the case king as it came
, leaving Hendrix drawing to an ace or backdoor hearts. He didn't get there as the board finished out
and he hit the rail in fifth after entering the final table fifth in chips.
Event #8: $15,000 Pot-Limit Omaha Final Results
 PLACEPLAYERCOUNTRYPRIZE (IN USD)  1Chino RheemUnited States$271,350  2Scott SeiverUnited States$201,000  3Isaac KemptonUnited States$130,650  4Phil HellmuthUnited States$100,500  5Adam HendrixUnited States$80,400  6Dylan WeismanUnited States$60,300
Hellmuth ended up busting next when he held
and three-bet Rheem, who called holding
.
The flop came
to absolutely smash Rheem by giving him the nut straight. "The Poker Brat" moved all-in for less than a pot-sized bet and went on a trademark tirade when he saw he had been out-flopped.
"This f—ing idiot," Hellmuth muttered. "I want to play with him for the rest of my life. He just f—ing calls 350,000 with this f—ing garbage. I mean, how the f— do I finish fourth? This f—ing guy is the worst player ever."
The board finished out
and Hellmuth hit the unaffected Rheem with a "well-played, buddy" before hitting the rail.
Isaac Kempton, who is fresh off a runner-up finish in the 2022 Wynn Millions Main Event for $1.1 million, was next out to begin the heads-up battle between Rheem and Seiver.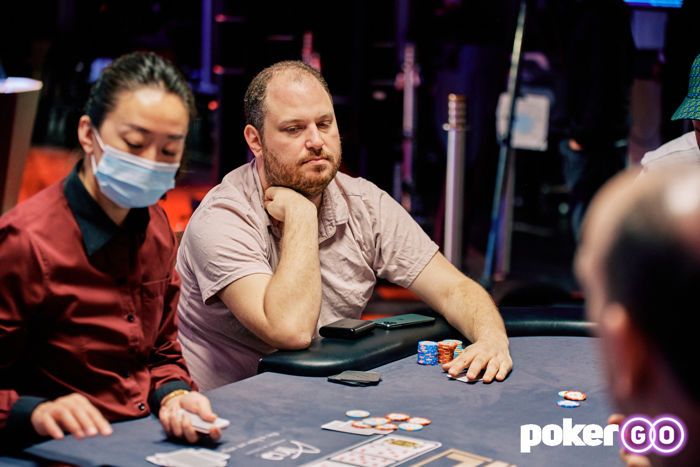 Scott Seiver
In the final hand, Seiver held
on a board of
raised all-in with a wrap draw. Rheem snapped with
to be slightly ahead with a set of nines. The
runout didn't give Seiver his straight and Rheem locked up the victory.
Rheem's second-place finish and subsequent victory catapulted him to the top of the 2022 USPO leaderboard with 481 points.
A list of winners so far at the 2022 USPO is available in the table below.
2022 US Poker Open Winners
 TOURNAMENTENTRIESPRIZE POOLWINNERCOUNTRYPRIZE (IN USD)  Event #1: $10,000 No-Limit Hold'em93$930,000Shannon ShorrUnited States$213,900  Event #2: $10,000 Pot-Limit Omaha77$770,000Justin YoungUnited States$200,200  Event #3: $10,000 No-Limit Hold'em88$880,000Adam HendrixUnited States$211,200  Event #4: $10,000 Big Bet Mix53$530,000Tamon NakamuraJapan$169,600  Event #5: $10,000 No-Limit Hold'em66$660,000Jeremy AusmusUnited States$178,200  Event #6: $15,000 8-Game47$705,000Tamon NakamuraJapan$239,700  Event #7: $15,000 No-Limit Hold'em70$1,050,000Alex FoxenUnited States$283,500  Event #8: $15,000 Pot-Limit Omaha67$1,005,000Chino RheemUnited States$217,350
Check out the PokerNews US Poker Open Hub here!
*Images courtesy of PokerGO.