The gate to the 2021-22 Kentucky Derby trail came down Saturday, with Tawny Port winning the final Derby prep on the trail: the Grade 3 Lexington Stakes.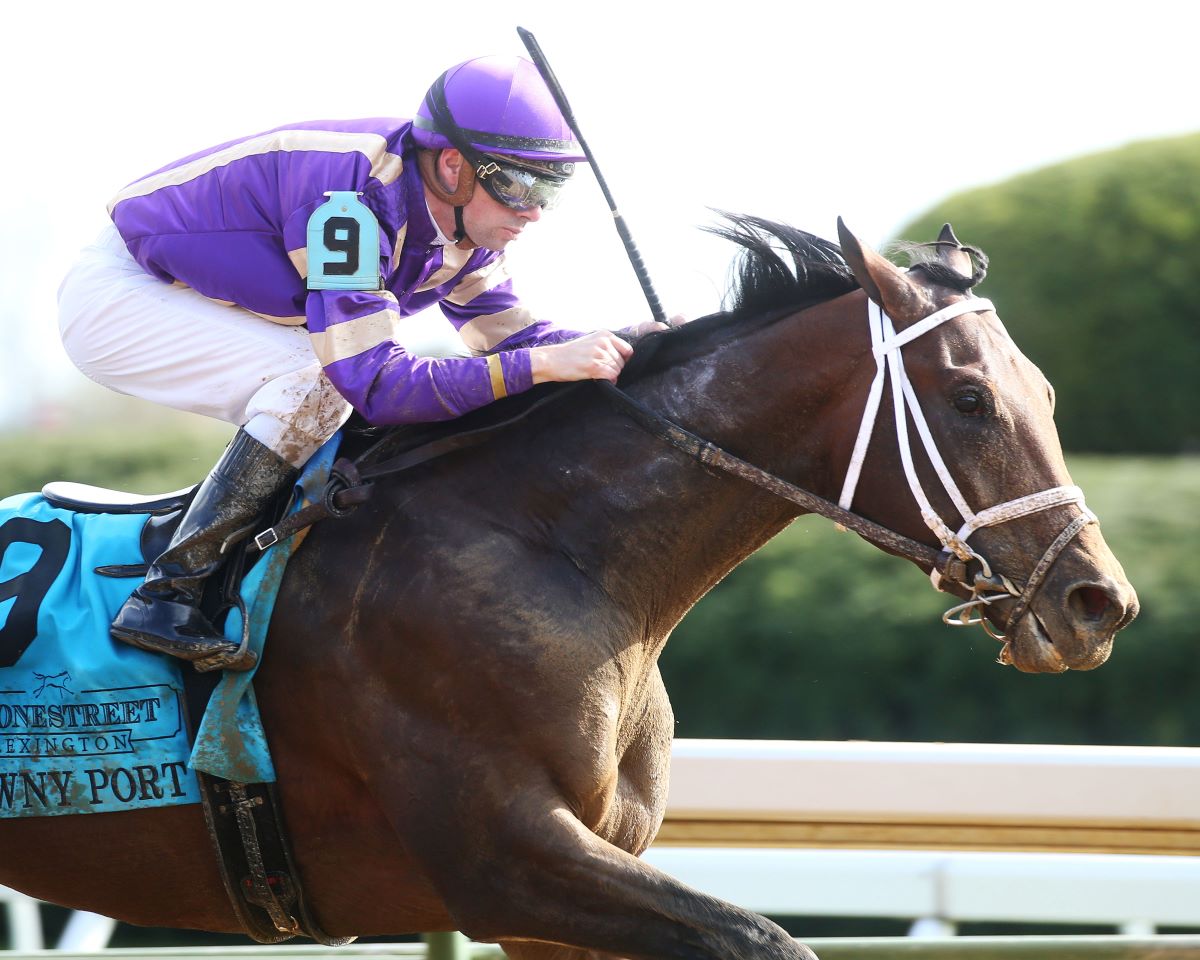 Tawny Port and Florent Geroux captured the final Kentucky Derby prep: the Grade 3 Lexington Stakes at Keeneland Saturday. That vaulted the colt from 20th to 11th on the final points ladder. (Image: Keeneland/Coady Photography)
That brought the Brad Cox-trained colt safely in the field with 60 points, courtesy of the 20 he earned with his one-length victory over Major General. There was symmetry to this exacta finish since Major General won the first Derby prep: last September's Grade 3 Iroquois Stakes at Churchill Downs.
That victory in the first of 48 Derby prep races brought Major General eight points, giving him 18. In Due Time, who needed a win to put him in the Derby field, finished third. The four points coming with that brought him to 24 points, where he sits 22nd. Ethereal Road, who wheeled back on one week's rest after a dreadful Blue Grass Stakes, finished fourth, giving him two points. He sits 23rd on the ladder with 22 points.
Happy Jack sits on the bubble in 20th place with 30 points. The Doug O'Neill-trained colt grabbed his spot with third-place finishes in two Derby preps: the Grade 2 San Felipe Stakes and Grade 1 Santa Anita Derby. That puts him five points ahead of Pioneer of Medina, six up on In Due Time and eight ahead of Ethereal Road.
Derby prep points are fixed, but scenarios aren't
That trio would need defections from horses above to get into the field. Based on history, Pioneer of Medina, In Due Time and Ethereal Road are by no means out of the Derby picture.
That's because it bears noting these standings are fluid. Because while the Derby preps are done and the points are set, the horses aren't. A lot can happen between Tawny Port's exiting the Keeneland winner's circle and the Churchill Downs gates opening May 7. Just in the last couple weeks, three Derby prospects: Forbidden Kingdom, Classic Causeway and Slow Down Andy exited the trail due to injury or form.
Last year, Hidden Stash was 23rd in points after the final Derby prep. Defections above him put him into the field, where he finished 13th.
Eight members of the 100-point club
Typically, the points cutoff after the final Derby prep is 40, which is what it was last year. But with Slow Down Andy and his 60 points exiting due to a fever Saturday, that put Charge It and his 40 points into 19th place. Tawny Port sat on that 20th place bubble until his Lexington Stakes victory took him off it and lifted him into 11th place.
With the Derby prep season complete, there are four horses with 40 points who sit 16th through 19th on the list: Messier, Zozos, Summer Is Tomorrow and Charge It. After the Derby preps, they are all safely in, ranked based on the tiebreaker: earnings in non-restricted stakes races.
2022 Kentucky Derby Final Points Standings
Rank
Horse
Points
Trainer
Earnings
1
Epicenter
164
Steve Asmussen
$940,000
2
Zandon
114
Chad Brown
$663,500
3
White Abarrio
112
Saffie Joseph Jr.
$769,650
4
Mo Donegal
112
Todd Pletcher
$561,500
5
Tiz the Bomb
110
Kenny McPeek
$1,012,610
6
Cyberknife
100
Brad Cox
$752,000
7
Crown Pride
100
Koichi Shintani
$671,544
8
Taiba
100
Tim Yakteen
$450,00
9
Simplification
74
Tami Bobo
$482,150
10
Smile Happy
70
Kenny McPeek
$499,410
11
Tawny Port
60
Brad Cox
$351,400
12
Barber Road
58
John Ortiz
$589,700
13
Un Ojo
54
Ricky Courville
$661,250
14
Early Voting
50
Chad Brown
$277,500
15
Morello
50
Steve Asmussen
$242,500
16
Messier
40
Tim Yakteen
$390,000
17
Zozos
40
Brad Cox
$200,000
18
Summer Is Tomorrow
40
Bhupat Seemar
$200,000
19
Charge It
40
Todd Pletcher
$188,000
20
Happy Jack
30
Doug O'Neill
$142,000
21
Pioneer of Medina
25
Todd Pletcher
$116,000
22
In Due Time
24
Kelly Breen
$113,800
23
Ethereal Road
22
D. Wayne Lukas
$231,000
24
Rich Strike
21
Eric Reed
$74,500
25
Rattle N Roll
20
Kenny McPeek
$356,500
26
Skippylongstocking
20
Saffie Joseph Jr.
$86,350
27
Major General
18
Todd Pletcher
$251,525
Topping the list is Epicenter, who finished with 164 points. The lone millionaire currently in the field is Tiz the Bomb with $1,012,610. He sits fifth with 110 points, one of eight horses with 100 or more points.