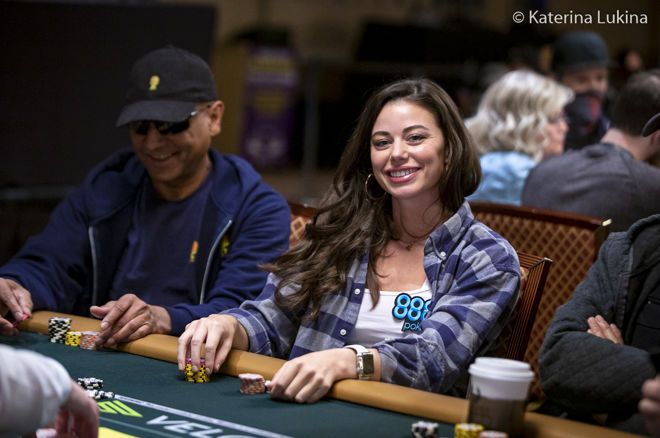 In the latest Made to Learn strategy video from 888poker, Samantha Abernathy explains five poker resolutions that will help you improve your mental game.
Abernathy joined 888poker in 2021 and has a sizeable social media following. Her biggest ever cash came in the 2016 Aussie Millions Poker Championship Main Event, where she finished in third place for $437,543. As well as the six-figure score, she was also on the right side of this memorable hand from the event.
Best Free to Play Slots
1. Set Realistic Poker Goals
It's important to recognise what you want from poker and set goals that are realistic, even if they are ambitious. The most common mistake players make is focusing too much on winning a certain amount of money, causing them to play less than optimal.
It's best to avoid monetary goals and consider things you can control, like how many hours you can study per week, completing a poker course, how many hours you will play and how many hands you review after a session.
These are called SMART goals, they are Specific, Measurable, Attainable, Relevant and Time-bound. By knowing what you want to achieve, you know where you have to concentrate your efforts.
2. Prepare Yourself to Play
Have you ever sat down at the tables and played while you were tired or angry? Of course you have, and it probably negatively affected your bankroll.
Preparing to play A-game as often as possible will boost your level of consistency, which will, in turn, boost your ability to maintain a focus on the game. Try including a pre-poker routine that includes a workout, meditation or visualization, a healthy balanced meal and lots of water.
Best Free to Play Slots
3. Improve Mentally
Sorting out your poker mental game is half the battle. To emerge as a winner, you're going to need to overcome the mental pressures of such a tough game.
If you imagine yourself losing session after session, chances are that's what is going to happen when you sit at the felt. While poker players may never truly master the mental game, they can constantly work to find the right mental atmosphere for success.
It is a very personal journey and one that you should take the time to explore and improve upon.
4. Have a Mastery Mindset
Having a mastery mindset means measuring yourself relative to your own potential, not that of other people. This is easier said than done, especially when you're studying in a group environment where you have to articulate your decisions and thought processes.
When you do your best to learn from in-game errors and don't concern yourself with other people's opinions of your game, you keep your ego out of it and you're less likely to connect your self-confidence and self-worth to your performance.
Best Free to Play Slots
5. Stay Positive
Either exist with no emotions on the table at all or only allow positive ones. This keeps your net-emotional state above zero.
Negative attitudes yield negative outcomes. For example, anger and frustration increases your heart rate, blood pressure, adrenaline, and muscle tension. This can take several hours to physically recover from. That only makes your session more difficult, so maintain a positive attitude on believing in yourself above all.
$88 Free Plus a $400 Welcome Bonus
Now is the perfect time to join 888poker if you have not already done so. Download 888poker via PokerNews, create your free account, and 888poker will give you a free $88 worth of cash game and tournament tickets – this is a free £20 for residents of the United Kingdom – just for reaching this stage.
Your first deposit is matched 100% up to $400 in the form or a releasable bonus. You have 90 days to release as much bonus as you can. Contact 888poker support for more details.

Calum Grant
Editor & Live Reporter
Calum has been a part of the PokerNews team since September 2021 after working in the UK energy sector. He played his first hand of poker in 2017 and immediately fell in love with the game. Calum's proudest poker achievement is winning the only tournament he has ever played in Las Vegas, the prestigious $60 Flamingo evening event.