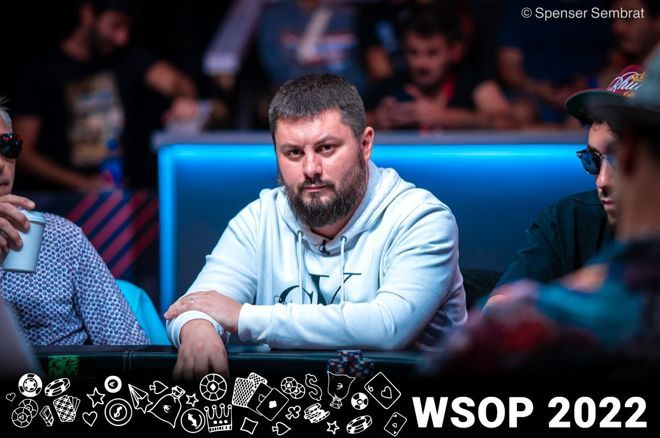 Final Table Profile: Matija Dobric
Seat:3 Chip Count:68,650,000 Big Blinds:57 Age:32 Hometown:Virovitica, Croatia Twitter: @MatijaDobric 
Matija Dobric's Main Event Story
This year is different, I am calm, I can sleep, I can get good rest, everything goes smooth.
Croatia's Matija Dobric has just under $240,000 in career winnings, and most of it came from his run to 32nd place in the 2021 Main Event. He arrived on Day 7 in 2022 with another shot at the Main Event Final Table and he has taken full advantage of the opportunity.
"I just play hand by hand and whatever happens happens, that's poker – like every other poker tournament," Dobric said to PokerNews while bagging up his chips on Day 6. "I mean, it's not like every other event but I play my best every hand and there is nothing special about it."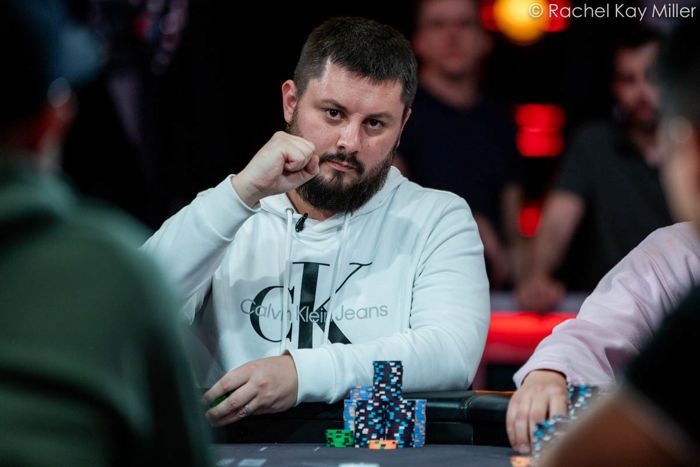 Matija Dobric
Dobric is bouncing back in a big way after his run in the 2021 Main Event, and the experience has helped him bring a more balanced approach in 2022.
"Last year it was really hard. I couldn't sleep because I was full of adrenaline and when I woke up after four or five hours of sleep, I was trying to stay awake at the table. This year is different, I am calm, I can sleep, I can get good rest, everything goes smooth."
This is Dobric's third cash of the 2022 WSOP after picking up a couple of small scores early in the series. He has been playing poker for more than ten years, mostly in tournaments, with the rare appearance at cash games throughout Las Vegas as he enjoys playing at new casinos.
Dobric's Run to the Final Table
Dobric's run to the final table is full of highlights, but doubling through with quads on Day 5 of the Main Event stands out among the most memorable hands of the entire tournament.
There was over 1 million in the pot and a board of
when Dobric check-shoved a 600,000 bet from Martin Stashin with his last 1.9 million chips. Stashin went deep into the tank before he finally called and turned over
for deuces full of fives, but Dobric turned over
to take the pot with quad fives and start his march to the final table.
How Matija Dobric Got to the Final Table
DayChipsRank Day 1d107,200745/3,295 Day 2d450,50047/1,757 Day 3778,000153/1,299 Day 41,880,00086/380 Day 58,445,00011/123 Day 629,550,0006/35 Day 768,650,0003/10
2022 Main Event Final Table Seating
SeatPlayerCountryChip CountBig Blinds 1Philippe SoukiUnited Kingdom13,500,00011 2Adrian AttenboroughAustralia50,800,00042 3Matija DobricCroatia68,650,00057 4Michael DuekUnited States49,775,00041 5Matthew SuUnited States83,200,00069 6John EamesUnited Kingdom54,950,00046 7Jeffrey FarnesUnited States35,350,00029 8Aaron DuczakCanada56,000,00047 9Espen JorstadNorway83,200,00069 10Asher ConniffUnited States29,400,00025
2022 Main Event Final Table Payouts
PlacePrize 1$10,000,000 2$6,000,000 3$4,000,000 4$3,000,000 5$2,225,000 6$1,750,000 7$1,350,000 8$1,075,000 9$850,675
2022 Main Event Final Table Player Stats
PlayerCountryFirst CashWSOP CashesCareer EarningsBiggest Cash Philippe SoukiUnited Kingdom20107$830,812$102,214 Adrian AttenboroughAustralia20148$1,460,049$361,660 Matija DobricCroatia20178$239,167$198,550 Michael DuekUnited States20174$651,300$548,015 Matthew SuUnited States20140$49,340$29,230 John EamesUnited Kingdom200719$2,196,078$289,706 Jeffrey FarnesUnited States201712$181,550$61,250 Aaron DuczakCanada200640$423,887$51,251 Espen JorstadNorway201224$266,860$74,042 Asher ConniffUnited States200949$2,862,290$973,683
Stats courtesy of WSOP.com and HendonMob.com.

Matt Hansen
Live Reporting Executive
Las Vegas-based PokerNews Live Reporting Executive, originally from Chicago, IL