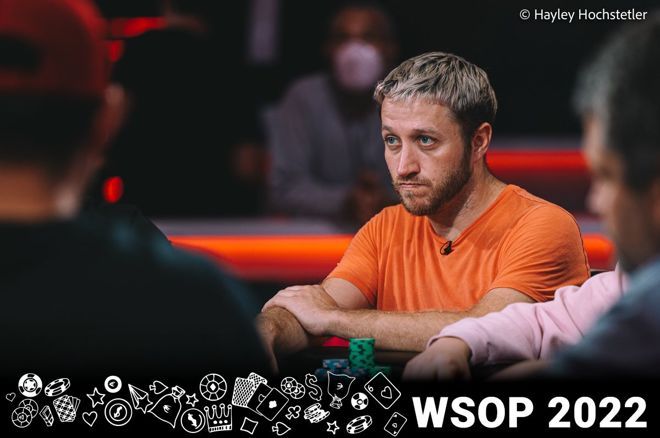 Final Table Profile: John Eames
Seat:6 Chip Count:54,950,000 Big Blinds:46 Age:33 Hometown:Southport, United Kingdom
John Eames' Main Event Story
England's John Eames will be one of the toughest players to beat at the 2022 World Series of Poker (WSOP) Main Event final table, and he has plenty of chips to push his opponents around.
The British poker pro has been on a steady rise since Day 1 of poker's most prestigious annual tournament. He more than doubled his starting stack each day leading up to Friday's final table where he enter in fifth place with 54,950,000 chips (46 big blinds).
Eames has quite the impressive resume, both online and live. During the poker boom era he was known as an online whizz and has crushed it in that arena for many years. But he's also quite the accomplished live tournament player, having cashed for $2.2 million heading into the 2022 WSOP Main Event, according to Hendon Mob.
With $675,000 the current guaranteed minimum payout for the 10 remaining players in the Main Event, Eames has already locked up his largest career live poker score. His previous biggest cash came in 2014 when he won a WSOP Circuit ring in Las Vegas for $289,706.
Eames hadn't cashed in a live tournament since 2019 prior to the Main Event, but he's ready to compete for the $10 million prize on poker's grandest stage.
"I'm remaining calm, not getting carried away, and not letting even other people make me more excitable and just trying to like, just remember, there's still a very long way to go and like, whatever happens, it's going to be a fantastic experience," Eames told PokerNews.
Should the British poker pro win the Main Event, he said, retirement could be the route he chooses to go down with his future.
"There's no sort of there'll be fewer money incentives if I have this incredibly, remarkably large win that very few you get to ever have. So I guess poker would just take on a slightly different role in my life," Eames said.
If he were to retire upon becoming world champion, he wouldn't be the first. Pius Heinz (2011) and Peter Eastgate (2008) both left poker shortly after winning the Main Event, with the exception of playing in the rare tournament.
Eames' Run to the Final Table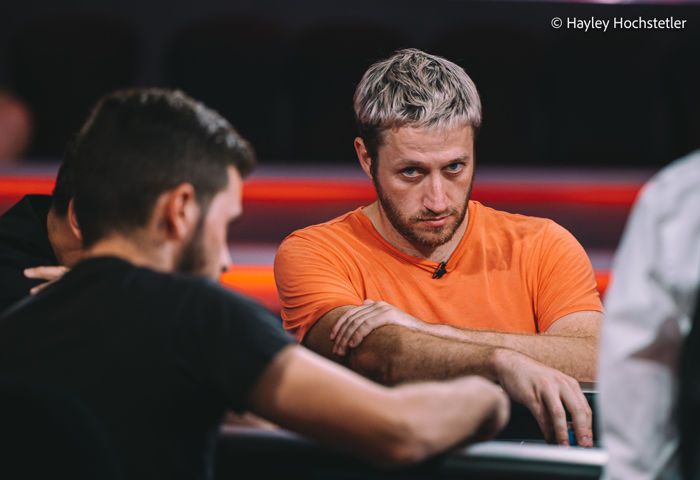 There's no such thing as a smooth-sailing run to the WSOP Main Event final table. Even Jerry Yang, who seemed to run pure in 2007, had some bumps along the way, and Eames' road to glory has been no different.
Eames jumped out of the gates quickly and doubled his stack on Day 1 before tripling it the next session. Late on Day 7, well into the wee hours of Thursday morning, he won a critical double up against Espen Jorstad that heled propel him to the final table.
In the aforementioned hand, Jorstad raised to 2,000,000 in the hijack with
and was called by Eames, who had
. in the big blind. The flop came [10h7d9] and both players checked to see the
on the turn. The small blind checked and the preflop raiser bet 5,000 with top pair only to get check-raised all in to 23,500,000.
Jorstad, the biggest stack at the table, tanked before calling, only to find out ace-high was no good at that point. The river
was no help to Jordstad, and gave Eames a huge double up.
Eames's 2022 WSOP Main Event Journey
DayFinsihing StackPlace Among Remaining Field Day 1b120,500123 of 634 Day 2abc246,500294 of 1,259 Day 3712,000201 of 1,299 Day 41,960,00076 of 380 Day 54,000,00054 of 123 Day 622,450,00010 of 35 Day 754,950,0005 of 10
2022 World Series of Poker Hub
Bookmark this page! All you need to know about the 2022 WSOP is here.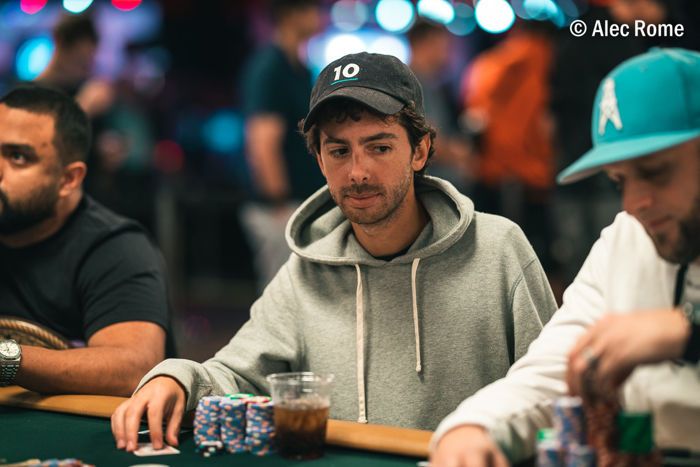 Philippe Souki in WSOP action.
2022 Main Event Final Table Seating
SeatPlayerCountryChip CountBig Blinds 1Philippe SoukiUnited Kingdom13,500,00011 2Adrian AttenboroughAustralia50,800,00042 3Matija DobricCroatia68,650,00057 4Michael DuekUnited States49,775,00041 5Matthew SuUnited States83,200,00069 6John EamesUnited Kingdom54,950,00046 7Jeffrey FarnesUnited States35,350,00029 8Aaron DuczakCanada56,000,00047 9Espen JorstadNorway83,200,00069 10Asher ConniffUnited States29,400,00025
There will be one hour and 48 minutes remaining in level 38 at blinds of 600,000-1,200,000 with a big blind ante of 1,200,000. All ten survivors will return to their seats at 2 p.m. local time on Friday, July 15, 2022 for the unofficial ten-handed final table.
Once the field is then down to the final nine contenders, they will be on a short break for the official final table pictures before commencing their journey to crown the 2022 WSOP Main Event champion.
2022 Main Event Final Table Payouts
PlacePrize 1$10,000,000 2$6,000,000 3$4,000,000 4$3,000,000 5$2,225,000 6$1,750,000 7$1,350,000 8$1,075,000 9$850,675
2022 Main Event Final Table Player Stats
PlayerCountryFirst CashWSOP CashesCareer EarningsBiggest Cash Philippe SoukiUnited Kingdom20107$830,812$102,214 Adrian AttenboroughAustralia20148$1,460,049$361,660 Matija DobricCroatia20178$239,167$198,550 Michael DuekUnited States20174$651,300$548,015 Matthew SuUnited States20140$49,340$29,230 John EamesUnited Kingdom200719$2,196,078$289,706 Jeffrey FarnesUnited States201712$181,550$61,250 Aaron DuczakCanada200640$423,887$51,251 Espen JorstadNorway201224$266,860$74,042 Asher ConniffUnited States200949$2,862,290$973,683
Stats courtesy of WSOP.com and HendonMob.com.