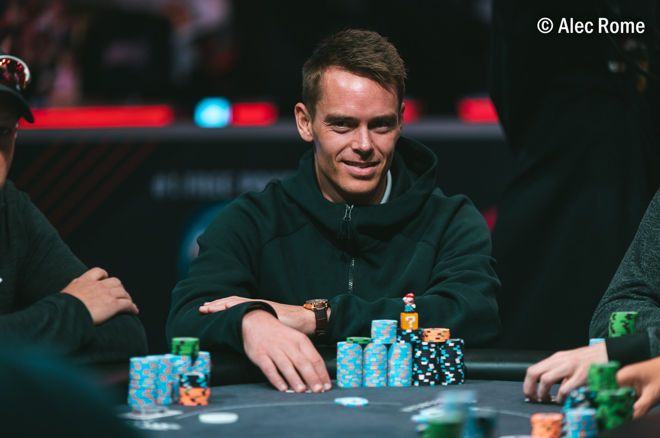 Final Table Profile: Espen Jorstad
Seat:9 Chip Count:83,200,000 Big Blinds:69 Age:  Hometown:Norway (resides in London, United Kingdom) Twitter: @UhlenPoker 
Espen Jorstad's Main Event Story
Espen Uhlen Jorstad is a Norwegian professional poker pro who resides in London, United Kingdom. Many will known Jorstad from his online poker grind, mostly on PokerStars where he is known as "Hymn2ninkasi" and GGPoker where he uses the alias "COVFEFE-19". Primarily a cash game player, Jorstad dips his toes into the tournament poker world on occasion.
Jorstad had never cashed at the World Series of Poker until this year. However, he does have 20 WSOP online cashes to his name, including a sixth-place finish in the 2021 WSOP $5,000 No-Limit Hold'em Main Event Online Championship worth $603,058.
The popular Twitch streamer cashed in his first live WSOP event at the start of the 2022 WSOP, finishing in the money in Event #5: The Housewarming. He and Patrick Leonard took down Event #55: $1,000 Tag Team for $74,042 each plus both players' first WSOP bracelet. Another cash, this time in Event #68: Million Dollar Bounty, set Jorstad up for this deep run in the Main Event.
Jorstad won his $10,000 WSOP Main Event seat online at GGPoker where he won a $1,050 satellite. He, Vadim Rozin, and Tom Kunze were the last three remaining GGPoker qualifiers. Jorstad secured a free WSOP Europe Main Event seat by virtue of reaching the final table while the two other GGPoker qualifiers fell short.
Jorstad's Run to the Final Table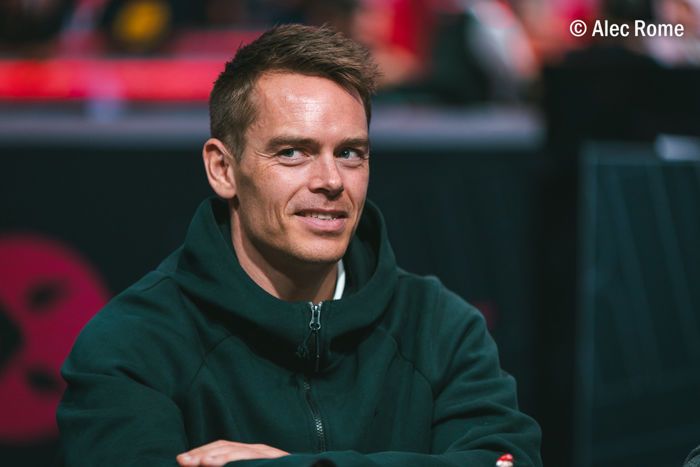 Espen Jorstad
Jorstad sat down on Day 7 of the 2022 WSOP Main Event fifth in chips from the 35 returning players. The cash game specialist was not involved in many key hands straight away until he eliminated Jonathan Rosa in 34th place after missing a flush draw but hitting two pair on the river to come from behind and reduce the player count by one.
He lost more than a quarter of his stack in a clash with David Diaz but he rebuilt and grabbed the chip lead when he sent Efthymia Litsou, the last woman standing, out of the tournament in 18th place.
A huge double with aces versus the ace-king of Tom Kunze sent Jorstad soaring. He later eliminated Kunze in 14th place and found himself on the brink of 100 million chips.
John Eames doubled through Jorstad during the 37th level of play but Jorstad kept his cool and bagged up 83,200,000 chips at the close of play.
On the aces versus ace-king double-up, Jorstad said, "Obviously it's the dream. Getting it in as the biggest favorite that you can be in the biggest tournament and the biggest spot of your life, feels pretty good."
Reaching the WSOP Main Event final table has not quite sunk in yet for the Norwegian.
"It probably needs to sink in a bit. Right now I'm just mega-exhausted and I need to eat, drink, and sleep. Tomorrow I'll be like 'oh it's pretty awesome.'
How Jorstad Got to the Final Table
DayChipsRank Day 1a17,600605/631 Day 2abc463,50040/1,262 Day 3802,000139/1,299 Day 41,335,000156/380 Day 54,665,00044/123 Day 631,175,0005/35 Day 783,200,0001/9
2022 Main Event Final Table Seating
SeatPlayerCountryChip CountBig Blinds 1Philippe SoukiUnited Kingdom13,500,00011 2Adrian AttenboroughAustralia50,800,00042 3Matija DobricCroatia68,650,00057 4Michael DuekUnited States49,775,00041 5Matthew SuUnited States83,200,00069 6John EamesUnited Kingdom54,950,00046 7Jeffrey FarnesUnited States35,350,00029 8Aaron DuczakCanada56,000,00047 9Espen JorstadNorway83,200,00069 10Asher ConniffUnited States29,400,00025
There will be one hour and 48 minutes remaining in level 38 at blinds of 600,000-1,200,000 with a big blind ante of 1,200,000. All ten survivors will return to their seats at 2pm local time on Friday, July 15, 2022 for the unofficial ten-handed final table.
Once the field is then down to the final nine contenders, they will be on a short break for the official final table pictures before commencing their journey to crown the 2022 WSOP Main Event champion.
2022 Main Event Final Table Payouts
PlacePrize 1$10,000,000 2$6,000,000 3$4,000,000 4$3,000,000 5$2,225,000 6$1,750,000 7$1,350,000 8$1,075,000 9$850,675
2022 Main Event Final Table Player Stats
PlayerCountryFirst CashWSOP CashesCareer EarningsBiggest Cash Philippe SoukiUnited Kingdom20107$830,812$102,214 Adrian AttenboroughAustralia20148$1,460,049$361,660 Matija DobricCroatia20178$239,167$198,550 Michael DuekUnited States20174$651,300$548,015 Matthew SuUnited States20140$49,340$29,230 John EamesUnited Kingdom200719$2,196,078$289,706 Jeffrey FarnesUnited States201712$181,550$61,250 Aaron DuczakCanada200640$423,887$51,251 Espen JorstadNorway201224$266,860$74,042 Asher ConniffUnited States200949$2,862,290$973,683
Stats courtesy of WSOP.com and HendonMob.com.
The 2022 World Series of Poker Main Event returns on Friday, July 15 at 12:00 p.m. local time. You can follow the Main Event Final Table via the PokerNews Live Reporting Blog where we'll cover all of the action in our exclusive WSOP Main Event Live Updates.