After all the drama of Day 47 where players and staff were fearful of an active shooter in Las Vegas, poker was the focus of Day 48 of the 2022 World Series of Poker. No fewer than five players got their hands on a last-minute bracelet, while two other events headed into their final throes.
Lawrence Brandt took down Event #84: $3,000 H.O.R.S.E. for $205,139 and his second bracelet; Brandt won his first bracelet earlier this summer. Brandt only played this tournament, his first-ever H.O.R.S.E. event, because he stuck around in Las Vegas for the upcoming Tournament of Champions.
2022 World Series of Poker Hub
Bookmark this page! All you need to know about the 2022 WSOP is here.
Michael Wang won his second WSOP bracelet by being the last man standing in Event #87: $5,000 8-Handed No-Limit Hold'em. Wang went into the heads-up battle against Colombia's Farid Jattin trailing 5,500,000 to 23,000,000 chips but never gave up. Wang's resilience was rewarded with his second WSOP victory and a cool $541,604.
Canada's Jaspal Brar became a WSOP champion for the first time after he outlasted 1,287 opponents in Event 88: $1,000 Super Turbo No-Limit Hold'em, the final open live bracelet-awarding tournament of the series. The fast-paced event eventually saw Brar heads-up against Jesse Lonis. The former's pocket queens held against ace-six in the final hand of the event.
The two other bracelets awarded came in the 2022 WSOP's last couple online events. Gianluca Speranza added to his glowing reputation and added $324,625 to his bankroll, by triumphing in the $5,300 No-Limit Hold'em High Roller Freezeout Encore, while "BabyLegs" became the champion of the $500 No-Limit Hold'em Summer Saver, a result that came with $125,330.
Nguyen Leads as The Closer Needs an Extra Day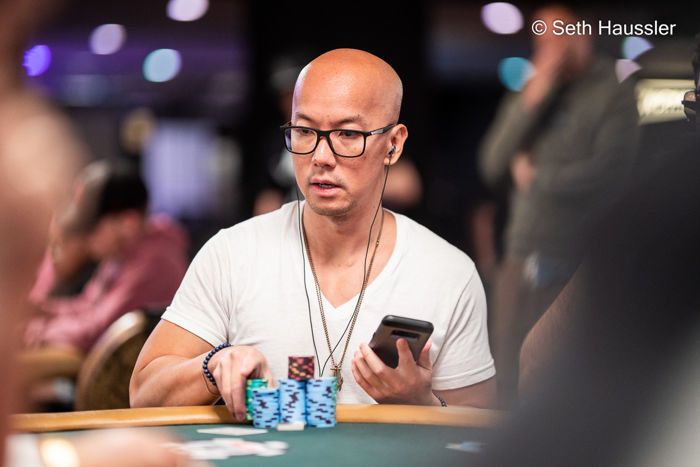 Minh Nguyen
Event #85: $1,500 The Closer requires an additional day to crown its champion because Day 2 concluded with 17 players with chips in front of them. Day 2 did not kick off until 5:00 p.m. local time because of all the shenanigans mentioned earlier.
Minh Nguyen leads the final 17 players back to the table at 12:00 p.m. local time on July 18 with 20,275,000 chips in his stack. Mathematicians among you will have worked out this is the equivalent of 41 big blinds.
Michael Liang (19,200,000) is hot on Nguyen's heels, while Chris Moorman (5,475,000) is the only bracelet winner still in contention for this event's WSOP hardware.
Event #85: $1,500 The Closer Top 10 Chip Counts
PlacePlayerCountryChipsBig Blinds 1Minh NguyenUnited States20,275,00041 2Michael LiangUnited States19,200,00038 3Rudy CervantesUnited States16,475,00033 4Daniel TabelloUnited States14,450,00029 5Zachary JohnsonUnited States12,050,00024 6Madelyn CarrUnited States9,075,00018 7Tjan TepehUnited States8,975,00018 8Ahmed KarrimSouth Africa7,700,00015 9Sean RagozziniUnited Kingdom6,875,00014 10Vincent LamCanada6,000,00012
Plesuv Grabs Chip Lead in the $10K Six-Max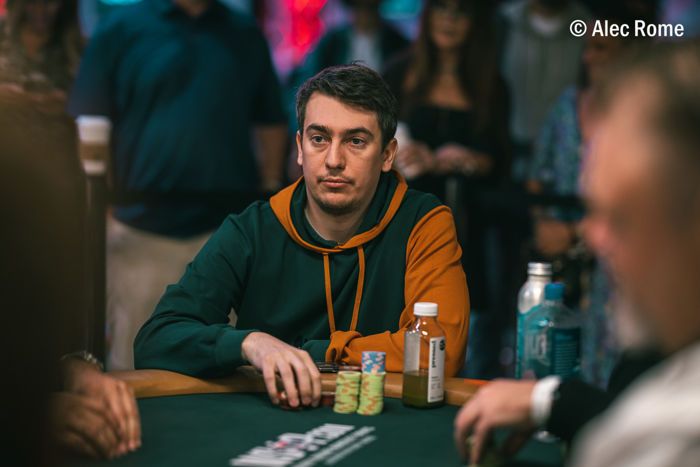 Pavel Plesuv
Only six players remain in Event #86: $10,000 6-Handed No-Limit Hold'em from a 394-strong field. Forty-five players returned to their seats on Day 3, and now only the final table of six remains in contention for the $824,649 top prize and the all-important bracelet.
Moldova's Pavel Plesuv (5,120,000) goes into the final day holding the chip lead and arguably his best shot at finally securing a gold WSOP bracelet. Plesuv has some incredible results on his poker resume, but victory in this event would be the icing on the cake.
Standing between Plesuv and poker gold are Gregory Johnson (4,740,000), Ali Eslami (3,785,000), Barak Wisbrod (3,205,000), Lucas Foster (2,380,000), and short stack Brock Wilson (2,080,000).
Day 4 gets underway at noon local time on July 18.
Event #86: $10,000 6-Handed No-Limit Hold'em Final Table Draw
SeatPlayerCountryChipsBig Blinds 1Pavel PlesuvMoldova5,120,00051 2Ali EslamiUnited States1,200,00012 3Gregory JohnsonUnited States4,555,00046 4Brock WilsonUnited States3,940,00039 5Barak WisbrodIsrael1,750,00018 6Lucas FosterUnited States3,545,00035