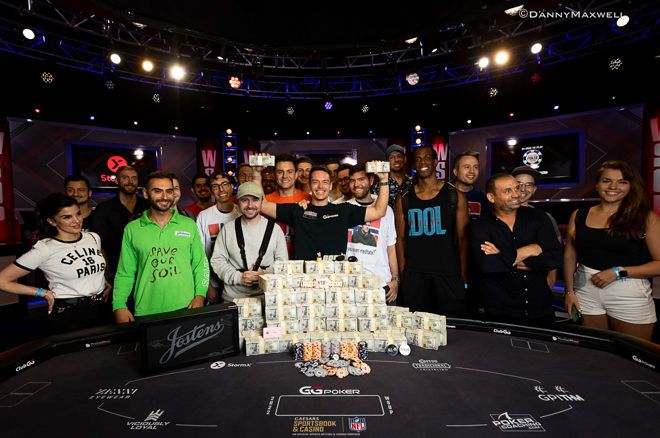 The 2022 World Series of Poker Main Event reached its crescendo inside Bally's & Paris, Las Vegas on Day 47, with Norway's Espen Jorstad being the latest player to claim victory in poker's most famous tournament.
He captured the $10,000,000 first-place prize as well as his second WSOP bracelet of the summer. The boost to Jorstad's bankroll sees him shoot to the top of the Norwegian all-time money list. Jorstad also added his name to the list of players who have won the Main Event as well as another bracelet event in the same series. The last player to achieve the feat was Greg Merson, who won the 2012 WSOP Main Event and the 2012 WSOP $10,000 No-Limit Hold'em 6-Handed Championship.
Adrian Attenborough was Jorstad's heads-up opponent and took home $6,000,000 for his runners-up finish while Michael Duek achieved a career's best $4,000,000 payday after being eliminated in third-place.
2022 WSOP Main Event Final Table Results
PlaceWinnerCountryPrize (in USD) 1Espen JorstadNorway$10,000,000 2Adrian AttenboroughAustralia$6,000,000 3Michael DuekArgentina$4,000,000 4John EamesUnited Kingdom$3,000,000 5Matija DobricCroatia$2,250,000 6Jeffrey FarnesUnited States$1,750,000 7Aaron DuczakCanada$1,350,000 8Philippe SoukiUnited Kingdom$1,075,000 9Matthew SuUnited States$850,675 10Asher ConniffUnited States$675,000
RECAP THE 2022 MAIN EVENT FINAL DAY
Tomasz Gluszko Leads Event #84: $3,000 H.O.R.S.E. Final Three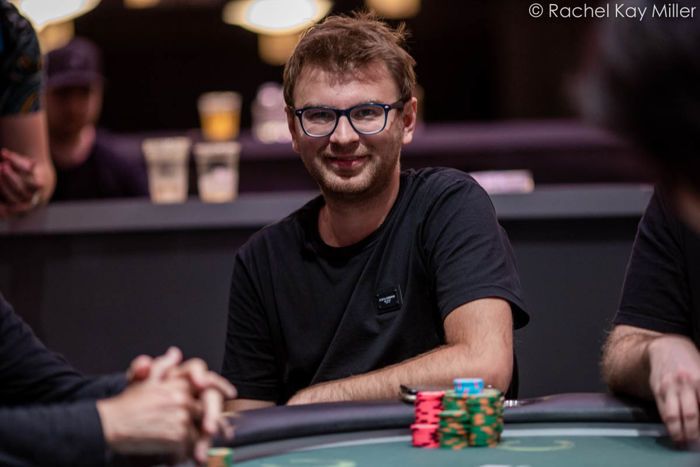 An extra day is needed in Event #84: $3,000 H.O.R.S.E as three players remain following Saturday's proceedings. Leading the trio is Tomasz Gluszko, while Roberto Marin and Lawrence Brandt round out the Day 3 survivors.
The field has seen 328 entries and that has created a $873,090 prize pool, with the lion's share of that being up for grabs today. Along with the WSOP Gold Bracelet, $205,139 is up top for the winner while $125,895 and $87,687 will be awarded to second and third-place.
They will return to the Bally's Event Center at 2 p.m. local time to play to a winner. Action will start with level 31 and the first hand of a round of Razz.
Final Table Payouts
PLACEPLAYERCOUNTRYPAYOUT 1TBA $205,139 2TBA $126,895 3TBA $87,687 4Richard TatalovichUnited States$61,789 5Kevin GerhartUnited States$44,415 6Kristan LordUnited States$32,583 7Perry FriedmanUnited States$24,403 8Yarron BendorUnited States$18,669
Follow the H.O.R.S.E. Updates here
Fred "staeks" Li Wins [Online] $777 Lucky 7's No-Limit Hold'em Second Chance for $159,060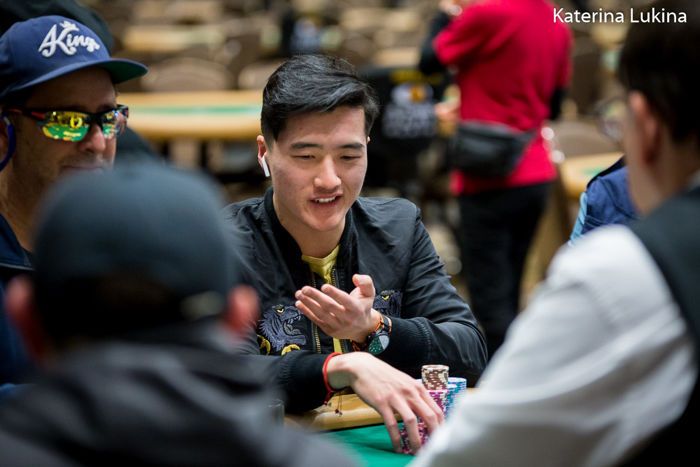 The [Online] $777 Lucky 7's No-Limit Hold'em event was the second event of the day that played down to a winner, with Fred "staeks" Li emerging as the winner. Li achieved the triumph on WSOP.com and outlasted to the 781-entry field.
As well as the WSOP bracelet, Li pocketed $159,060 of the $854,700 prize pool.
Other notables who took to the virtual felt included WSOP bracelet winner Dominick "flow_cold" Sarle, Jason "TheBigGift" Gooch and four-time winner David "dpeters17" Peters.
Zach "zoks7" Okin was the player to fall short in heads up play after his pocket eights were unable to hold against Li's ace-ten. None the less, the $98,290 he won should provide some comfort.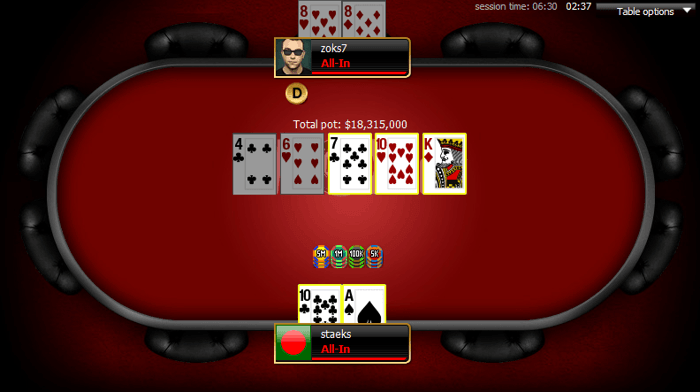 [Online] $777 Lucky 7's No-Limit Hold'em Second Chance Final Table Results
PlacePlayerCountryPrize 1stFred "staeks" LiUnited States$159,059 2ndZach "zoks7" OkinUnited States$98,290 3rdMichael "Mike916" GuzzardiUnited States$69,572 4thBobby "Ericartmenez" OboodiUnited States$49,914 5thRyan "doyouliftbro" JonesUnited States$36,239 6thDominick "flow_cold" SarleUnited States$26,666 7thMichael "LatinoLoco" AcevedoUnited States$19,914 8thDaniel "IGetLost" DizenzoUnited States$15,042
Early End of Day's Play in Three Events
Several events finished their days early and they will resume at noon:
1 2022 WSOP Day 1: Hellmuth Noticeable Absentee as WSOP Kicks Off2 2022 WSOP Day 2: First Bracelet Awarded; Ivey Records a Cash3 2022 WSOP Day 3: Peters Wins Gold; Seiver Hunting For Bracelet #44 2022 WSOP Day 4: Scott Seiver & Brad Ruben Win Bracelet #45 2022 WSOP Day 5: Smith Bags 25k Heads-Up Title; Housewarming Surpasses Guarantee6 2022 WSOP Day 6: Szecsi Reels in His Third Bracelet; O8 Event Needs Extra Time7 2022 WSOP Day 7: Dan Smith Flying High in the $50K High Roller8 2022 WSOP Day 8: Schutten Leads $50K High Roller Final Six9 2022 WSOP Day 9: Diebold, Schindler, and Moncek Strike Gold10 2022 WSOP Day 10: Bronshtein and Foxen On Course For Bracelets11 2022 WSOP Day 11: Three New Bracelet Winners Crowned, "ElkY" and Ivey Lead $10K Stud12 2022 WSOP Day 12: Two More Bracelets Won; Friedman on Fire in the $10K Stud13 2022 WSOP Day 13: Friedman Makes It Five; Two Other Champs Crowned14 2022 WSOP Day 14: Three New Champions; Big Names Turn Out In Force15 2022 WSOP Day 15: Karakitkov On Course for $50K PLO High Roller Title16 2022 WSOP Day 16: The Busiest Day Yet For Bracelets as Four Awarded17 2022 WSOP Day 17: Hastings Secures His Sixth WSOP Bracelet18 2022 WSOP Day 18: MILLIONAIRE MAKER Draws Thousands of Runners19 2022 WSOP Day 19: Hellmuth Flying High in $10K Deuce-to-Seven20 2022 WSOP Day 20: Bromfman, Stovall, and 'PmpknHead' Secure Bracelets21 2022 WSOP Day 21: Ivey Denied His 11th WSOP Bracelet22 2022 WSOP Day 22: $10K Seven Card Stud Hi-Lo Championship Finally Concludes!23 2022 WSOP Day 23: Six Events in Play, One Champion Crowned24 2022 WSOP Day 24: Ivey Bags a Big Stack in the $250K Super High Roller25 2022 WSOP Day 25: Foxen Leads $250k Super High Roller, First Bracelet for Cyprus26 2022 WSOP Day 26: HOF Nominee Liebert's Still Got It, How Foxen Won First Bracelet27 2022 WSOP Day 27: Four Bracelets Awarded as $50K PPC Kicks Off28 2022 WSOP Day 28: Kenney Leads the $50,000 PPC Event29 2022 WSOP Day 29: Dzivielevski Leads the $50K PPC; Three Bracelets Awarded30 2022 WSOP Day 30: The Best Laid Plans of Mice and Men31 2022 WSOP Day 31: Cates Crowned PPC Champ on a Crazy Day of Action32 2022 WSOP Day 32: Eli Elezra Wins Again, Hellmuth Chasing a Bracelet33 2022 WSOP Day 33: Phil Hellmuth Denied 17th Bracelet; Jackson, Barbero & Teusl Victorious34 2022 WSOP Day 34: The Main Event Shuffles Up and Deals!35 2022 WSOP Day 35: Another Huge Day of Main Event Action36 2022 WSOP Day 36: Clarke Leads Main Event; Glantz Banks a Milly37 2022 WSOP Day 37: Vaughn Kicks Off Huge Main Event Flight38 2022 WSOP Day 38: Gavin Munroe Leads After Day 2abc of the Main Event39 2022 WSOP Day 39: Bryn Kenney Among Top Stacks After Day 2d of Main Event40 2022 WSOP Day 40: Main Event Enters the Money, Six Former Champs Still In41 2022 WSOP Day 41: Taylor von Kriegenbergh Leads the Main Event Into Day 542 2022 WSOP Day 42: Audacious Bluff Puts Lococo Over 10M in the Main Event43 2022 WSOP Day 43: Main Event Field Reduced to Only 3544 2022 WSOP Day 44: Main Event Reaches Its Final Table45 2022 WSOP Day 45: Colpoys Claims Chip Lead in the $50K High Roller46 2022 WSOP Day 46: Jorstad Leads the Main Event Final Three; Vieira Claims Second Bracelet47 2022 WSOP Day 47: Jorstad Crowned Main Event Champion as 2022 WSOP Nears End